Amelia Gow is living proof that no matter how hard a person falls; recovery is always an option.
The entrepreneur behind thriving social enterprises 6729 Bakery and Active Opportunities spends her days helping others find their purpose in life.
Gow's clients and staff are people who have previously struggled to break through barriers to employment.
Whether they are grappling with substance abuse, experiencing homelessness, living with a disability or unable to speak English, many disadvantaged people have sought Gow's help in finding their feet.
These days she's a successful entrepreneur and philanthropist, but when Gow was younger life was quite different.
"It all started because I was a bit of a wayward teen," she recounts.
"School wasn't my thing. I was very smart but also very bored and not at all challenged. I left school in year nine and I had no formal education, that's when I took a pretty dark path."
"I was involved with drugs and for a while I was homeless, but when I tried to get my life back together nobody would give me the chance."
Despite facing a tough uphill climb, it was Gow's tenacity and sheer will to improve that got her back in the game.
Launching 6729 Bakery and subsequently her recruitment business Active Opportunities became proof that validation of skill doesn't come from a piece of paper.
Gow says both her bakery and recruitment businesses are interactive places where people aren't judged by their resume, but by what they bring to the table.
"They are places where people can be heard and show us what their true skills and strengths are," she says.
"We don't need to judge people on their past, but where they are going in the future."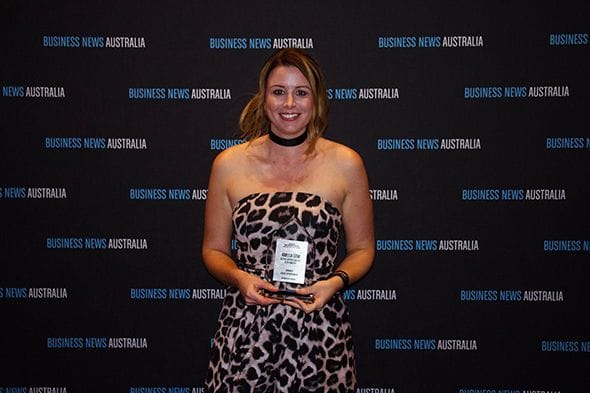 Amelia Gow receiving the Social Entrepreneur award at the Gold Coast Young Entrepreneur Awards 2019
When finding jobs for her clients, Gow believes it's all about turning perceived weakness into a person's greatest strength.
It's a system where honesty is always the best policy and people are encouraged to feel proud about their lives.
"Everyone says on their resume that they are reliable and a hard-working team player, but that doesn't tell you why they are going to be an asset," she explains.
"One day I turned around and said, 'I was in the gutter, but I'm never going to be there again' and it's the same for the people I help."
"We get these guys to share their journeys in a way that shows employers what they are really getting, not just building up rubbish that people think they have to put on."
One of Gow's most memorable moments was when she helped an Afghan woman find a new life in Australia.
As a refugee with four children whose husband was tragically killed by the Taliban, the woman survived against the odds and fled to Turkey before coming to Australia.
Due to the language barrier she struggled to find work and feared deportation, but Gow's Active Opportunities helped her turn things around.
"When I broke down her story, she fled Afghanistan with four children and after a year and a half on the run from the Taliban someone gave her a book of maps and she found her way to Turkey," says Gow.
"Now, that tells me more about what she's going to be like and what she's going to do for her workplace than any other silly attributes we put on a resume."
Recently, Gow has been asked to open two new locations for Active Opportunities in addition to the several that already operate.
Active Opportunities currently supports more than 500 people in Australia.
Gow looks forward to growing her program and helping more people who are in need of a hand.
Never miss a news update, subscribe here. Follow us on Facebook, LinkedIn, Instagram and Twitter.
Business News Australia
Get our daily business news
Sign up to our free email news updates.