As the founders of ready-to-drink (RTD) beverage business Ampersand Projects, Shaun Rankins, Alex Bottomley and Marcus Kellett have never been ones to shy away from shaking up the alcohol industry.
Their first product, vodka soda in a can with a removeable lid, changed the RTD game by giving consumers an easy way to play mixologist at home.
This industry breakthrough has been followed up by a similar first-to-market product. Again, the innovation is a new receptacle for Ampersand's minimalistic drinks, and it came about - as many innovations do - after facing up to a major hurdle.
Bottomley and Kellett hopped on the phone with Business News Australia to introduce their new 355ml aluminium bottle, and catch up on the launches of an espresso martini kit and straight bottles of gin and vodka.
---
Since 2018, Ampersand Projects has shaken and stirred the beverage industry in Australia by applying a minimalistic approach to both the design of its cans and its range of beverages.
Launching with its flagship vodka soda in a can, Ampersand has since expanded its range to include gin and soda, an espresso martini kit, and 500ml gin and vodka bottles.
Initial success was found as Ampersand stuck to its modus operandi: selling beverages that can be easily added to, enhanced and experimented with by customers. The term "add whatever you want" is a key tagline in the company's marketing.
This was achieved by its innovative vessel for its main-line range of vodka and gin mixes - cans with removable lids - allowing drinkers to drop in a wedge of lime, a slice of dried fruit, or a garnish of fresh botanicals.
But in 2020 Melbourne-based Ampersand hit a snag. The factory that manufactured the cans for Ampersand in the US closed down in the midst of the COVID-19 pandemic.
Worst of all, it was the only factory in the world that made the type of can Ampersand used.
This left the founders scratching their heads, wondering what the next move would be, and had them hunting down a replacement that would maintain the brand's ethos of letting anyone add whatever they want.
That search led the founders to their latest innovation: a 335ml aluminium bottle.
With a 30mm bottle opening, customers can still add whatever they want. In addition, the materials keep the beverage colder for longer, the bottle is resealable, and it is 100 per cent recyclable.
"It comes at a higher cost for us," concedes Kellett.
"But we believe in a premium product. We should get that attention back in sales, so that's our philosophy, whereas a lot of big corporates get kind of scared off by the cost."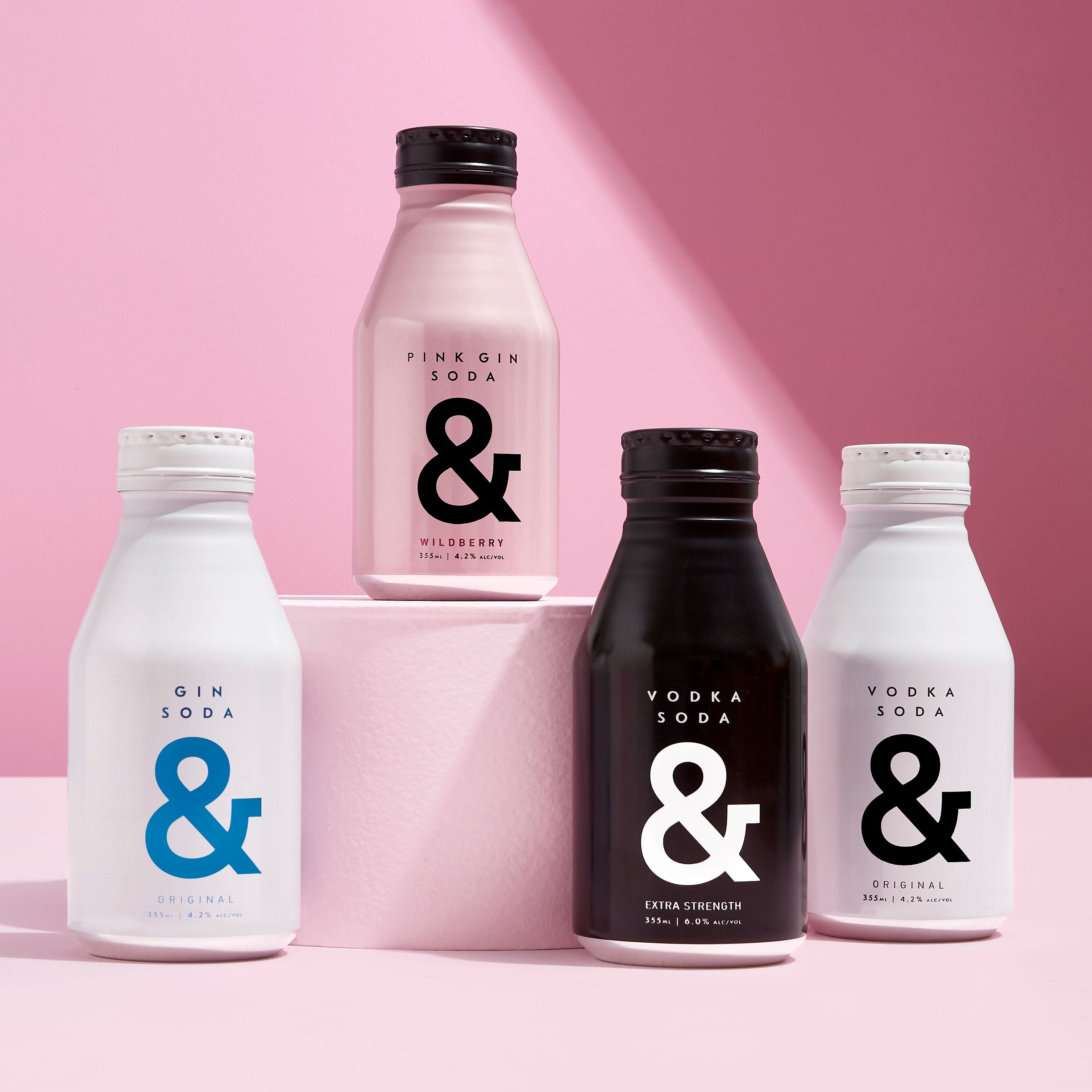 Ampersand Projects' new aluminium bottle promises to keep drinks cooler for longer.
The launch of the new bottles comes after the company beefed up its range, adding seven new products to its line-up.
The Australia's Top 100 Young Entrepreneurs listers, started selling bottles of gin and vodka. Coming in 500ml bottles, the products are smaller than the traditional 750ml, allowing Ampersand to compete with established distillers on price.
Near the end of 2020, Ampersand launched another innovation sticking true to the business' ethos of making things easy for drinkers at home. This was an espresso martini kit containing everything you need to whip up the staple cocktail at home.
Kellett says the espresso martini pack is Ampersand's first foray into the gift pack space, and not its last.
"It's definitely put a modern twist, and simplified, how to make an espresso martini at home," says Kellett.
"We're not trying to be misleading; sometimes it's intimidating when you're looking at buying a pack or going into a store and looking at what ingredients to buy.
"It's simplified, it's a dumbed down version of everything you need in one box. It gives customers an opportunity to do it in the comfort of their own home without being judged or being scared."
These new products bolster the company's growing range that now also includes a gin and soda drink and a stronger version of the flagship vodka soda.
The launch of Ampersand's many new products comes at an opportune time. Though COVID-19 restrictions are easing, many are choosing to spend more and more time at home, which has resulted in the company witnessing significant growth within the RTD category.
"At home consumption has increased and outdoor and social gatherings are much more popular which supports the convenience benefit that RTDs deliver," says Bottomley.
"In particular, no sugar and low calorie options are being sought out by consumers looking for better options, as part of a cleaner lifestyle."
With more and more beverage companies entering the RTD space, spurred on by the massive popularity of hard seltzers like White Claw and the success of Ampersand itself, Bottomley says consolidation in the market is on its way.
"I believe there will be a consolidation in the category after a multitude of new products have entered the space in the summer of 2020-21, leaving consumers confused and overwhelmed," says Bottomley.
"The more established brands that don't compromise on their liquid and use quality spirits - vodka and gin - in their drinks will succeed. Brands that are willing to invest in innovation in line with consumer trends and deliver products that enhance the consumers experience will continue to experience growth.
"The support local movement will ensure that consumer sentiment is positive towards local companies."
Never miss a news update, subscribe here. Follow us on LinkedIn, Instagram and Twitter.
Business News Australia
Get our daily business news
Sign up to our free email news updates.