Its young entrepreneur founders have shown talent in producing craft beer for local sales, but the next step in Black Hops' evolution will require mastering the craft of scale.
After winning the "Oscars for Beer" this year, the Gold Coast's Black Hops Brewing is frothing over a new facility that's set to open in 2019 and will be one of the largest craft breweries in the country.
With a 1,300sqm warehouse in Arundel, the new brewery will significantly lift Black Hops' capacity with high-tech equipment from US specialist Alpha Brewing Operations and an automatic packaging solution from Fibre King in Brisbane.
For Michael McGovern, who co-founded Black Hops in 2015 with mates Dan Norris (pictured above) and Eddie Oldfield, the biggest milestone this year has been earning the distinction of "Australian Champion Small Brewery" at the Australian International Beer Awards (AIBAs).
"That was our second year entering the awards. We go in there with the intention prior to win medals and to do that we need to produce world-class beers," he says.
The 2017 recipient of the same honour, Brisbane's Green Beacon, scaled up to win the Champion Medium Australian Brewery award in 2018. Could Black Hops be on a similar trajectory with its expansion?
"What we're now building is a second facility on the northern end of the Gold Coast which will be about 10 times bigger in production than our current one in Burleigh," says McGovern, whose company also took out the Manufacturing, Wholesale and Distribution category at Friday night's Gold Coast Young Entrepreneur Awards 2018.
"And what that's mainly going to allow us to do is to supply into markets outside our local region where people are asking us for our beer but we're having to say 'no' to at the moment."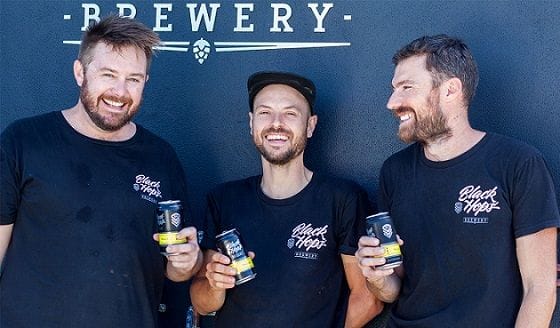 (L-R) Black Hops Brewing co-founders Michael McGovern, Eddie Oldfield and Dan Norris
It's a nice feeling to have demand exceed supply for a short period of time, but on the other hand the team at Black Hops doesn't want to miss an opportunity.
"As we've grown here in Burleigh, our intention has always been to be able to supply Sydney and Melbourne, but as we've grown so has the local market for us," he says.
"There are more bars and bottle shops growing faster than ever, so we're really fortunate most of our beer is sold within an hour's drive of the brewery."
Co-founder Dan Norris mentions a cold room is already being used for a small amount of storage at the Arundel facility, which used to be the sheds of Gold Coast boating icon Riviera.
"We should be getting equipment right at the end of the year, so we're hoping to be open very early in 2019," Norris says.
To prepare for the expansion the company has hired extra brewers in advance.
"So the brewing team here is probably bigger than it needs to be for a brewery of this size, and it's the same with admin. We've hired a few admin people to run this operation really efficiently before we go up to the next one," he says.
"It's really tricky with projects like this because you're not sure what projects are going to get in your way so you can't really hire people until you're ready to literally open the doors."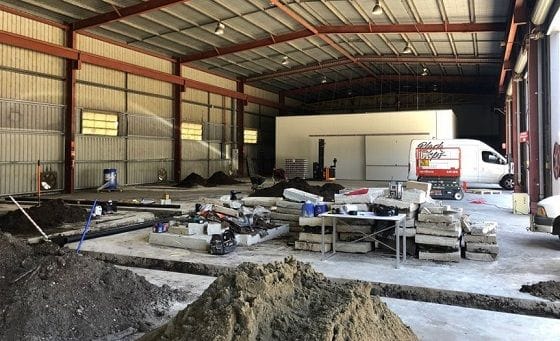 Work is underway at the new facility with the Black Hops team hoping it will be open to capture as much of the busy summer season as possible.
While most craft brewers would rather be kingpins of quality than leaders in litres, scale does allow brewers to cut the cost of production once the fixed costs of new facilities are paid for.
"Wholesale beer is very competitive. There aren't too many breweries on the Gold Coast - when we started it was really only Burleigh Brewing Company. Balter had just opened up and then we were very quickly behind them," Norris says.
"There are a lot of breweries opening up and lots of established ones who can make beers much cheaper than we can; lots of price competition and that gets harder and harder the further south you go."
He says competing in the space is about 50 per cent scale and 50 per cent process, including the choice of ingredients and making sure water is of optimal quality.
"The types of beers we make on a small scale are very expensive - the ingredients are expensive, they're very hop-driven and hops are extremely expensive," he says.
"At the same time we could make 200 litres of beer or we could make 10,000 litres of beer and it would take the same amount of time and the same amount of staff, so scale is a huge factor as well but both are really important.
"Also, the consumer and what they're used to and what they're willing to see as value for money is important as well because you can't just take all the flavour out of the beer to save money, because certainly consumers are not going to put up with that."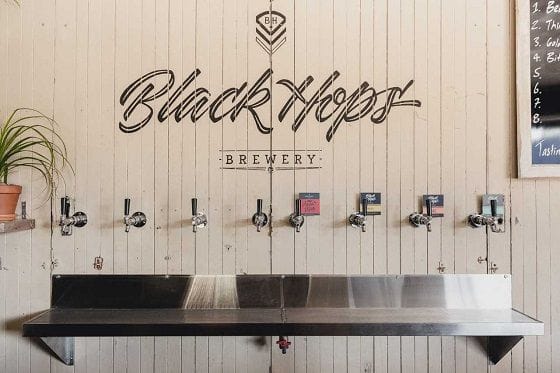 Moving on from the PR fail of "Pussy Juice"
Black Hops made headlines for all the wrong reasons in September for the launch of a beer called "Pussy Juice", accompanied by a somewhat vulgar poem that proved divisive amongst the public.
Norris was reluctant to speak on the scandal around the beer, which was actually meant to be a celebration of a female staff member who came up with the name for the niche batch.
"We literally did six cartons of it it was a tiny release so it's not something that's going to affect our sales," says Norris.
"We have a tiny pilot system that we use to brew beers after staff have been with us for a year. It's a celebration of the staff's service and they get their own custom beers. A few people in the media got a hold of it and went crazy.
"She thought it would be fun. In the end we tipped the beer down the drain and got back to work."
In essence, he says the exercise was a mistake and it failed.
"It's a sensitive issue, especially in the beer industry which is understandable given the history of the industry. We just didn't realise that at the time," he says.
"I think we've learnt a big lesson. We're a small company so we're certainly not in a position to hire any PR people but I've got people who can give me advice on that," he adds.
"For the core range of our beers, 99 per cent of our sales are not those kinds of beers; they're the types of beers we all like drinking - the IPAs, the pale ales, the lagers. That's the vast majority of our business."
Is an exit strategy under consideration?
From Little Creatures' $380 million sale to Lion in 2012 to the more recent acquisitions of Pirate Life and 4 Pines by CUB/InBev, Australia's craft beer industry is not short on stories of successful exit strategies to offload craft beer brands to enormous corporations.
In light of this, we ask Norris for his thoughts on the trend.
"I honestly personally don't have a problem with it, as long as entrepreneurs who are building a brewery are honest in the process and are not lying to their customers about having no intentions to sell," he says.
"I have no problems with entrepreneurs building a business and one day when they feel the time is right selling that business to a bigger company. That's kind of what every entrepreneur dreams of.
"For me personally I think the bigger thing is the quality of the beer. I will more than happily drink Pirate Life IPA - it's a good beer and it's in the surf club where some of the bigger breweries have tap contracts, which makes it a bit challenging for us."
Tap contracts at bars and restaurants vary with some allowing a few rotational taps that they'll use for the craft component of their offering. These are the situations the create opportunities for small brewers like Black Hops, but there is often an option to supply cans or bottles as an alternative.
"Other venues won't have tap contracts and they'll be free to put whatever beer they want those are the sorts of venues where customers want something different every time; they have to pay for the taps but they have free reign for what goes on," Norris says.
"I imagine it's not that different to other industries where big suppliers are paying to put in infrastructure for smaller businesses, and as part of that it's a compromise for them; it means they have to use that supplier.
"It happens at every level of the brewing industry for me it's not a huge thing. It's just part of doing business."
And now the big question - how does Norris feel about selling Black Hops some day?
"We don't really have an exit strategy. We're just doing what we love and we're trying to build a company that's worth something," he replies.
"If you were to work on a business for 10 years we've already been working on this for four years and at the end of that it's worth a lot of money and you don't feel like you've got the passion for it, then sure. I don't see a problem with selling it.
"But I don't know if that's necessarily in our future. I think we're all as keen working in the industry as we were the day we started.
"Unless we were in a situation where we had to sell or were in a position where none of us wanted to do it anymore and wanted to do something different, then we would try to avoid it."
Never miss a news update, subscribe here. Follow us on Facebook, LinkedIn, Instagram and Twitter.
Business News Australia
Get our daily business news
Sign up to our free email news updates.
Help us deliver quality journalism to you.
As a free and independent news site providing daily updates
during a period of unprecedented challenges for businesses everywhere
we call on your support