What was heralded as Australia's largest-ever equity crowdfunded capital raise through Equitise is a long way from achieving its targets with just 60 days to go before the offer expires.
In November, the country's leading online bookseller Booktopia announced it was offering 8.1 per cent of the business to investors with plans to raise up to $10 million.
However, at the time of writing the company had only raised $865,750, which isn't even a third of the offer's minimum subscription of $3 million.
Booktopia's Offer Information Statement (OIS) claims the funding was to be used for further automation at its distribution centre and increasing stock, as well as covering working capital and other costs.
But with the funds raised to date, working capital plans under a minimum subscription scenario are the only expenditure that could be covered with the new capital.
An OIS has a lower level of disclosure requirements than a prospectus, and differs from crowd-sourced funding (CSF) in that it is not subject to Crowdsource Equity Funding (CSEF) Act governed by the Australian Investments and Securities Commission (ASIC), according to Crowdfunding.com.au founder Chaz Prezident.
Prezident explains the most you can raise wtih CSF is $5 million and an offer period has to be within 90 days.
"I still don't understand how they can raise more than $5 million. It wasn't that they had an open campaign - what they were doing originally was a bookbuild, so essentially an expression of interest campaign," he says.
This is not the first time Booktopia has struggled to raise capital. In 2016 it sought to raise $40 million for an IPO on the ASX that would have valued the company at more than $100 million, but the deal fell through due to insufficient interest from institutional investors.
The business has certainly grown since then with annual revenue rising from $80 million to almost $114 million, and the company has recovered to get back in the black after poor financial results were exacerbated by the attempted listing process.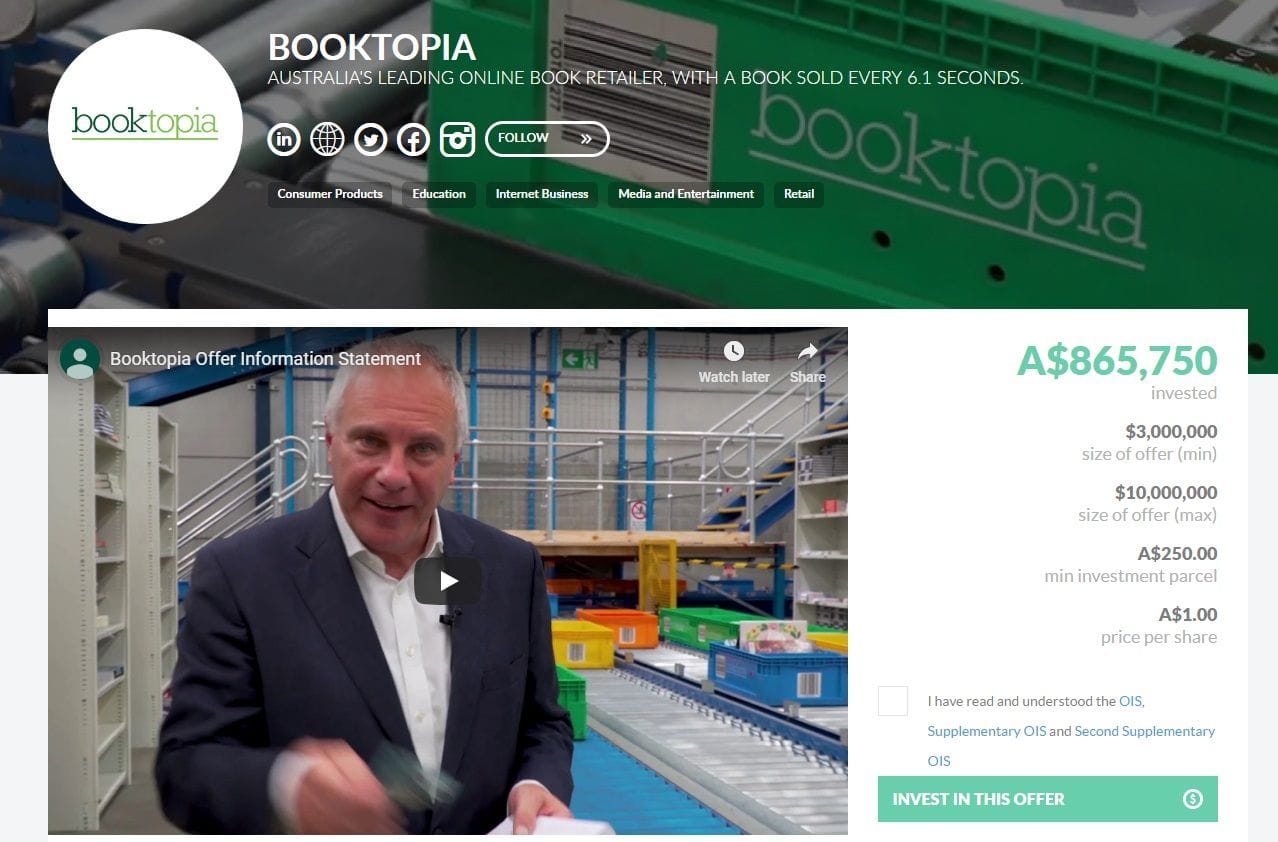 After the Booktopia OIS was released, ASIC intervened calling on the e-commerce company to draw more attention to "going concern" risks, as reported in the Australian Financial Review.
On Page 50 of the initial OIS, the company noted the Annual Report for FY18 contained an independent auditor's report from PwC including reference to a "material uncertainty that may cast significant doubt on the group's ability to continue as an ongoing concern".
That uncertainty related to a note found on Page 66 of the document pertaining to Booktopia's current liabilities exceeding current assets by $13.77 million, while it had negative net assets of $3.3 million.
PwC did however note the group had turned around from a loss-making position in FY17 to making a profit before tax of $1.9 million in FY18.
"The negative assets position is a result of historic losses, mainly due to the significant amount of costs incurred in the IPO process that took place in FY16 with certain expenses/creditor balances settled in FY17," the auditor said, also noting Booktopia's full compliance with all financial and reporting covenants.
Booktopia made the appropriate changes before releasing a supplementary disclosure document and a second OIS, extending the cut-off date needed to reach the minimum subscription from 14 February to 14 June.
Investor applicants who had lodged application forms prior to 12 February had until 12 March to obtain refunds.
ASIC spokesperson Angela Friend has told Business News Australia the original announcement was incorrectly reported in the press as a CSF offer instead of an OIS in the regular fundraising regime.
"Possibly, the confusion stemmed from the offer being on the Equitise platform," she says.
"We don't generally comment on our concerns in relation to fundraising documents and give the company the opportunity to correct our disclosure concerns, as happened in this instance with the company issuing a supplementary disclosure document and ASIC extending the exposure period."
"We can't speculate on why the company did not achieve its fundraising target, our concern is that the fundraising documents provide sufficient disclosure for investors to make an informed decision - we do not make any assessment of the merits of the offer."
Booktopia and Equitise declined requests for interviews.
Never miss a news update, subscribe here. Follow us on Facebook, LinkedIn, Instagram and Twitter.
Business News Australia
Get our daily business news
Sign up to our free email news updates.