The human eye is a marvel of evolution.
We can differentiate approximately 10 million different colours, we can see the light of a candle up to 22 kilometres away in the right conditions, and they are the most active muscles in our body.
But like every other part of our build, the human eye has its limits.
If there's anything that developers of artificial intelligence are focused on, it's taking human functions and improving them tenfold.
While the image captured on camera will never replace seeing a natural or man-made marvel up close, photographs and videos have dramatically changed our world.
A picture tells a thousand words, so they say.
But a new venture from Braden Voigt (pictured) launched earlier this week, will remove the human input from that equation.
In addition to being able to capture a picture, the Brisbane-based Young Entrepreneur and Lynkz founder's new invention SMT Camera, can effectively analyse and interpret live footage faster and more accurately than any human ever could.
The technology was developed in conjunction with traffic and transport data company Matrix, and as an AI-enabled camera software as a service (SaaS) it can capture data in a way that best suits the needs of a business.
For example, SMT Camera has been used to monitor hive movement at a bee farm.
The Internet of Things (IoT) camera was used to record, track and count bee movements in a hive. This allows beekeepers to understand hive health and numbers in real time.
Previously, this was a very manual and inaccurate process using the human eye and rudimentary mathematics.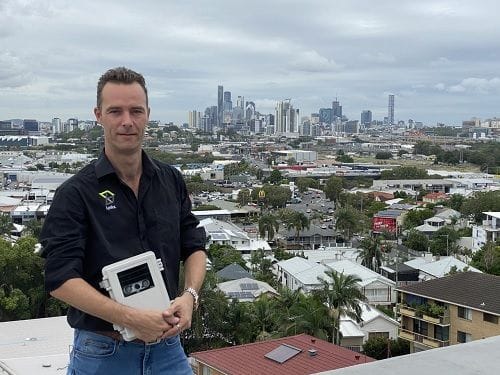 Tracking bees is one thing, and is certainly a fantastic use of the ground-breaking technology that could secure the future of the ailing bee population. But what about the tech's applications in other areas.
Since launching earlier this week SMT Camera already has plenty of companies on board, eager to see what the tech can do.
From tracking truck registration plate numbers as they travel around the country to monitoring zoo animals, or counting electric scooter traffic in certain areas, the intelligent eyeball could greatly enhance many Australian businesses with the data it generates.
The tech could even be used in situations like bushfires, where the SMT Camera could be attached to a drone, track fire and smoke and translate that raw data into a language a firefighter could understand, enabling them to better plan a crisis response.
As SMT Camera is effectively a blank canvas onto which any number of AI programs can be installed, Voigt says the market for this technology is huge.
"The market is enormous. If you look at the industries that we can focus on - construction, manufacturing, mining, logistics, plantations, environments - attaching the camera to a drone, there's plenty of potential," says Voigt.
"The industry opportunity is almost every industry to some degree, so what we're doing is simplifying it."
"A client might ask, "I want to be able to track adults on the street", and we can do that very quickly with no development. We can get them the data they need."
While interested customers might buy an SMT Camera outright, plenty of the benefit comes directly from the SMT Device Management Portal.
This program can be hooked up to any camera or system of cameras (like a CCTV network) and put to use.
It can be integrated with existing IoT infrastructure, configure and manage other cameras and analyse and transform data captured by existing camera systems using AI.
The process of getting into the SMT Camera system is easy too, either BYO camera or purchase a your own SMT Camera, and subscribe to the company's platform that manages all the processing and the data.
From there, SMT Camera will build the AI applications into the system (for no extra cost) and the customer will consume the platform as a service.
"For a company it means they are able to accelerate that time to market, so instead of them doing all the R&D, a client can come to us and say we want to track X and we will introduce the service to do that," says Voigt.
"The goal of this platform is to turn it into the largest AI as a service platform available. It's as simple as connecting the platform to a video feed and allowing that to be processed."
Never miss a news update, subscribe here. Follow us on Facebook, LinkedIn, Instagram and Twitter.
Business News Australia
Get our daily business news
Sign up to our free email news updates.