As a city known for its relatively high percentage of founder-led businesses, Brisbane has undergone a changing of the guard in 2019 with a mix of high-profile exits, exponential risers and executive renewal.
Suncorp retained the top spot despite its results copping a battering and a new CEO took the helm. New leaders also came to the fore in FY19 at Bank of Queensland, Super Retail Group, Virgin Australia, Cardno, Orocobre and Michael Hill International.
Many executives took cuts to their remuneration as well, particularly Domino's founder and CEO Don Meij despite his company rising three spots to crack the top five, and Star Entertainment's Matt Bekier.
The collapse of Blue Sky Alternative Investments was already underway when we published last year's Brisbane Top Companies list, but it still managed to secure 40th place.
Now in administration, the company is well and truly off the list, and challenging conditions have also led to departures for the likes of Apollo Tourism & Leisure, Silver Chef, Impedimed, Blue Energy and Reef Casino Trust.
Veterinary care group Greencross has exited the list for more positive reasons after it was bought out by a subsidiary of TPG Capital for $970 million. At that enterprise value the successful group would have come in at 21, just behind fast-riser EML Payments which jumped 11 spots in 2019.
The playing field has been opened up for new entrants, including workforce management tech outfit People Infrastructure, an acquisitive entity incidentally chaired by Greencross founder Glen Richards.
The most impressive new entrants in terms of sheer growth however are Advanced Nanotek, a manufacturer of zinc-based products for sun care and cosmetics, and mining technology company PPK Group. These companies' market caps have surged 536 per cent and 1245 per cent respectively in the past 12 months.
Another newcomer is telecommunications and IT solutions company Over the Wire, carrying on the Brisbane tradition of having founders in charge.
As the head of a founder-led company, Over the Wire's managing director Michael Omeros joins the likes of Domino's' Don Meij, Flight Centre's Graham Turner, Corporate Travel Management's Jamie Pherous, Jumbo Interactive's Mike Veverka, Vita Group's Maxine Horne and Motorcycle Holdings' David Ahmet.
Pherous was one CEO with a particularly tough task in FY19 after his company was besieged by a short selling attack from VGI Partners, and the challenges that ensued ultimately knocked the group out of the top 10 of this list.
Meanwhile, AP Eagers broke into the top 10 after acquiring Automotive Holdings Group (AHG) to become Australia's largest car dealership company. Software as a Service (Saas) provider TechnologyOne broke into 10th spot on the back of an increasing number of local government contracts nationwide.
There are signs the list may be quite different in 2020 as well, with takeovers on the cards for GBST, ERM Power and Stanmore Coal.
Overall, the market capitalisation of Brisbane's top 50 listed companies has gone down by almost a third to $84 billion, reflecting its susceptibility to shocks in the retail, finance and travel sectors. But as one door closes, another opens, and the ingenuity and business nous of Brisbane's leading and up-and-coming companies is as alive as ever.
1. SUNCORP GROUP (SUN)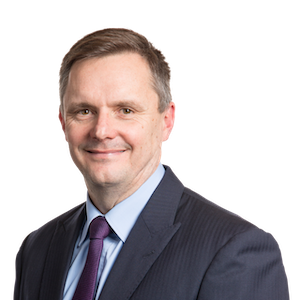 INSURANCE
2018 rank: 1
Market Cap: $16.91b
Revenue FY19: $15.56b
Profit FY19: $175m
Listed: 1988
CEO: Steve Johnston
CEO Salary: $1.8m plus incentives
With a new CEO leading the charge since September, Brisbane's leading listed company remains on the recovery path after copping a $910 million blow to its bottom line in FY19 from the sale of its life insurance business.
The sale was prompted by heightened regulatory scrutiny of the sector brought on by the Royal Commission, but elsewhere in the business cash earnings were actually slightly up at $1.1 billion.
Steve Johnston was born in Brisbane and has been with Suncorp since 2006, working his way up to CFO and then acting CEO when Michael Cameron stepped down from the role in March this year.
At the company's AGM in September, Johnston told shareholders the company's largest division, Insurance Australia, was impacted by major events including the Sydney hailstorm in December and the Townsville floods in January.
"Over the past decade we have seen a steady increase in the frequency and severity of natural hazard events and this has seen us exceed our allowance for events far too often," he said.
"It was clear that we had to take action to improve the quality and predictability of earnings."
In response, Suncorp has increased its allowance for natural hazards by $100 million to reach $820 million, along with the purchase of reinsurance which gives it an added $200 million buffer.
Since then the company has also sold its crash repair and auto parts businesses Capital Smart and ACM Parts to AMA Group for $440 million following a strategic review.
"The increasing complexity of repairs is driving significant change in the smash repair and parts procurement industry, and the divestment means Suncorp can focus on its core insurance and banking operations," Johnston said in early October.
---
2. AURIZON HOLDINGS (AZJ)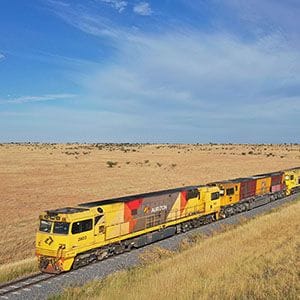 TRANSPORTATION
2018 rank: 2
Market Cap: $12.04b
Revenue: FY19: $1.1b
Profit: $174.3m
Listed: 2010
CEO: Andrew Harding
CEO Salary: $3.2m
Rail transport operator Aurizon has been looking to exit its loss-making intermodal business since August 2017, but it hit a snag last year when the competition watchdog cried foul.
The coal-mover had reached a deal to sell its Queensland Intermodal Business (QIB) and Acacia Ridge Terminal for a total of $225 million, but the Australian Competition and Consumer Commission (ACCC) raised concerns this would effectively create a monopoly for the buyer Pacific National.
The QIB sale was initially between Aurizon and a consortium of Linfox and Pacific National, but the company overcame ACCC backlash by selling just to Linfox in an agreement reached in October.
With a value of $7.3 million, QIB represented only a small portion of the planned divestment with the Acacia Ridge deal taken to the Federal Court by the ACCC.
It wasn't until mid-May that Aurizon made a breakthrough in the legal dispute after the Federal Court dismissed the case, but it was a decision that came down to the wire.
The court would have likely found the deal to be anti-competitive if it weren't for a court enforceable undertaking put forward on the last day of the hearing to prevent Pacific National from discriminating in providing access to other rail operators at the terminal.
Pacific National is owned by a consortium of Chinese, Canadian and US investors, so the sale will still be subject to approval from the Foreign Investment Review Board (FIRB).
The ACCC has since appealed the Court's decision, which will halt the proposed deal until the case has been finalised by the Full Bench of the Federal Court.
Meanwhile, Aurizon's Wiggins Island Rail Project (WIRP) has met backlash after the Supreme Court of Queensland confirmed that the network would be able to charge above regulatory fees, and the company has recognised the fee needs to be reduced.
---
3. FLIGHT CENTRE TRAVEL GROUP (FLT)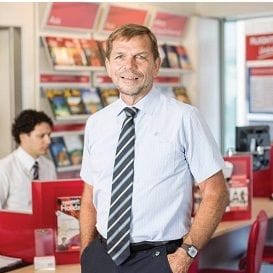 CONSUMER DISCRETIONARY
2018 Rank: 3
Market Cap: $4.77b
Revenue FY19: $3.06b
Profit FY19: $264.2m
Listed: 1995
CEO: Graham Turner
CEO Salary: $675,000

Flight Centre is a vastly different operation to 10 years ago when it was the household name for holiday booking, with the corporate travel division growing as fast as its leisure brands once did.
Corporate brands now account for almost 38 per cent of the group's total transaction value (TTV), and their TTV has more than doubled from $3.9 million a decade ago.
Unlike in Australia and New Zealand where leisure travel reigns supreme, in the Americas corporate makes up more than half of TTV with the region now an earnings powerhouse contributing more than $100 million in profit for the first time in FY19.
However, leisure and online still make up 46 per cent of the Americas business and in a recent Morgans Queensland conference FLT founder Graham 'Skroo' Turner noted tourist deaths in the Dominican Republic a popular US destination - had impacted traveller numbers.
Brexit is also taking its toll on the UK side of the business, but the group has been relatively unscathed by the collapse of travel giant Thomas Cook.
At the conference, Turner estimated there would be around $7 million in costs associated with Flight Centre's decision to ensure its customers were re-accommodated and not adversely affected by the collapse of Thomas Cook-affiliated Bentours and Tempo Holidays in Australia.
There are more structural challenges at play for the group's leisure business as well. With currency headwinds, Australians have less loose change, and stores just aren't getting the foot traffic they used to. People are shopping around. Meanwhile, the cost of rent and staff keeps going up.
As the company seeks to adapt to this changing environment, online leisure sales in Australia doubled in the three months to 30 September despite a challenging trading climate.
"The Aunt Betty and BYOjet businesses are trading strongly and together recorded 140 per cent TTV growth in Australia during the quarter," Turner said.
"flightcentre.com.au has also continued its trajectory since online booking fees were removed late in FY19 and delivered 65 per cent Q1 TTV growth.
"This growth is predominantly coming from domestic travellers who are new to the Flight Centre brand, rather than from existing customers who are moving between sales channels, pointing to increased market-share over the period."
In terms of further opportunities for growth, the executive is also bullish about corporate travel business growth in Europe, where Flight Centre owns brands in France, Germany, Switzerland, the Netherlands, Sweden, Finland, Norway and Denmark.
Closer to home, Flight Centre recently took a full stake in Gold Coast-based Ignite Travel Group, whose readymade package model the iconic corporate hopes to replicate in many regions around the world where it operates.
---
4. DOMINO'S PIZZA (DMP)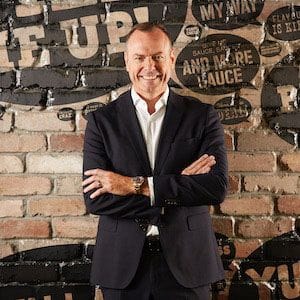 CONSUMER DISCRETIONARY
2018 Rank: 7
Market Cap: $4.11b
Revenue FY19: $1.44b
Profit FY19: $115.9m
Listed: 2005
CEO: Don Meij
CEO Salary: $950,848
If we've learnt anything, it's to expect the unexpected with Domino's Pizza.
This is a business that called itself a tech business before it was a lucrative line tossed around by CEOs; one that paved the way for fast food robot delivery, and even real-time tracking and GPS driver trackers before they became popular.
Interestingly, it was the nation most people associate with high-end technology that was Domino's saving grace in FY19.
If it weren't for the group opening more than 80 new stores across Japan that lifted earnings by nearly 32 per cent in local currency terms, there wouldn't have been much rise in the Dominos' dough this financial year.
Australia and New Zealand stores just didn't produce the financial goods for the year, and Europe as a whole didn't perform that well either. The company has also had to contend with a class action from Phi Finney McDonald over allegations of worker underpayment a claim Domino's fervently denies.
Domino's Pizza's European operation faced a series of upper management changes, as well as cost pressure from new store openings. With all that ironed out, or rolled out, the company has expressed confidence that Europe has reached a critical mass for costs to come down with the region presenting the most store opening potential.
Whether Domino's is a tech business or not is ultimately for its customer to decide, but scale alone would suggest so, along with a culture of innovation that produces initiatives such as its augmented reality (AR) pizza chef.
Think of the platform as like Pokémon GO but for creating a pizza, with a lot of painstaking work behind it to make sure the virtual pizza felt as lifelike as possible and could account for a seemingly unlimited number of ingredient combinations.
"You've got this pizza in front of you on the table that's with all intents and purposes in your room when you're looking through your phone," chief digital and technology officer Michael Gillespie said after the launch.
"How can we make that as lifelike as possible so people zoom in and move their phone around and it feels like it's actually there, and it's very close to the end product we receive as well?"
The foray followed on from another ground-breaking move when Domino's introduced artificial intelligence (AI) voice interaction ordering through the Alexa-enabled Amazon Echo service at the beginning of 2018.
---
5. THE STAR ENTERTAINMENT GROUP (SGR)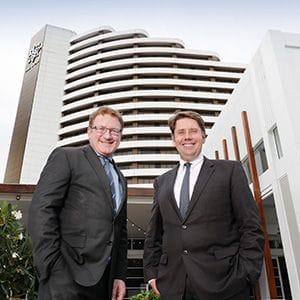 CONSUMER DISCRETIONARY
2018 Rank: 4
Market Cap: $3.94b
Revenue FY19: $2.16b
Profit FY19: $223.7m
Listed: 2011
CEO: Matt Bekier
CEO Salary: $1.84m
It's a high stakes game that few can afford to play. Sometimes you win, sometimes you lose. In the case of Sydney, The Star Entertainment Group lost this year when its luxury towers were knocked back for development.
However, it found success cashing in chips somewhere else, on the Gold Coast, where it is building out a diversified precinct complete with retail, residential, and of course a fair share of gaming.
It should be said, the Gold Coast is not the only place The Star team has been seen handing in their chips. Key management personnel are giving more money to the share register too.
Company insiders have been buying, not selling, parcels of Star shares for at least the last five years. Even in the last six months, when profits started to slow, directors have been swapping cash for shares as seeming votes of confidence.
The Star remains focused on its south east Queensland operations which have been challenged by weaker results at the high end.
Turnover in The Star's international VIP division, which relies on gamblers from Asia, plummeted 31.3 per cent between January 1 and June 8 this year.
With the Aussie dollar falling, tourist destinations would seemingly be lined with gold. While the Gold Coast has been flooded with inbound tourism, the Star hasn't exactly been revelling in high rollers. This rough patch affected earnings at The Star, along with weaker local consumer sentiment.
If management moves are any indication, there may be more opportunity ahead. Management is also focused on cost cutting to offset the weaker environment right now, recently outlining plans to lay off between 15-20 per cent of the company's 2000 back office staff.
---
6. ALS LIMITED (ALQ)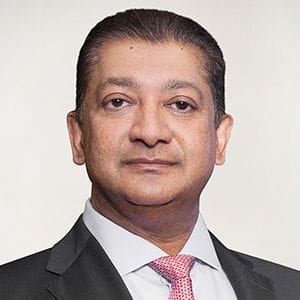 INDUSTRIALS
2018 Rank: 6
Market Cap: $3.93b
FY19 Revenue (to 31 March 2019): $1.67b
FY19 Profit (to 31 March 2019): $181m
Listed: 1952
CEO & MD: Raj Naran
CEO Salary: $2.56m
ALS Limited is a laboratory and testing company working across a range of industries, with interests in food safety, hygiene, oil and gas, pharmaceutical and more.
Having started with soap manufacturing in the 1970s as a subsidiary of Campbell Brothers, ALS eventually took over its parent company in the early 2000s.
This is the second year of Raj Nara's reign as CEO at ALS after taking over from long-time CEO Greg Kilmister. ALS sold the majority of its oil and gas services business around that time, retaining just the laboratory testing component, with this sale marking a departure from Hong Kong and mainland China.
In the last year, Life Sciences and Commodities grew in the most promising way out of all ALS divisions.
In the year to June 30, the division delivered total revenue growth of 13 per cent. Life Sciences profited from recent contract wins in the Americas, while Commodities benefits from testing and inspecting metallurgy and coal.
ALS plans to grow Life Sciences through more M&A activity in food and pharmaceutical.
This is all part of a five-year plan of achieving balance, mitigating risk and having a more sustainable mission overall. By 2022, ALS is aiming for non-resources to account for more than 50 per cent of its profits.
---
7. BANK OF QUEENSLAND (BOQ)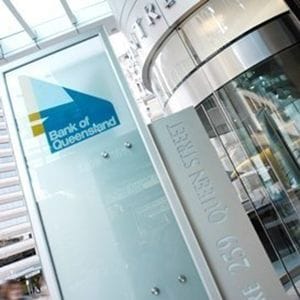 FINANCIALS
2018 Rank: 5
Market Cap: $3.9b
Revenue FY19: $320m
Profit FY19: $291m
Listed: 1971
CEO: George Frazis
CEO Salary: $1.3m (fixed remuneration)
A specialist business bank with retail banking capabilities, Bank of Queensland operates primarily in QLD (around 40 per cent of loans under management) with a presence in WA and Victoria.
BOQ saw both a chairman and a CEO transition this year, at a time when it was important to have all eyes of management on the ball.
These weren't shock resignations, but a changing of the guards can often mark a change in strategy and one-off costs. BOQ chairman Roger Davis had served on the board for 11 years. The company is also starting a new CFO and COO in October 2019, appointing former NAB executive Ewan Stafford to both roles.
Challenges remain for BOQ's retail bank given weak mortgage book growth and downward pressure on margins. The company has a stronger business bank, with its BOQ Finance and BOQ Specialist divisions picking up much of retail's slack in terms of loans up until this point.
When the banks broke on the Banking Royal Commission earlier this year, it was initially believed the Big Four, followed by regionals such as BOQ, would bear the brunt of the Royal Commission. That's not how it played out on the grand stage.
There were no radical recommendations for changes to responsible lending requirements, and no hard line on stopping vertical integration. The regional banks initially rallied on the news. Meanwhile, the more diversified Big Four had a little more to work through and some financial advisers saw their business torn apart.
Wealth management businesses most implicated by the Royal Commission quickly shifted focus to divesting non-core assets. This included selling off wealth management arms, as well as untangling super and insurance from their business models.
Regionals, like BOQ, seemed more streamlined in this respect to emerge from the Royal Commission seemingly fighting fit. However, with anaemic growth across the board, the Royal Commission is clearly just part of the 2019 banking sector story.
---
8. A.P. EAGERS (APE)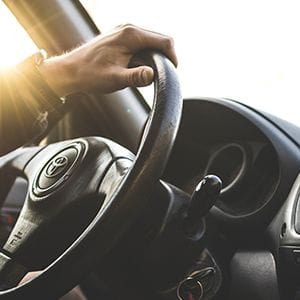 Consumer Discretionary
2018 Rank: 14
Market Cap: $3.44b
Revenue 1H19: $2.1b
Profit 1H19:$58.7m
Listed: 1957
CEO: Martin Ward
CEO Salary: $1.6m (2018)
A company with a need for speed, and the boss to match, AP Eagers is Australia's oldest listed automotive company. Now, it can also stake a claim to being Australia's largest car dealership company.
AP Eagers succeeded in acquiring more than 90 per cent of Automotive Holdings Group shares in September, crossing the threshold the company needed to complete a compulsorily takeover. This gives AP Eagers economies of scale, with the company controlling over 200 car dealerships in Australia, 13 in New Zealand, as well as 67 new truck and bus dealership locations.
By far, Automotive Holdings Group is the single-biggest transaction to come through AP Eagers this year, although there have been plenty of little purchases adding up along the way.
Few, if any, ASX insiders are outpacing AP Eagers biggest shareholder and Rich Lister Nicholas Politis when it comes to buying company shares. Politis has been a feverishly splashing cash on AP Eagers shares the last few years like they're going out of style.
Politis has been making relatively small bets on shares, but nonetheless, if not posturing this could be viewed as a big bullish signal. Research has determined that car sales are correlated to house prices, yet even when house prices were sliding, Politis kept buying. Through the vehicle WFM Motors, as of October 2019, Politis indirectly holds nearly 28 per cent of all shares in AP Eagers.
AP Eagers' service business delivered record results over the recent period. The company also experienced strong performance from trucks and cars in QLD and Tasmania, despite encountering hurdles in NSW, Victoria and SA through generally tougher trading conditions.
Through its recent big-ticket acquisition, AP Eagers emerges with a much stronger nationwide presence, but still a small presence in NSW and Victoria compared. Given these two states form 60 per cent of the national car market, AP Eagers plans to rev up here next. Politis should certainly be keen considering he's the boss of the Sydney Roosters, the team that took the NRL premiership this year.
---
9. CROMWELL PROPERTY GROUP (CMW)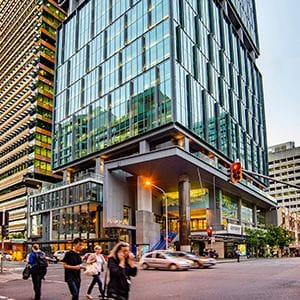 REAL ESTATE
2018 Rank: 10
Market Cap: $3.28b
Revenue FY19: $379.4m
Profit FY19: $159m
Listed: 1973
CEO & MD: Paul Weightman
CEO Salary: $3.94m
Unlisted property was the best performing asset class of 2018, something that Cromwell Property Group has a lot of. However, it's listed business equally performed well. Lower interest rates have been helping these areas of the market.
Founded in 1998, Cromwell has profited from property booms, and survived busts too, the last of which being the GFC that wound up competitors in the process. It was one of few listed property groups that didn't do a big capital raise to get through the GFC, which is what ended up destroying shareholder value for many others.
Coming out of the GFC, as a real estate investor, Cromwell was able to buy quality assets for cheaper prices. One decade on, this still represents a tailwind for Cromwell's funds management business.
Cromwell has a relatively conservative investment philosophy that's preferred by mum and dad retail investors who often buy in through the financial adviser market. The fund manager has exposures across office, industrial and retail.
Cromwell announced it would be joining other fundies in raising capital back in June, planning to raise funds to pursue $405 million in property acquisitions across Australia and Europe.
There is a growing focus on Europe in particular, where Cromwell has grown its specialist European REIT portfolio by more than 50 per cent since IPO'ing the product in November 2017.
As Cromwell moves deeper into Europe, Brexit remains a ticking point. However, but it believes there are sizeable variances within Europe for regions such as Poland, Czech Republic, Netherlands and Sweden to outperform. Cromwell particularly likes Poland, the fastest growing economy in Europe over the last five years, and has a dedicated Polish team to seize opportunities.
---
10. TECHNOLOGYONE (TNE)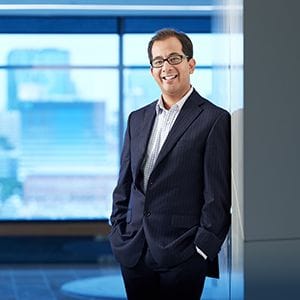 INFORMATION TECHNOLOGY
2018 rank: 16
Market Cap: $2.3b
Revenue 1H19: $129m
Profit 1H19: $24.5m
Listed: 1999
CEO: Edward Chung
CEO Salary: $1.4m
As one of Australia's leading software as a service (SaaS) companies, TechnologyOne's $27.8m investment into R&D has paid off, allowing the group to spread its expertise across an increasing number of local governments nationwide.
The company has recently been contracted to provide the City of South Perth with the software necessary to back its 'digital transformation project'.
The project involves a modernising process that will see several government related systems and payroll and asset management upgraded.
This same project is being conducted as part of a five-year contract with the Yarra Ranges Council in Victoria.
Chief operating officer Stuart MacDonald discussed how TechnologyOne's success with the City of South Perth can be replicated in assisting similar local governments undergoing upgrades.
"The transition from on-premise legacy software to a sophisticated SaaS-based solution is enabling the City to benefit from world-leading data security and the ability to stay at the forefront of innovation through regular system upgrades," MacDonald said.
"Our ability to evolve, innovate and change has been key to our success we offer greater flexibility via a true enterprise SaaS solution with powerful mobile capabilities."
"We're seeing more and more councils mature and move to SaaS as a result of this SaaS is the best platform for enhanced service delivery."
Despite a loss of $932,000 in the first half of 2019 the company has been seeing success overseas.
In the UK, where it is the main supplier for the government's public sector framework, TechnologyOne has announced all of its SaaS services have been accepted.
Dubbed G-Cloud 11, the framework will base all its systems off of TechnologyOne's modern software solutions.

---
CLICK BELOW FOR THIS YEAR'S TOP 50
Market caps based on end of trading October 10, 2019
Get our daily business news
Sign up to our free email news updates.
Help us deliver quality journalism to you.
As a free and independent news site providing daily updates
during a period of unprecedented challenges for businesses everywhere
we call on your support