NO TREADMILLS or dumbbells in sight, these Brisbane fitness entrepreneurs have created unique experiences with the high-powered professional in mind.
GET A GRIP
Not getting the traction you want at the gym?
Maybe you need to step it up and take on a boulder workout at one of Brisbane's Urban Climb gyms.
Urban Climb's founders reckon 'bouldering' is the rock climbing of the 21st century.
The business was founded by two keen rock climbers in 2004 before falling on hard times in 2007. A founding partner left and the other approached exercise physiologist Alex Cox-Taylor (pictured left) to take it over.
The concept is completely unique to Australia, with Cox-Taylor and his core team of six drawing inspiration from Europe and the US.
"Bouldering is a much faster process than rope climbing as you don't need a partner, you can just arrive at the gym and get into it," says Cox-Taylor.
"We've found that once people start bouldering and overcome their initial fears, they don't want to stop."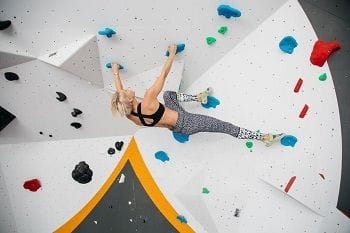 Urban Climb has operated out of West End for 12 years, but will add two boulder-only Brisbane gyms to its brand this week in Milton and Newstead, 1147sqm and 400sqm in size respectively.

The team says Urban Climb West End's 1690sqm boulder area no longer meets demand, with the wall constantly occupied by families, students, young professionals and seniors.

"We moved from a culture of cash for entry to a membership culture and introduced complimentary services such as yoga and fitness a few years ag because we found Brisbane was just too small to support a climbing gym of our size," says Cox-Taylor.

"The industry has changed so much since 2007 with many climbing gyms learning from our experience. Memberships have become the norm, climbing competitions revitalised and the idea that climbing can appeal to a broader market has become a standard across Australia."

Because of the social aspect that comes with bouldering, the new climbing gyms will also offer 'chill out areas' and collaborative workspaces for entrepreneurs and professionals.

"You don't have to be a competitor or a professional climber to come to one of our gyms," says Cox-Taylor.

"Every newcomer to an Urban Climb facility receives an introductory lesson on climbing safely within the facility and a run down on what's what.

"Climbs are colour coded, with the easiest (yellow) being no more challenging than climbing a ladder, and the hardest (black) being like trying to hang on to a glass surface upside down."
DEPRIVE TO THRIVE
If your idea of wellness is more of a mental checkout than a workout, a float session could be just the thing you need to avoid burnout.
Flotation tanks originated in the 1950s when a scientist wrote about his experiences taking hallucinogens while underwater.

In the decades that followed, feelings of weightlessness came to be associated with meditative practice. Nowadays, you could swap weekly yoga for a float to similar effect.

There's a number of floathouses throughout Brisbane, but if it's privacy you crave after a long day, you can't look past Sensory Deprivation Brisbane (pictured left).

"We're not the biggest float centre but we're focused and private we have all walks of life coming to float with us," says Sensory Deprivation Brisbane co-founder Brennan Riches.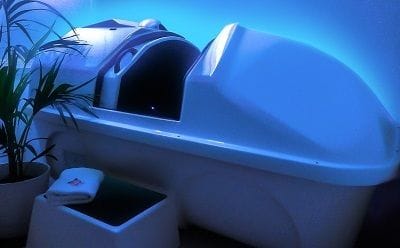 "Being a couple of young guys, we love meeting like-minded people and our ambition is to simply create a chill space, a haven for relaxation, with positive vibes for our customers."

Riches says it can be a challenge for some floaters to understand the experience is working.

"As strange as it sounds, the magic happens when nothing happens," he says.

"For 90 minutes or so, your mind is free from distraction and your body is free from gravity. You can enter a deep meditative state, where everything works to reverse the harmful effects of stress.

"Most people experience a full reset both physically and mentally."

The brother co-founders, aged 31 and 26, launched the business upon recognising their own need for reset while working nine-to-five jobs. Geoff Riches first heard about flotation tanks on a podcast by American comedian Joe Rogan.

The brothers did some searching and found a guy who had a couple of tanks, were hooked after a couple of sessions, and began floating weekly for the next two years.

"It was an hour each way to get there and the traffic could be a real buzzkill so we thought 'let's just get one of these things'," says Brennan Riches.

"There were a couple of other places offering float tanks but it either wasn't their primary service or they were in difficult locations out of Brisbane CBD.

"The business wasn't designed to be about us making lots of money, we just wanted to share this amazing tool.

"The only real experience we have is that individually we have floated a total over 200 hours inside the tank. We've learnt it's more about setting the right environment for customers before and after their float sessions."

Sensory Deprivation Brisbane attracts a number of high-profile sports and television personalities, and the phenomenon worldwide isn't short of its celebrity followers.

Model Elle Macpherson has touted floating's relaxation and skin benefits, athletes from Olympian Carl Lewis to NRL player Wayne Rooney have spoken of floating's visualisation and recovery aid, while bestselling author Tim Ferriss of 'The 4 Hour Work Week' believes it has assisted him with learning new languages and reducing anxiety.
BALANCE YOUR ACT
Week three into her business journey, Barre Brisbane founder Ash Daniec found that three classes a day wasn't enough to meet intense demand for her workout that combines yoga, ballet and Pilates.
Barre Brisbane set up shop two months ago in West End.

Daniec is already planning for a studio on Brisbane's north side in the next 12 months, Noosa within 2 years, as well as long weekend Barre Brisbane Retreats and a week-long program internationally.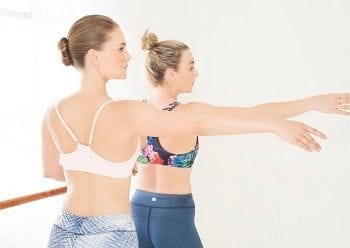 A former ballet dancer, Daniec says she was taken by a class at New York City's Ballet Beautiful, where supermodels like Gigi Hadid train, and was shocked the offering didn't yet exist in Brisbane.

"We are focusing on saturating the Queensland market because there's enough barre in other states and Brisbane's been a bit slow in that regard," says Daniec.

"There is a focus on activating each muscle with tiny movements - it's quite low intensity - so it's perfect for those who have joint issues or pain.

"While it may seem that small movements aren't giving you a hard-core workout like high intensity interval training, it is the exact opposite."

Daniec says so far it's been smooth sailing and she only wishes she backed her vision earlier.

"I didn't have much confidence and was a bit unsure about how to set up a business," says Daniec.

"There's now so much I'm setting out to achieve that I've come to accept my to-do list will never again be empty."

Get our daily business news
Sign up to our free email news updates.