Nic Nichols grew up loving graffiti.
It was this innate flair which led him to establish 40/40 Creative, a team of compelling young artists and creatives hell-bent on setting a new standard in digital marketing.
Through 40/40 Creative, Nichols intertwined his life's passion for street art with web design, graphic design and digital marketing to create a unique style which adventurous brands regularly covet.
Nichols is now one for the most successful young entrepreneurs on the Gold Coast, with past clients of 40/40 Creative including the likes of Uber, Subaru and Diversify.
Off the back of his success in the digital marketing game, Nichols has returned to his street art roots through his new venture Golden Walls and, in doing so, scored some of his biggest business to date.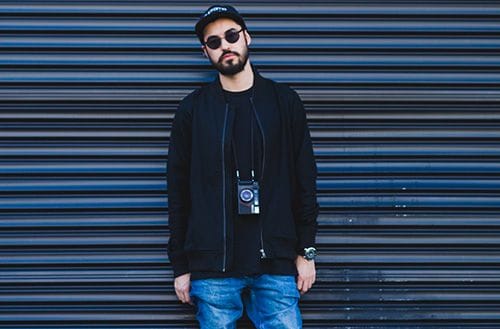 Nic Nichols, founder of 40/40 Creative and Golden Walls
Golden Walls partners with graffiti and street artists to create murals which turn blank walls into masterpieces.
When Nichols was approached by the Gold Coast 2018 Commonwealth Games Corporation (GOLDOC) to create two custom murals for the Athletes' Village, the opportunity was a no-brainer.
"A team member from GOLDOC reached out and said they had a couple of amazing contemporary spaces down at the Village, one being a games room and the other being the Watering Hole which is the athletes' bar area," says Nichols.
"They asked if we could come down and look at how we could make the place more colourful and more vibrant.
"So, I went down there and checked it out and in the next minute we were in there getting it done. It was a tight turnaround!"
Nichols is excited to have literally left his mark on one of the biggest events the Gold Coast has ever seen.
"I think it's great to be a part of something that's so massive for the Gold Coast," says Nichols.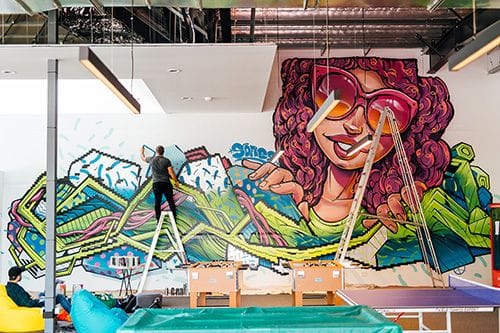 Golden Walls mural at the Gold Coast Athletes' Village
"I wish I could be in there when the art is being looked at and engaged with, but I'm definitely looking forward to seeing the photos that come out of the Athletes Village."
Some might think completing two major visual pieces for the Commonwealth Games would be cause for a well-earned break, but not Nichols.
The Golden Walls team are now in full preparation for the Detour art festival, which Nichols is running in partnership with Robina Town Centre over the next two weeks.
"Detour is an art festival curated by us in conjunction with Robina. It's 12 artists over two weeks just painting on various permanent walls around the centre," says Nichols.
"It's a bit of a tricky one because it's all happening during the Commonwealth Games, but I want to try and be there as much as possible.
"I'm looking forward to seeing the variety in the kinds of artists that we're working with and their artworks that they will be producing."
Never miss a news update, subscribe here. Follow us on Facebook, LinkedIn, Instagram and Twitter.
Business News Australia
Get our daily business news
Sign up to our free email news updates.