Sydney-headquartered Evie Networks has started rolling out charging infrastructure to make an electric vehicle (EV) vision a reality in Australia, with the launch of a game-changing highway station between Brisbane and the Sunshine Coast.
The new easy-access EV charging station by the Bruce Highway at Coochin Creek will help unlock the corridor between the two regions, and is completely powered by 100 per cent renewable energy.
The Coochin Creek site is the first in Evie's Australia-wide network of 42 stations due to be rolled out over the next two years and complements the network of 18 EV fast chargers installed in cities up the coast by the Queensland Government.
Evie Networks CEO Chris Mills (pictured above) says the opening represents a landmark moment in Australian electric motoring.
"This station is the first of what will be the largest rollout of ultra-fast highway charging stations being built in Australia," says Mills.
"There are currently only around 70 fast charging sites in Australia, most of which are proprietary or require a subscription.
"Providing ultra-fast charging stations at accessible highway locations around the country, all open-access and 'pay-as-you-go', like the Coochin Creek, is about serving EV drivers and opening up new journeys."
Manufactured by Brisbane company Tritium, the station's 350kW chargers offer both Japanese and European plugs and are the first of their kind globally, catering for all available EV models.
Like Tritium, Evie Networks is backed by the St Baker Energy Innovation Fund, named after its founder Trevor St Baker (pictured below) of ERM Energy (ASX: ERM) fame.
The fund has contributed $35 million to the company, which is accompanied by a $15m recoupable grant from the Australian Renewable Energy Agency (ARENA). This makes the project the most heavily funded electric vehicle charging operator in Australia.
Currently fitted with two charging heads, Coochin Creek has the space and infrastructure to support an additional four chargers as Australian EV ownership increases.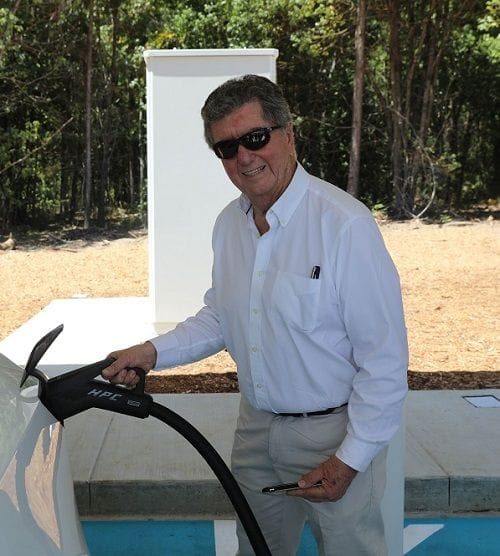 Mills says Evie's focus is on providing customers with the highest quality and most convenient charging experience at all network locations.
"All of our sites will be co-located with on-site amenities and convenience stores," he says.
"They will be safe and secure, with 24/7 access, customer support, lighting and security, while charging availability will be assured with at least two ultra-fast chargers at every site.
"We have strict site-selection criteria. It's crucial for EV drivers that we get it right for them."
For the first month of opening, November, charging at Coochin Creek will be free. After this, Evie customers will be able to use a pay-as-you-go system via the Evie app, available on both iOS and Android devices, or an RFID card which can be ordered via the app.
The Australian Electric Vehicle Association's Queensland branch chairman Jon Day says the new ultra-fast station is a fantastic addition to the Australian electric vehicle infrastructure network.
"It really opens up the corridor between Brisbane and the Sunshine Coast for electric vehicle drivers like me, with the benefit of charging at the maximum speed my EV can handle," says Day.
"It's especially a real game-changer for lower-range electric vehicles with smaller batteries because it means they have an easily accessible 24/7 charging option just off the highway.
"The proximity to so many amenities and the protection provided by the solar canopy are also a real step up from every other charging station I've used."
In February, St Baker highlighted the EV industry's potential to boost the Australian economy, enhance public health, and offer benefits to both consumers and businesses.
"A recent report by PricewaterhouseCoopers and the EV council has found the electrification of transport has potential to add $3 billion to GDP, create over 13,000 jobs and reduce emissions by 18 million tonnes," St Baker said.
"This future cannot be achieved without dedicated investment in education and infrastructure to advance our nation's capabilities and spark forward-thinking change.
"We are preparing the next generation to drive this change, with the recent launch of the University of Queensland Tritium e-mobility fellowship. Tritium has achieved world recognition as a leader in EV fast charging development and manufacture, and this program will help to maintain this global leadership role in Australia, as well as accelerate awareness and progress in the industry.
"Clean energy is the future and is something that I expect Australians will embrace as we expand national EV charging facilities and infrastructure."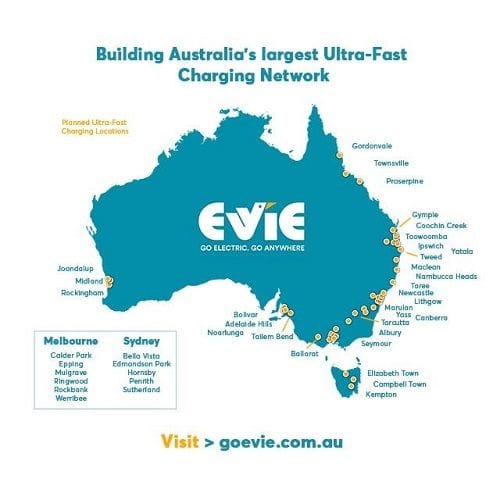 Never miss a news update, subscribe here. Follow us on Facebook, LinkedIn, Instagram and Twitter.
Business News Australia
Get our daily business news
Sign up to our free email news updates.