Michael Hill was a late bloomer in the world of business and for the last 40 years he's been making up for lost time.
Now with more than 300 stores across Australia, New Zealand and Canada, it is hard to believe the man whose name is so synonymous with jewellery was once apprehensive to start a business.
Hill comes from a long line of jewellers and watchmakers. In fact, he says his great grandmother in Prussia made jewellery for a Russian tsar, but it was on the other side of the world where Hill learned the skills of the trade.
A 23-year apprenticeship is rather long, but that's exactly what Hill did at his uncle's jewellery shop in Whangarei, New Zealand until the late 70s. And he may well have stayed on that track if it weren't for a devastating fire that destroyed the house he had built with his wife Christine.
"Just like a flash it changed my complete outlook where I realised that all those years, and I was just about to turn 40, I could have been doing a lot more but I was sort of a little timid, a little frightened about stepping out," Hill tells Business News Australia ahead of the company's 40-year anniversary celebrations.
"When I opened my first store I didn't have any real intent of having anything more than that one store, but it was in that first year that I realised I had the tiger by the tail and there would be the potential for many more.
"I always thought if I had three stores I'd have so much money I wouldn't know what to do with it. It's quite funny really isn't it? And now we have 306."
What set him apart from the competition back then was the simplicity of the stores.
Rather than having customers enter through a small doorway and be met with "prim and proper" formal service and jewellery mixed with cuckoo clocks, trophy cups, silverware and a "hodgepodge" of assorted shiny paraphernalia, he kept the range limited.
"We basically just sold jewellery, mainly diamond rings, and watches. That was it - it was a very clean front," he says, noting inspiration for this approach came from the gold markets of Hong Kong and Singapore.
"We changed the windows once a week and they were very radical, and we had a wide open doorway with a roller door going up.
"There was no door you had to open; you just went straight into the shop, it was very beautifully lit with displays in the U-shaped counters."
Hill's other tactic was to have unusual advertising with strange presentations, which he says had a "ridiculous instant effect" in New Zealand.
"When we went to Australia [in 1987] we did the same thing, in Brisbane of all places. We played it on television and it just went absolutely ballistic in Australia," he says.
"In fact it was so popular that we had to actually pull it off for three days. It was just like you have never seen so many people come in, it was extraordinary.
"We disrupted the market completely. We were selling jewellery that was really only for the very rich - we made it affordable for everybody so it was a totally different model and it just went like crazy."
Naivety, sometimes it pays off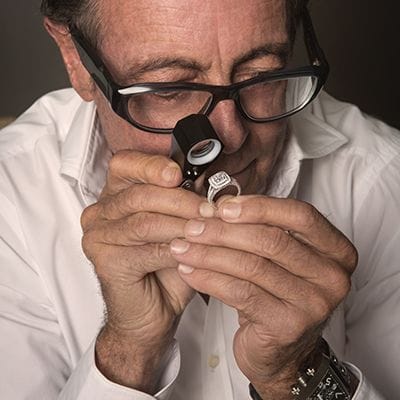 Michael Hill crossed the ditch to Australia in the same year of the stock market crash, but he didn't pay too much heed to the negative sentiment and economic indicators at the time.
"Everybody pulled back, everyone cut back on their buying, and it made no difference," he says.
"I may have been naïve, but it actually worked because we kept producing stock, we didn't we didn't stop a thing. That gave us an enormous advantage."
It's a trend Hill would observe during the economic downturns that followed over the decades.
"I've always found one thing that's quite interesting in the jewellery business is it actually usually does slightly better in poor times," he says.
The international jewellery chain founder says this may be because people aren't buying large items like homes, boats or other outlandish expenditures.
"They are more prepared to buy a piece of lovely jewellery for their loved one," he says.
The Australian expansion established three stores within 18 months, and in the 1980s Hill was able to retire at Sanctuary Cove on the Gold Coast.
It didn't last long.
"And I tried doing nothing except playing golf and having lunches and things, and I just found it really boring to be honest. My golf never got better which is even more alarming - I just felt fidgety.
"What I've discovered in my ripe old age is that we always need a goal, we always need another mountain to climb. And even if you've climbed Everest is still another mountain out there or there's a bigger idea.
"I think if you always challenge yourself and you always push yourself and you never give up doing that, what you have is far more fun."
He says having something to help you bounce out of bed in the morning will keep you young. Last year he resigned as chairman at the company, which was dual-listed as Michael Hill International on the ASX and NZX in 2016, but he remains very active in the business.
In 2018 the company a new CEO as well - Daniel Bracken, who Hill describes as "one of the masterminds behind Burberry in the old days".
"It was a raincoat company for God's sake. And it was one of the few that turned into a global brand," he says.
"My main ambition and challenge now is to reinvent our brand to become a global player, and you need some serious changes to do that which is what we're working with Daniel to do."
Hill's daughter Emma Hill became chair when he stepped down, and she has already been a major part of the company's success having led the move into Canada.
"Many times I could have stepped in, she was denied certain positions in the company - even to become a manager of a shop - but she had to deal with that herself," says Michael Hill.
"I never interfered at all. And if anything, it was probably twice as hard for her because everybody had the microscope on her."
Lessons learned from the jeweller's biggest challenges
Michael Hill says the biggest hurdles for the business have come from international expansion, but these steps have also helped the business model improve in areas where its leadership could have been complacent otherwise.
"For each country we went into it was like starting again - when we went to Australia it still took quite a big push, we quickly went to Canberra and they didn't like the advertising of me on television at all," he says.
"It really was quite difficult and that really didn't work. That set us back a bit and we realised we were moving from one area to the next to quickly; we should ave concentrated on Queensland without being distracted and going all the way down to Canberra.
"Then when we went to Canada once again it was totally different. Even though we had the best looking shop, beautiful displays and the same advertising, people would come in but they wouldn't buy."
He says it probably took seven years before the Canadian business started making money. That was mainly because the core business was to deal in 9-carat gold, but in Canada the base was 10-carat gold.
"So we had to adapt to all of our gold in our business to 10 carat, which then worked in Canada," says CEO Daniel Bracken.
"And we've now rolled that 10-carat across all of our business in Australia and New Zealand, which now means we've got a differentiator to everyone else in the market because everyone else here is still on 9-carat.
"Another really good example is that Australia and New Zealand, when it comes to diamonds prioritise clarity above colour. Canada is completely different - color is more important than clarity."
This experience comes back to a key finding from Michael Hill's four decades in business - "the main thing is you have to get a model that is bulletproof".
"A lot of people have a successful model that works particularly well in one way and then they can replicate that or two or three times," he says.
"They can easily get away with quite a few errors or a few discrepancies in the business that shouldn't be there.
"The more shops you have and the more you expand, the bigger those little things become - it's about continuously finetuning that brand like you're building a moat around yourself."
And from the company's expansion into the US market that another insight has been gained to help build that figurative moat.
"What we discovered from doing the business in the United States came as a bit of a surprise. We've always stocked a vast variety of the rings and jewellery, but what we found is the things that really only sold were the ones we had designed ourselves," he says.
"That made us realize that if we were to become a global brand, what we needed to do was to really work on bringing more of the family collection so that they became the greatest part of our business, giving us an enormous point of difference above all other jewellers.
"If you're going to just sell a solid diamond ring that's exactly the same as you can buy in any other shop, it just comes down to a price."
He adds people today are more picky - they want jewellery that's going to have a story, something original behind it.
"That's the direction we're taking," he says.
"When we get to 50 per cent of only our branded collection, then we've started to develop a moat around ourselves and that means we're in the world of a brand," he says, noting the current share is around 35 per cent.
"Then we can expand into places like the East for a start, I mean China is a vast market. But to go into China just selling the same apples as they're selling apples, would be a disaster."
When asked about the watch range which was launched in 2006, Hill says around 66,000 were sold last year and it's going to become significant part of the business with great potential.
Hill notes the trends come and go. First watches were getting bigger and bigger, but now the trend is going in the opposite direction.
"They're even getting back to a fine style. They're even going to start going smaller again and go back to the where they were in the in the 50s," the industry veteran predicts.
"It's a totally different world out there so we have to be very adaptable, very quick to change.
"Even though there will be my design of rings that we would have had in stock for maybe five or 15 years, these will be changed regularly as well."
But in Michael Hill's eyes, the biggest change is happening right now with a new design of stores to be rolled out with the first recently opened in Brisbane.
"We're opening the curtains on a new Michael Hill - a new venture with a new totally different look, a new everything."
Never miss a news update, subscribe here. Follow us on Facebook, LinkedIn, Instagram and Twitter.
Business News Australia
Get our daily business news
Sign up to our free email news updates.