Despite the Australian Competition and Consumer Commission (ACCC) warning Facebook about a number of recurring and dangerous ads on its site, the social media giant appears to have taken no action.
Over the weekend, Business News Australia once again spotted scam ads which featured Shark Tank personalities and were spruiking fake businesses.
These are the same ads which landed Facebook in hot water in September, after the ACCC revealed its Scamwatch website has received almost 200 reports in 2018 and losses totalling more than $142,000 as a result of fake ad scams.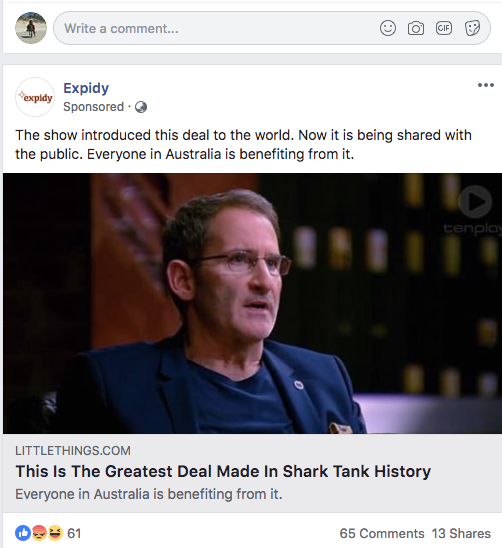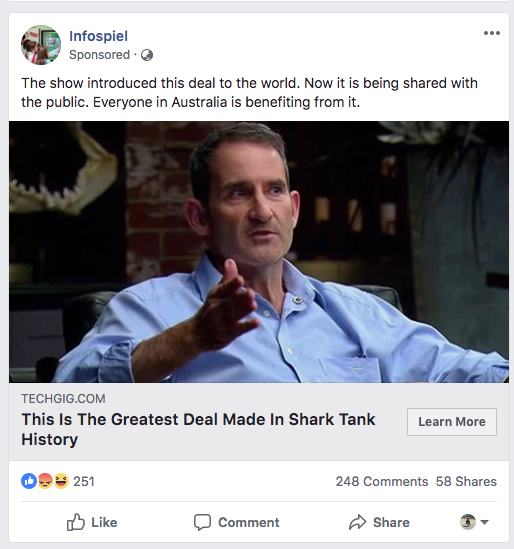 Two examples of the Facebook ad scam discovered over the weekend
At the time, the ACCC warned Australians about scam ads which continue to appear on Facebook, as well as trusted news sites and content providers like Google, the SBS, The Daily Telegraph, The Australian, and The Sydney Morning Herald.
Both Google and Facebook claim to have taken action in the past against malicious third-party advertisers.
Speaking to Business News Australia, one of the regularly targeted Shark Tank personalities, Steve Baxter, says Facebook does not do enough to curb the scams.
"I think there is conclusive proof that the platforms do not care," says Baxter.
"They want to displace new media but seem not to be willing to come under the same level of decent operations that traditional media has to."
The founder of River City Labs says he is considering taking legal action because of the sustained promotion of these scams using his likeness.
"We are considering legal action - imagine if those ads ran in a printed newspaper - all hell would break lose. There has to be an equivalence to what happens, if these operators rely on advertising then there has to be some accountancy," says Baxter.
In August 2018, Google said it had shut off its service to third-party technical service providers following a variety of misleading ads and experiences.
Facebook said that it had also shut down its Partner Categories service in the wake of the Cambridge Analytica scandal back in March 2018.

An example of the scam on the website of The Sydney Morning Herald
However, on Facebook's behalf, the evidence points towards the conclusion that its scam blocking tactics may not be up to snuff.
Business Insider recently posted the findings from its own investigation into Facebook's advertising control.
Setting up its own sting, Business Insider ran bogus adverts on Facebook and listed them as being "paid for" by Cambridge Analytica, the company which was responsible for the highly-targeted politically motivated ads which copped serious blame for the Brexit result and the election of Donald Trump in the US.
Even though Cambridge Analytica is now banned from Facebook and went into administration following the scandal, Business Insider's fake ads still successfully ran.
The media company also created a dummy page pretending to be an NGO called "Insider Research Group" and then posted two fake ads as being "paid for" by Cambridge Analytica.
Strangely, Facebook also approved these ads, the content of which was exactly the same as ads that had been run by the Vote Leave campaign during the Brexit referendum, and which linked to Cambridge Analytica's website.
"We chose to run the ads over two days to a limited local audience in east London to test whether Facebook's moderators or automated filters would pick up on the fake "paid for" disclosure or the Cambridge Analytica name," says Business Insider journalist Shona Ghosh.
"Running a campaign and setting it live on Facebook requires further approvals from the company, separate from its requirements for running political ads. But at no point during the verification or approvals process did Facebook flag that the ads did not meet its standards."
Eventually, the ads were removed from Facebook, but not before they were seen by Facebook users. According to Business Insider Facebook did not explain how the adverts slipped through their approval process.
It looks like something may be broken at Facebook, and it should concern anyone who pumps money into its insatiable advertising machine.
Never miss a news update, subscribe here. Follow us on Facebook, LinkedIn, Instagram and Twitter.
Business News Australia
Get our daily business news
Sign up to our free email news updates.