Perth-based fitness technology entrepreneur Jon Gregory (pictured) has an ambitious target with his start-up company Vitruvian Investments – a plan to tap into the $16 billion global fitness craze and take on market-leading fitness platform Peloton Interactive (NASDAQ: PTON).
It's a giant leap for a company that has only recently brought its technology to the market. However, after raising $US7 million ($9.7 million) in fresh capital and notching up $US1.2 million ($1.66 million) in sales in the first six months to June, the company is preparing to flex its muscle through an aggressive campaign that will initially penetrate the US and Australian markets over the next year.
Vitruvian uses 'intelligent resistance technology' for its key product, the V-Form Trainer, which is a compact, slimline carbon-fibre platform that utilises a dynamic tension system, employing algorithms to allow users to effectively lift weights from 5kg to 180kg.
The potential of the device has caught the attention of Tony de Leede, the entrepreneur who brought Fitness First to Australia. He is a foundation investor.
The platform was developed more than a decade ago by Gregory, a former high-frequency trader with a degree in applied physics, after he began looking for an alternative to pumping metal weights in between trades at his desk.
"At that point I thought we could surely do better than pushing metal and I'm sure we could use a bit of physics and electronics to make weights engaging and dynamic,' says Gregory, co-founder and CEO of Vitruvian Investments. "It turns out you can, and while it took me a long time to figure it out, it's way better than I thought it would be."
The V-Form Trainer does away with bulky dumbbells and relies on two motors run by high-speed electronics to continually adjust the tension on the spool that is attached to the exercise cables.
"It's not resistance as such; it's dynamic tension," says Gregory.
"It's like a tug of war that you can never win, because the machine will always be slightly better than you.
"At a higher level what we are trying to do is create a cable that behaves like the human muscle. The best way a human muscle can be challenged and improved is to be counter-balanced by an equal and opposing force that behaves the same way as a human muscle."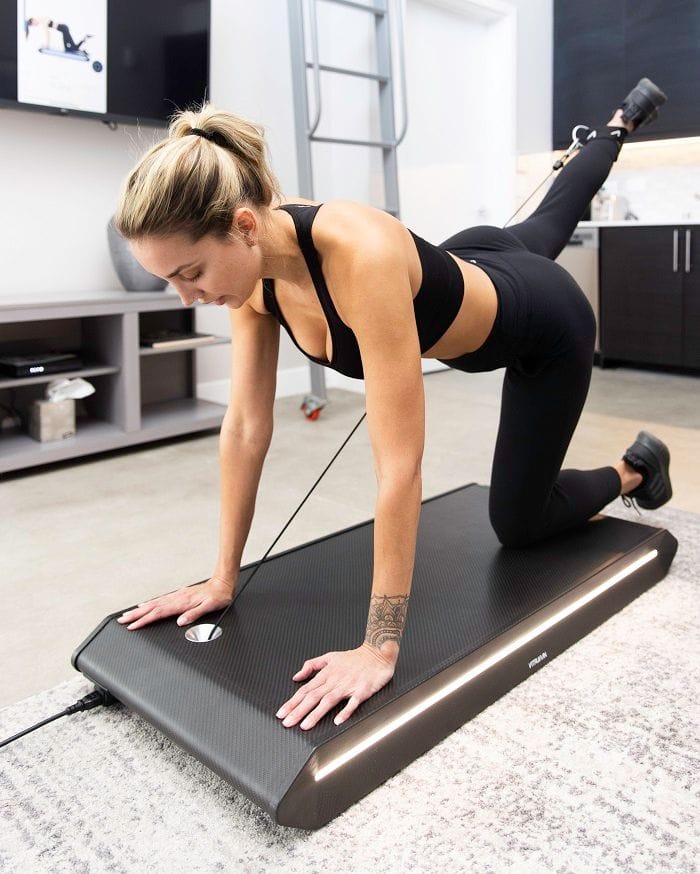 When paired with the Vitruvian App, the V-Form Trainer offers fitness buffs access to custom weight workouts for either solo or group sessions and motivational classes with the ability to track fine-grain performance data.
Vitruvian Investments plans to create a subscriber-based model similar to Peloton which Gregory says is the right way forward for the company over the long term.
Peloton Interactive is a $45 billion company, the world's biggest interactive fitness platform with a subscriber base of more than 5.4 million globally. Most of the company's growth occurred during the global lockdown when gym junkies were forced to exercise at home.
"It's the gorilla in the market and my goal is to make Vitruvian as big as Peloton," says Gregory.
It's an ambitious plan, but for Gregory it begins with creating a 'credible alternative' to Peloton and its nearest rival Total Gym, which is less than a quarter of Peloton's size.
The challenge at hand for Vitruvian Investments is to ramp up production of its V-Form Trainer. It is currently selling as many as it can produce from its Taiwanese assembly base.
"The first-generation product has a number of hand-made products in it, limiting us to making 70 to 100 machines a month," says Gregory.
"From the get-go, we've been behind in fulfilling orders. In June, we caught up with our backlog for about week and then we got slammed again. It's gone amazingly well. We know we have our product right because we can sell as many as we can make."
The latest capital raising is aimed at driving production forward for the company, allowing Gregory to bolster his teams and bring the second-generation machine to production.
"The second-generation product is as much about solving manufacturing at volume as much as anything else," he says.
"We knew it was going to be difficult to make initially but we felt it was the right thing to do to get a small volume out there and take them to early adopters. We're getting super close now to where we can make hundreds (of units) a day and not 70 a month."
The scale-up of production will require another round of capital raising that has yet to be announced by Vitruvian Investments.
"So, the race is on for us to become a credible alternative to Peloton. The only way we can do that in any sort of timeframe is just massive is in terms of how many machines we can make, move and become connected."
Like Peloton, Vitruvian is planning a subscription model for the V-Form Trainer. The product currently retails at $US2,200 ($3,071) which offers a thin margin for the company, but there are plans to apply a monthly $US39 ($54.45) membership fee to use the device.
In comparison, Peloton bikes are priced from $2895 to $3695 and carry a monthly subscription fee of $59.
"We are trying to create a network of machines in gyms, physios and people's homes and throw as much value at customers as we can," says Gregory.
"The next stage is programming so that members can sign up for a 12-week program. We have plans where you can be coached in a team environment by someone, or you can be a coach yourself. The hardware is the enabler, and the software (the app) is what unlocks the value."
Vitruvian plans to gain scale through the deployment of as many machines as possible in the early rollout phase, even offering early adopters a period of free memberships. Unlike Peloton, Vitruvian will not restrict the number of people allowed for each membership.
"We charge for the device, and there will be a connection fee attached to create an account, but anyone can use it. That means teams, workouts and classes. We don't see a world where we want to limit and charge for individual uses. If you are a gym, your entire gym can train with you, or your entire family can train with you."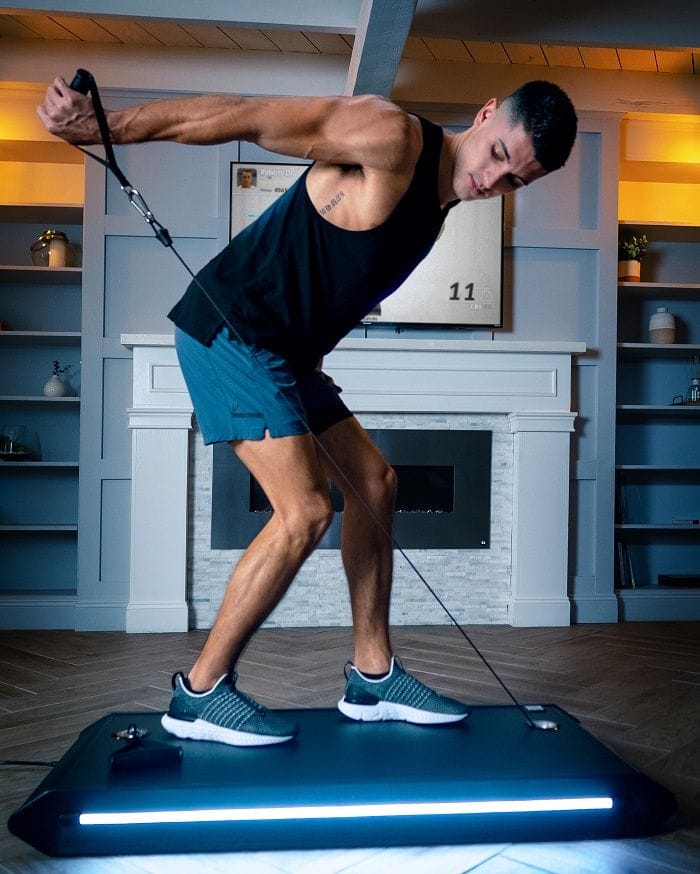 Vitruvian is gaining some traction in the US market, which has been an early target for the company.
"Coming through 2022, the US will be our main focus because the market there is educated," says Gregory.
"They're great consumers, they're ready for it and they're excited. There's a lot of efficiency for us by concentrating on North America, but we'll never stop selling to the rest of the world. It's designed to work and be compliant in pretty much every country in the world.
"We've already got this amazing community of 600 to 700 users on our machines and it's so gratifying for all of us to know we've built something that people are getting a benefit from."
Gregory concedes that product-based companies are capital intensive, which requires patient investors.
"We need to raise as much money as the number of machines we want to produce," he says.
Vitruvian's latest US$7 million ($9.7 million) capital raising was a top-up mini round for existing investors that also attracted new investors. Among the high-profile investors to come on board is Collingwood AFL player Josh Thomas, the first athlete to directly invest in Vitruvian. Ambassadors include former Australian pole vaulter and fitness influencer Amanda Bisk.
Gregory says his direct contact with key foundation investors such as Fitness First's de Leede is vital to progressing his business plan.
"My job is to build teams – a software team, engineering team, a sales and marketing team and a capital team. I certainly view every single one of our investors as part of the team and that really helps.
"It's less about how much money they have and more about how interested they are in the business and how they want to lean in with their own contacts."
Gregory says his investors have a handle on the scope of the market Vitruvian Investments is tackling. Gregory is also not afraid to quote big numbers as targets for the fledgling business.
"I take a very top-down view and I believe the market is about five million machines, but that is a drop in the ocean in terms of how big the market can be," he says. "Peloton in the coming decade could scale to 50 million bikes."
Vitruvian Story from Vitruvian on Vimeo.
Get our daily business news
Sign up to our free email news updates.