The latest figures revealed by the Insurance Council of Australia (ICA) show a slowing rate of new claims stemming from floods in QLD and NSW, as an "army of insurance assessors" tries to take stock of the situation in Lismore despite the challenges.
The council's members have now received 67,537 claims, representing a 12 per cent daily increase that takes total damage estimates past $1 billion to date.
This is in addition to more than $1 billion in Federal and State Government-funded financial supports promised or proposed in NSW and QLD respectively for small businesses, primary producers, non-profits, community organisations and local governments.
NSW is slowly starting to make up a larger proportion of the claims, up two percentage points over the past two days to 24 per cent, with ICA noting they will likely increase in the coming days as the impacts of the weather event become more apparent.
ICA CEO Andrew Hall today welcomed comments by National Recovery and Resilience Agency (NRRA) head, Shane Stone, calling for a review of land use planning arrangements.
Hall is in Canberra today to attend a meeting of emergency service ministers and agencies along with other stakeholders.
"The impacts of this event across two States are still coming into focus, and we are particularly concerned about the community of Lismore who have been absolutely devastated," Hall says.
"An army of insurance assessors are already on-the-ground helping with claims where it is safe to do so, and we are working closely with all levels of government and community to see this happen as quickly as possible," he says.
"Claims handling reforms have significantly improved the customer experience, and eligible customers in urgent need can now more quickly receive an advance cash payment of up to $5,000."
He adds customers may also be able to access temporary accommodation under their policies, although he acknowledges this is "particularly tight" in Lismore and some other locations.
"This event has just reinforced the need for a national conversation about what we build and where we build it, and to that end I welcome comments by NRRA head Shane Stone today and look forward to taking up this issue with State and Federal Governments in coming months," he says.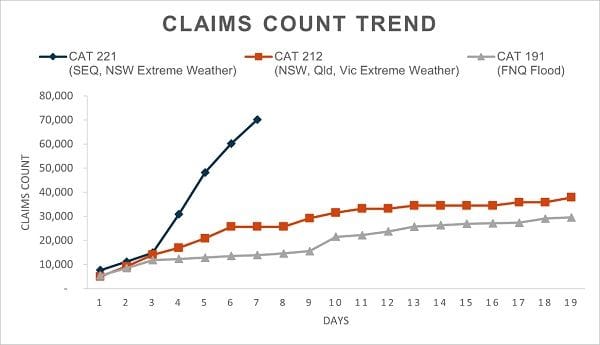 Get our daily business news
Sign up to our free email news updates.