The future is now in South Australia where a new flying car racing series called Airspeeder is taking shape in the state's desert.
From its new technical facility in Adelaide, Alauda, the parent company of the proposed high-octane race series Airspeeder, hopes to build a global hub for the new sport.
The company says Adelaide was selected because of its proximity to the hub of Australian space and aerospace technology, the Australian Space Agency, as well as its vast surrounding deserts that are effectively tailor-made to test both unmanned and manned flights.
It also helps that founder Matt Pearson is a local serial entrepreneur. As the co-founder of low-orbit satellite technology company Fleet Space Technologies, Pearson has both the technical know-how and business acumen to build Airspeeder into a hit.
The Adelaide facility will be the company's technical base and will house its team of engineers and technical specialists drawn from leading names in aerospace, motorsport and engineering including Rolls-Royce and Babcock Aviation.
While Adelaide will be Alauda's technical base, the company has also established a corporate HQ in London, making this futuristic idea a global endeavour.
Following a successful investment round, attracting the likes of leading technology investment firms Saltwater Capital and Jelix Ventures, the company is poised to launch the new sport after practice runs in Adelaide.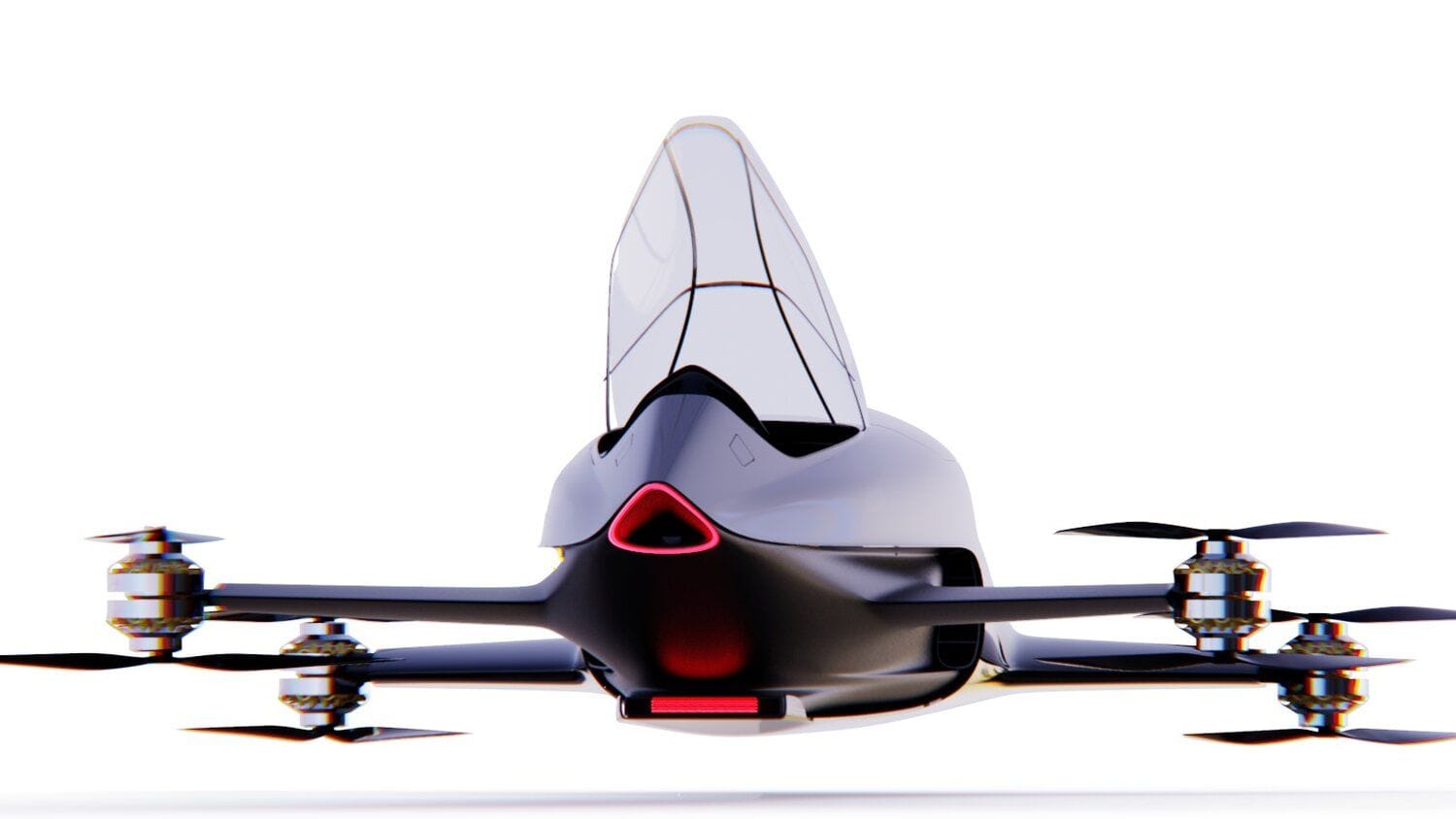 Like something out of a video game, and not too dissimilar to pod racing in Star Wars (though hopefully a lot safer!) Airspeeder is designed as a sport for a generation raised on esports, but the promise of Electrical Vertical Take Off and Landing, or eVTOL for short, has applications beyond entertainment.
Companies like Uber, Porsche, GE and Boeing hope to harness these technological developments to improve transport, reduce congestion, and bring cars to the skies, all while tapping into a new sector poised to be worth $1.5 trillion by 2024.
However, as the creator of the sport and the hardware that delivers it, Pearson hopes Alauda will dominate the performance segment of the market in the same way exotic and luxury car makers did in the early 20th century.
Taking cue from Enzo Ferrari, the founder of the eponymous automotive giant, Pearson hopes sport will enable eVTOL to become a mainstream technological breakthrough.
"Electric flying cars are a coming reality that will liberate our cities and answer the long-term mobility challenges we face," says Alauda and Airspeeder founder Matt Pearson.
"Nothing drives technology as fast as competition. The F1 racers of the early 20th century possessed a pioneering spirit we are harnessing today to rapidly accelerate progress. This seed investment represents a significant leap forward in the next great mobility revolution."
To achieve this goal Alauda intends to hand over the basic hardware to a range of teams and manufacturers who will take the tech and push it to its limits.
Right now Alauda is at an advanced stage of testing; its electric flying multicopters successfully completed trials throughout 2019 and a team of test pilots recruited from the US Air Force and Martin Aviation will test the MK2 advanced development prototype in the Mojave Desert.
The MK4, first shown as a concept in the summer of 2019, will be co-developed in the UK and South Australia, with the latter proving the perfect testing ground for both ground control and manned flights as the sport nears its inaugural 'Beta Season'.
This will include public manned test flights that will demonstrate Airspeeder's potential as a sport.
"We believe in open innovation," says Pearson.
"Looking back to the development of both the car and aeroplane over a century ago, it was sporting competition that drove progress. We are delighted to work in close collaboration with global regulators and the wider eVTOL industry to bring closer a revolution in airborne mobility."
But what would Airspeeder look like as a sport?
Designed primarily from the perspective of a young, esports fanatic, and to comply with safety regulations, Airsppeder competitions will be experienced globally via multi-channel streaming.
Alauda says spectators at live events will be limited to VIPs who will be able to experience the action from luxury pavilions.
As they race the Speeders will use machine vision technology to ensure close but safe racing, with defined and digitally governed no-fly areas surrounding spectators and officials.
South Australians best take to looking to the skies as the first manned test-flights will be taking place in 2020 with an official Grand Prix season coming soon.
Never miss a news update, subscribe here. Follow us on Facebook, LinkedIn, Instagram and Twitter.
Business News Australia
Get our daily business news
Sign up to our free email news updates.
Help us deliver quality journalism to you.
As a free and independent news site providing daily updates
during a period of unprecedented challenges for businesses everywhere
we call on your support