The final frontier is just the beginning for the stargazers at Gilmour Space Technologies.
During the week which coincidentally marks the 50th anniversary of the Apollo moon landing, Gilmour Space Technologies (GST) celebrates its own history-making moment.
The Gold Coast-based rocket engineering company yesterday completed the final stages of testing to precede the launch of its 8.6-metre 1600kg 'One Vision' rocket.
Today, the countdown begins.
The One Vision suborbital rocket is designed to deliver satellite payloads into space, and this first launch is the official trial run before GST commercialises its service in 2020.
Brothers James and Adam Gilmour will lead the convoy that takes the One Vision rocket from GST's headquarters in Pimpama to its launch location around 1700km from the Gold Coast, near Mount Isa.
Weather permitting, the team will push the proverbial 'red button' on Sunday 28 July.
James Gilmour expects the moment will be, for want of a better phrase, out of this world.
"This has been a culmination of so much hard work over a span of more than two years," he says.
"I'll be very nervous because there is always some risk and a bit of danger involved, but we have a safety operating procedure that sits right on top of every activity.
"We are looking forward to spending some time out in that remote location and looking up to the stars. It's going to be a real tease, because that's where we all want to go!"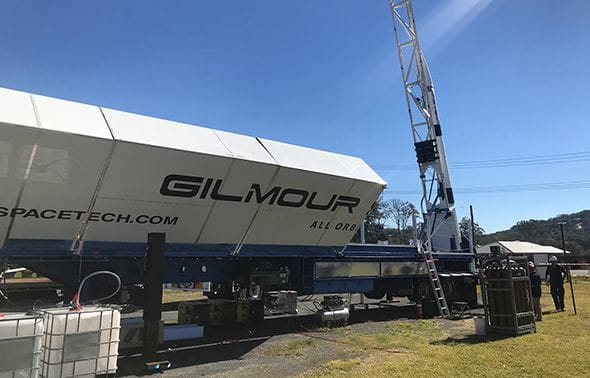 The One Vision mobile launch station will make its journey to Mount Isa this week.
Gilmour says the launch of One Vision is a singular moment, given that Australia has no spaceport.
Not only did the GST team build the rocket itself, they also needed to create the entire mobile launch pad from where the rocket will leave Earth.
"Because there isn't a commercial spaceport in Australia, we have had to build our own mobile launch capability," explains Gilmour.
"We created the ground control station, which has a number of workstations where we are able to visualise all components - temperature sensors, thermocouples, pressure sensors and so on - to make sure everything is running smoothly.
"This ground control station is then hooked up to the mobile launch tower, which is an 18-meter trailer that houses the launch rail and affixed rocket which will elevate to about 85 degrees on launch day."
"I think the only other similar hybrid rocket using hydrogen which was built by Australia was launched some time ago, it's a really exciting time for us."
The Gilmour brothers are proud to be at the forefront of Australia's space renaissance.
Their aim is to provide a leading platform for both Australian and international satellite manufacturers who need access to space.
A self-confessed geek at heart, James hopes GST's work will also help inspire future generations in the fields of science, technology, engineering and mathematics (STEM) to stay and work in Australia, rather than being forced to seek work elsewhere.
"We are very passionate about supporting the growth of STEM," he says.
"We'd like to see that, through our activities, younger generations and current generations will both continue to explore careers in the science, technology, engineering and mathematics sphere."
"When America made its bold statement in the 60's that it would put a man on the moon, they almost immediately saw a twelve-fold increase in PhD candidates in STEM fields.
"I am hoping that Australia can create a similar culture to keep our bright minded individuals at home."
Never miss a news update, subscribe here. Follow us on Facebook, LinkedIn, Instagram and Twitter.
Business News Australia
Help us deliver quality journalism to you.
As a free and independent news site providing daily updates
during a period of unprecedented challenges for businesses everywhere
we call on your support