The Gold Coast Convention and Exhibition Centre (GCCEC) is a leader in environmental and social sustainability in the Convention Centre space.
The centre's credentials are so impressive that it has just been awarded EarthCheck's coveted Platinum Certificate along with the Adelaide Convention Centre the first Convention Centres in the world to earn the accolade.
GCCEC was also the first Convention Centre in the world to earn EarthCheck Gold Certification in 2013.
It is no mean feat to be recognised by EarthCheck, the world's leading scientific, certification and advisory group for travel and tourism. GCCEC had to meet a stringent audit and compliance program in the areas of waste, energy, water, pesticides, cleaning and social responsibility initiatives over 10 years.
GCCEC's sustainability program is overseen by a committee of volunteer employees from all departments known as the Green Team who not only monitor the Centre's progress but brainstorm new ideas to further reduce the business' impact on the environment and give back to the community.
The committee is driven by Jamie Tonkin, the Centre's Assistant Facilities Manager who has been part of the Centre's environmental decision making for eight years. His motivation is business sustainability.
"It's very important to have people on the committee who are passionate about the environment. Some of our best ideas have come from that passion," says Tonkin.
"But you do need to have someone who ensures compliance and can see the benefits of sustainability to not only the environment but to the business' bottom line. That's where I come in."
GCCEC's dedication to battling the ravages of human impact on the Earth began in 2007 when the Centre aligned its practices to EarthCheck's. Since then GCCEC has recorded a phenomenal reduction in its environmental impact:
Saved enough waste to fill 76 standard 20ft shipping containers;
Energy savings that could power 33 four-person households for a year;
515 cars removed from roads through less greenhouse gas emissions;
Water savings equivalent to 7 Olympic pools.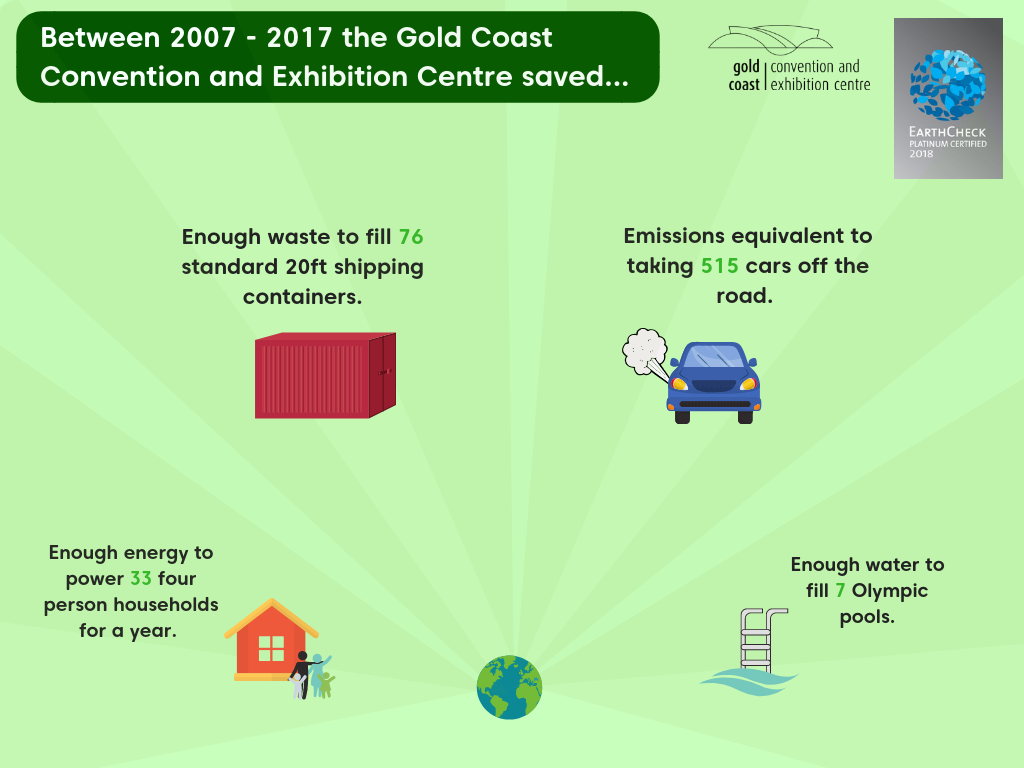 CO2 emissions were partly reduced through GCCEC's partnership with BioPak. The use of eco-friendly cups and cutlery made from plants not plastic contributed a saving of 8 tons of greenhouse gas emissions. That's equivalent to almost 3,000L of fuel saved or 41,087km travelled in a vehicle.
The results are all the more impressive in the face of an increasing number of events held at the Centre that produce rising amounts of water, energy and waste.
The Centre has implemented all the expected environmental actions like installing LED lights and sensor lights, recycling paper and printer cartridges and using non-potable water for the landscape irrigation system.
It's the attention to other aspects that make the difference. The Centre promotes its Green Event Guide to exhibitors, conference organisers and contractors. The guide is full of useful tips to reduce an event's carbon footprint.
Some companies embrace the offer and GCCEC helps monitor and then provide statistics on energy, waste and water consumption. Items like where fresh produce for banquets is sourced and even the size of the truck that transports the goods can be measured.
GCCEC's sustainable reach extends beyond its property boundaries and the Centre partners with OzHarvest to donate excess, freshly made and packaged food. Since partnering with the national food rescue organisation in 2014, the Centre has donated more than 4,800kg of food or 14,000 meals to those in need.
The Centre is proud to boast it sources 85 per cent of food products locally, ensuring an abundance of fresh food that isn't transported long distances, reducing the amount of carbon emissions.
EarthCheck's audit and compliance monitoring included GCCEC's robust corporate social responsibility endeavours like fundraising for the homeless and the sick, providing gifts for disadvantaged children and homeless animals at Christmas, and more recently, a fundraising drive to help Australia's drought-stricken farmers.
Staff at GCCEC are passionate about the environment and giving back to the community. And it's no wonder, as the 'green' attitude is ingrained in the Centre's culture and championed by a number of staff who are in the more socially conscious age group of 18-25.
Environmentally friendly initiatives and successes are displayed on a special staff noticeboard, they form part of a new employee's induction, are promoted through internal newsletters and video screens as well as being available on the GCCEC website.
The Centre's sustainable practices are also part of all contractor inductions required before any work begins on the preparation or build of an event.
GCCEC's vigorous attitude to maintaining and improving sustainability standards is underpinned by a simple philosophy: Sustainability is something that should be a natural part of their daily actions because what they do today will benefit the delegate of tomorrow.
And if EarthCheck's elevation to Platinum is anything to go by, GCCEC is certainly walking the talk.
This article was written in partnership with the Gold Coast Convention and Exhibition Centre.
Never miss a news update, subscribe here. Follow us on Facebook, LinkedIn, Instagram and Twitter.
Business News Australia
Get our daily business news
Sign up to our free email news updates.