The Gold Coast may be about more than just property and tourism, but both remain key tenets of the city's economy as sectors that dominate our top 11-20 companies.
Adaptation to the population changes afoot can be seen in aged care projects from the likes of Condev Construction and Halcyon, and the massive transformation underway at the Gold Coast Airport precinct to cater for rising passenger numbers.
Meanwhile Bond University, which next year celebrates its 30th birthday, continues to flourish as Australia's only private university.
Robina Group has also reaped the benefits following a bumper year of sales and development.
Tomorrow we reveal who will make the cut for the Gold Coast's top 10 companies.
---
11. Condev Construction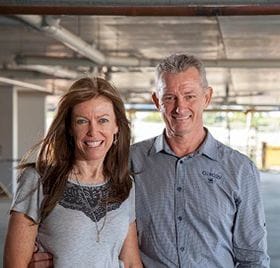 Established: 2002
Staff: 90
Condev Constructions has adapted to market changes over the last financial year with a concerted effort to strengthen its position in the design and construct sector.
As a result, it has already secured more than $200 million in forward work for FY19.
Condev is focused on mid-tier retail, industrial, multi-level residential, aged-care, education, government, community and environmental projects. It recently diversified into the commercial sector with the Gold Coast 2018 Commonwealth Games head office renovations.
In the past year, Condev has also completed the new multimillion-dollar James Frizelle dealership in Springwood, the high-tech state-of-the-art Harbour Quays Aged Care facility, as well as several award-winning multi-unit and residential constructions.
Education and government have been strong contributors with Condev completing eight projects in this space and establishing a significant pipeline for next year.
Condev also has launched a philanthropic arm, Condev Cares, a registered public ancillary fund that plans to donate more than $200,000 to various causes in its first year.
Condev has instituted an advisory board to manage its expansion and has adopted real-time project management and financial management software to optimise internal and external business tracking and accountability.
Key to the business' success is a focus on enriching people, something founders Steve and Tracy Marais have imbued in its culture.
"Ultimately, success is providing successful outcomes for people, whether they are key stakeholders, subcontractors or our own staff," says Steve Marais.
"Condev's accomplishment is a matter of understanding the market, having a vision of our place within it, and also having commitment to the right ethos to make things happen."
12. Bond University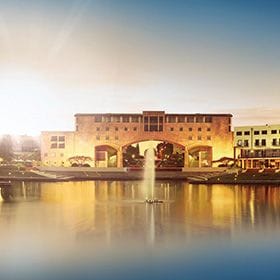 Established: 1989
Staff: 1000
While the Australian university sector was rocked by funding cuts announced by the federal government in 2017, Bond University has been one of the few universities nationally able to easily weather the storm.
As Australia's only private university it receives no government funding for student places, so it has cruised through an environment which remained volatile and uncertain in terms of government policy.
Bond has been acknowledged in the prestigious Times Higher Education list of the Top 20 World's Best Small Universities and, for the 12th year in a row, the 2018 Good Universities Guide awarded it with more five-star ratings in the student experience category than any other university in Australia.
It reinvests any surplus back into university activities and facilities. This year, Bond opened the multimillion-dollar rugby pavilion, the Fabian Fay Clubhouse, thanks to a renewed sporting focus that in recent years has delivered cutting-edge facilities such as Bond University Sports Centre.
The rugby tradition was bolstered when Bond Institute of Health & Sport became home base for all of the men's and women's rugby sevens teams at the Gold Coast 2018 Commonwealth Games.
Over the past year, the university moved to enhance entrepreneurial experience through the launch of an Australian-first co-curricular Transformer program. The new multimillion-dollar Transformer co-working space within Bond Business School now provides a dedicated place for students to access academics, industry experts, mentors and other resources.
In 2017, Bond hosted Pitch@Palace, a global start-up competition with the aim of creating stronger ties between the UK's entrepreneurial community and entrepreneurs in international markets.
Prince Andrew, the Duke of York and the program's founder, visited Bond University in 2017 to judge the competition.
Over the next year, Bond is planning an extension of the Health Sciences & Medicine building and a new student accommodation development.
13. Hinterland Group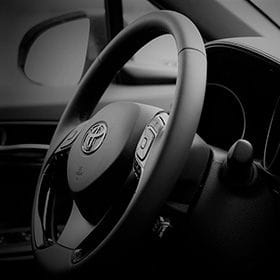 Established: 1983
Staff: 150
Almost one in five cars sold in Australia are Toyotas, and Hinterland Motors contributes a major part of that revenue on the Gold Coast.
While its volume may be short of Grand Motors Group in the city's north, Hinterland Motors' dealerships in offices in Nerang and Robina are doing their bit to drive sales for the Japanese carmaker.
But cars are not the only vehicle parked in the Hinterland Group's garage, with other businesses under the corporate umbrella including Hinterland Caravans (Burleigh, QLD and Morriset, NSW), Hinterland Motorhomes (Burleigh) and Surf Coast Marine (Labrador).
These businesses mark a diversification that started at the turn of the Millennium to go from a pure motor vehicle-based operation to also include services in boats, marine engines, caravans and motorhomes.
Other groups under the corporate's banner include lender Hinterland Money Solutions based in Labrador and coating solutions company Oz Trade Supplies which is run out of Nerang.
14. Queensland Airports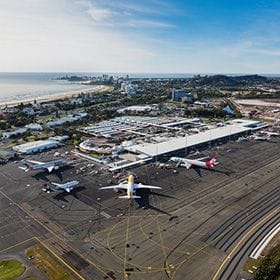 Established: 1998
Staff: 200
It has been a bumper year for Queensland Airports Limited (QAL), with a massive transformation of the Gold Coast Airport precinct under way on the back of record passenger numbers.
QAL operates Gold Coast, Townsville, Mt Isa and Longreach airports, which set consecutive combined monthly passenger records in the lead-up to the Commonwealth Games in April 2018. QAL posted its busiest month ever in January, with 794,433 passengers across the group.
Gold Coast Airport also had its busiest day on record on record on January 7, with close to 25,000 passengers travelling through the terminal.
"In April, Gold Coast Airport played an important role in welcoming tens of thousands of spectators, athletes and officials to the Commonwealth Games and there were some significant legacy benefits from our involvement with this major event," says CEO Chris Mills.
"Our ambassador program (volunteers assisting passengers in the terminal) is one example and it has continued to grow post Games.
"An $86 million airside upgrade at Gold Coast Airport is now complete, with a new apron for additional plane parking positions and a taxiway delivering improved operational efficiency.
"This upgrade was critical to progressing with the second stage of Project LIFT, which includes a three-level expansion of the existing terminal with provision for aerobridges."
In addition to Project LIFT, the airport precinct will include a $50 million Rydges-branded hotel which is under construction.
The 192-room hotel will offer convenience for travellers and locals and a new level of luxury, with a rooftop bar, viewing deck and resort-style facilities.
Through the $300 million Project LIFT upgrade, Gold Coast Airport is being expanded to cater for an expected 16 million passengers by 2031. The airport recorded 6.4 million passengers in calendar 2017.
15. Global Food & Wine Holdings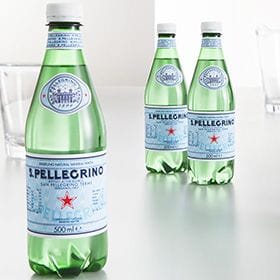 Established: 1957
Staff: 200+
If you live in Queensland or northern New South Wales there's a good chance you've consumed products from Global Food & Wine Holdings, a family company that sells food and beverages to around 4,000 customers daily.
The group is the leader in its domain, distributing more than 10,000 products including major Italian brands like Barilla, San Pellegrino and Peroni, as well as Australian brands like Bulla Fortitude Brewing and Batlow Cider.
But to name just a few products only scrapes the surface of Global's scale given its extensive range that spans cheese, olives, sauces, butter, meats, canned fruit, nuts and much more.
The food-service specialist supplies to cafés, bars, delis, supermarkets and restaurants, and some of its more high-profile customers include Qantas, Subway, Dan Murphy's, Spotless, Burger Urge and Guzman y Gomez.
Originally founded in Brisbane but with its head office in Nerang, the group has warehouses in nine locations going all the way north up to Cairns, with more than 100 delivery trucks in service.
The group is led by general manager Rob Ceccato.
16. Riviera Australia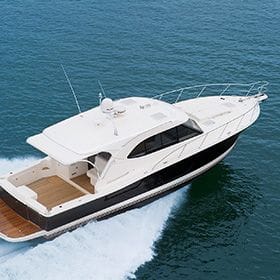 Established: 1980
Staff: 600
Riviera Australia is painting a robust picture of the Australian luxury motor yacht market with strong sales and jobs growth reported over the past year.
The Coomera-based boatbuilder has been quietly expanding its business over six years under the stewardship of owner Rodney Longhurst and long-time CEO Wes Moxey.
Riviera builds more than 100 motor yachts per year ranging in size from 39 to 72 feet at its 14-hectare state-of-the-art facility in the Gold Coast Marine Precinct. It is considered a much tighter manufacturing outfit than it was under the control of its former private equity owners.
The US remains a strong market for the company, with most of its exports heading there.
According to Riviera, the global market for its boats has been enhanced by new models and new technology that make handling larger boats easier and more efficient.
An appetite for bigger boats saw the release of the Riviera 72 Sports Motor Yacht at the Sanctuary Cove International Boat Show in May.
Longhurst says the boat show and Riviera's Festival of Boating led to 17 sales across both events.
"It is particularly satisfying to note that we welcomed owners throughout Australia, New Zealand and in south-east Asia across all four of Riviera's collections: Sport Yachts, Flybridge models, SUVs and Sports Motor Yachts," he says.
Over the past 38 years, Riviera has sold more than 5300 motor yachts.
The company is also doing its bit for boosting skills across the sector. Of its workforce of 600, it has 77 apprentices.
Global sales have been growing through an expanding dealer network, which includes new dealers in in Florida in the US, as well as in Japan and Turkey.
17. Robina Group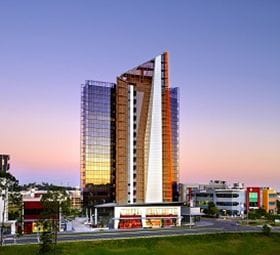 Established: 1980
Staff: 35
CEO: Hylton Slater
As the master developer of CBD Robina, the Robina Group has been kicking major goals in the past 12 months.
In its residential portfolio, the Group began construction on its $170 million Vue Terrace Homes project, which is now selling, and settled the last of its properties in the $130 million Botanique Terrace Homes development.
All 230 of its properties in Botanique sold off the plan within the first year from launch.
On the commercial side, the Gold Coast Innovation Hub leased 2,000sqm of office space in The PC Robina, with Minister for Innovation and Tourism Industry Development Kate Jones officiating the opening in October.
At the time, Jones predicted that up to $2 billion would change hands in the space over the next five years.
In the year ahead, Robina Group will focus on leasing office space in its yet to be developed 'The Base' project, which will be constructed adjacent to iconic Robina tower The Rocket.
The Group boasts a further $17 million in development-ready approved sites which have sold over the past year.
18. Homecorp Property Group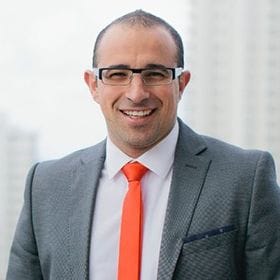 Established: 2004
Staff: 60
Homecorp has become a major player in the Queensland housing market in a relatively short period.
The company's construction arm Homecorp Constructions is now ranked the 11th largest builder in the state and among the top three builders based on the Gold Coast.
According to the 2017 HIA Top 100 report, Homecorp built 341 homes, just behind long-time Gold Coast builder Hallmark Homes.
However, Homecorp also has a strong development pipeline of residential subdivisions.
The company is headed by Ron Bakir, the 2013 Gold Coast Young Entrepreneur of the Year. He has grown the business from a small spec builder to a developer of master-planned communities in regional areas of Queensland.
The company's focus in recent years has been south-east Queensland, including a collaboration over the past couple of years with listed developer Sunland Group (ASX:SDG) to deliver homes at The Heights development at Coomera.
Homecorp has just launched a new 176-lot project in Redbank Plains, with a value of $80 million, and is about to launch a 76-lot townhouse project in Coomera worth $33 million.
While activity remains robust, Bakir sees some headwinds ahead for the development industry.
"The market will soften over the next couple of years, however, we continue to believe in the Gold Coast and south-east Queensland," he says.
19. Choice Homes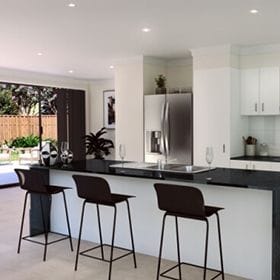 Established: 1993
Staff: 75
CEO: Troy Knight
The population boom in south-east Queensland has been a key driver of construction volumes for Choice Homes in recent years.
The family-owned company is highly active throughout the region including Logan, Brisbane, Ipswich and the Gold Coast, particularly the boom areas of Pimpama and Coomera in the city's north. The company also has a major land holding in Mackay, where it is building homes for the central Queensland region's population growth.
Steve and Gillian Knight established Choice Homes in 1993 and the company is now operated by their son Troy who became CEO in 2004.
Since then Troy Knight has established a development division and property management arm, MPM Properties, which caters for the growing investor market with dedicated offices in Ipswich and on the Gold Coast.
Choice Homes also works closely with residential developers to secure new land opportunities for its house-and-land products.
The multi-award winning company has received many industry accolades, with its most recent a HIA award for its first apartment project in Southport.
Knight says Choice Homes has strategically positioned itself as a quality builder in major growth areas to provide a range of home solutions for all aspects of the market that 'seek a safe, secure and sought-after investment'.
20. Halcyon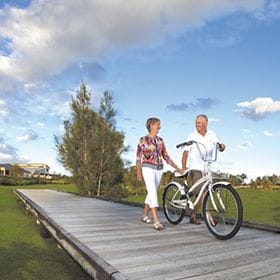 Established: 2014
Staff: 115
MD: Bevan Geissmann & Paul Melville
Halcyon has established itself as one of the largest developers of lifestyle communities for the over-55 market in south-east Queensland, notching up almost $1 billion in projects over the past 14 years.

The focus has been strictly confined to the south-east where cashed-up baby boomers have been a dominant demographic among property buyers looking to relocate to lifestyle markets.

Halcyon is backed by PRD Realty founders Gordon and Archie Douglas and headed by Bevan Geissmann and Paul Melville.

The partners built their first over 50s community at Hope Island on the Gold Coast in 2004 and since then have completed four projects on the Gold Coast and Sunshine Coast.

Halcyon has three active developments currently under way, including its largest, Halcyon Greens at Pimpama, which is Australia's first over 50s golfing community.

Halcyon Greens, located alongside the Gainsborough Greens golf course, has experienced strong demand over the past year with all 10 homes in an exclusive golf-front release sold within weeks of release for a combined value of more than $10 million.

The company continues to explore new opportunities in the state's south east.

Halcyon is among the largest private operators in the area of over 50s living, competing for market share alongside listed companies Ingenia Communities Group (ASX:INA) and Lifestyle Communities (ASX:LIC).
---
The countdown in is on. Don't miss when we reveal which other companies made the list throughout the week.

---
Get our daily business news
Sign up to our free email news updates.