A devastating bushfire ripped through Bridgetown, WA, last weekend, causing irreparable damage to 90 per cent of the stock of local building block manufacturer Hemp Squared.
Made from hemp-lime, the building blocks were mid-way through a lengthy curing process at the time.
Fresh from receiving a regional economic development (RED) grant for $100,000 to expand its manufacturing facilities in January, any sense of joy turned to sadness for founder and CEO Iggy Van in the immediate aftermath of the blaze.
However, not one to dwell on his misfortune after a tumultuous fortnight, Van is ready to build back better.
"We have drive, we have passion, and while we maybe don't have a lot of time, I'm sure we can get back on top," Van tells Business News Australia.
Entrepreneur Iggy Van learnt about the existence of hempcrete after researching alternative lightweight building materials, having grown frustrated with building on a very steep property site. Like marijuana, hemp comes from the cannabis plant but it it differs fundamentally in that it has no psychoactive properties.
A mechanical engineer by background, Van's previous entrepreneurial enterprises include a computer business and an internet service provider; he also worked in management in the water space and with Aboriginal communities.
Determined to help address the absence of sustainable building materials in Australia, Van founded Hemp Squared in 2019, focusing on the research and development of industrial hemp-based building products and manufacturing hemp blocks.
Jeff Gerritsen joined the business in 2020 as chief financial officer (CFO), having previously owned his own production company for 20 years.
"One of the things that I wanted to do is make sure that there is a business where I can use my skills in management and leadership to do two things," Van explains.
"First one is to have a product that we can apply now for the future.
"The second thing is to draw in a new generation of managers so that I can help them become good managers and good leaders in a business that is focused on the future."
Hemp Squared has renamed the blocks it manufactures to hemp-lime blocks, which are identical to hempcrete blocks, but the business wants to distinguish the product from concrete completely.
The blocks are formulated from THC-free carbon-sequestering industrial hemp hurd (the plant's woody core) and combined with lime, water, and four binder elements before being moulded into the block shape.
The product has been available in the European market for several years; however, Hemp Squared has fine-tuned the recipe and adapted it for the Australian climate conditions, especially the high temperatures.
A disadvantage to using hemp-lime blocks means a wood or steel frame is still required as the blocks are non-structural.
However, the benefits to the environment are bountiful – over the course of 25 years, roughly five tonnes of carbon dioxide will be absorbed in the blocks across a household.
Hemp-lime blocks regulate humidity to prevent mould and are resistant to bushfires, termites and vermin, which must sound appealing to anyone undertaking construction or renovation in Australia.
The bushfire that destroyed 90 per cent of the stockpile of uncured blocks last weekend didn't damage the remaining 10 per cent of cured blocks, a somewhat macabre testament of the fire resistance qualities of the product.
Building with hemp-lime blocks offers a different way of constructing a house than many people in Australia are familiar with; for instance, across Western Australia, most homes are made from double-brick.
"There are probably many different opinions out there, but we strongly believe that double-brick is not the best methodology to build a house," Van argues.
"Because of the properties bricks have, it is not necessarily very energy efficient to make the bricks in the first place from an energy point of view.
"For the operation of the house, while most houses have got an air conditioning, with a hemp-lime house, it's unlikely you need air conditioning, you don't need to have an exhaust system, and you don't need to have heating."
In January, the WA State Government awarded a $100,000 grant to Hemp Squared to expand its manufacturing facility in Hester Brook, 5km from Bridgetown and roughly 250km from Perth.
Designed to support job creation, skills development, business productivity, and attract new investment in the regions of WA, the grant allows Hemp Squared to increase manufacturing capacity from roughly 12,000 blocks per annum to 200,000 – enough blocks to build 60 homes a year.
Any new production facility will need to subscribe to Hemp Squared's focus on sustainable manufacturing with water recycling, alternative energy and waste-reducing initiatives already in place at the existing site.
Van believes several factors led to Hemp Squared securing the grant. The business is actively involved in creating a market for West Australian grown industrial hemp hurd, creating opportunities for farmers in the South West Region.
Industrial hemp lies at the beginning of the supply chain process, and many farmers have already started growing hemp - mainly to produce and sell the seeds. Previously, there was no market for the fibre (or hurd) product from the hemp plant, which Hemp Squared now use to manufacture blocks.
According to Van, the business has been rewarded for inserting itself, a bit like a puzzle piece, into the supply chain of a very viable industry in Western Australia. With all the jigsaw pieces now in place, the question turns to how fast to scale the project as the business is creating plenty of interest and attention from early adopters.
Van believes an accompanying education piece is needed to set out the benefits of hemp-lime to the broader community and explain to people precisely what it is.
When people first heard about hempcrete, Van mentions he became known locally as 'The Hemp Guy' and was approached by people hoping to use it to smoke.
Once Van explained that although the product belongs to the same family, you can't smoke it, awareness spread. The business now runs workshops to educate people on the process and includes block-making classes.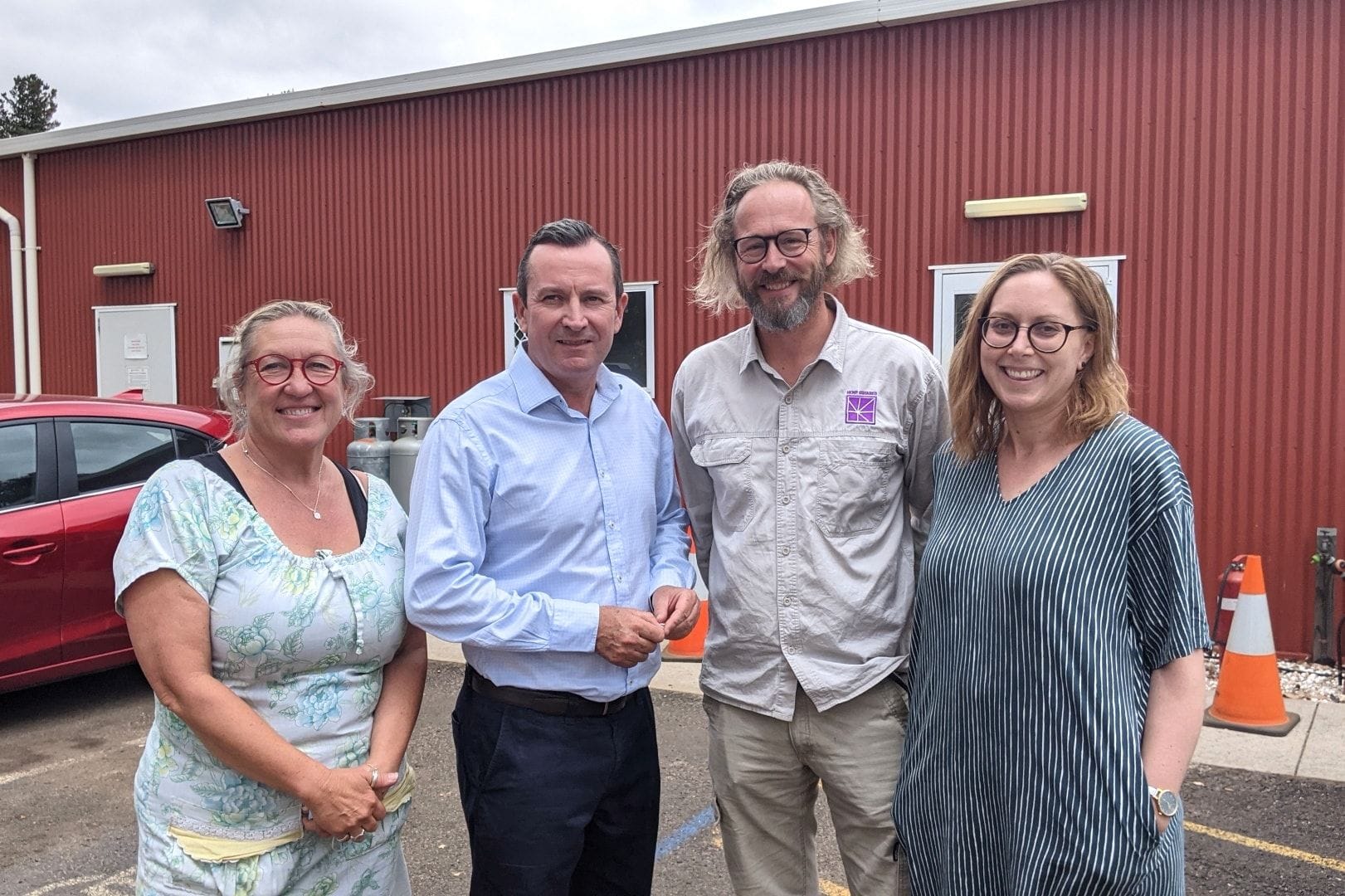 Best laid plans go up in smoke
The bushfire in Bridgetown began last Saturday afternoon and moved quickly amid strong winds and high temperatures. The fire hit emergency levels on Saturday night, trigging the town's evacuation.
Sparingly, overnight rain on Saturday aided fire crews in bringing the fire under control, but the bushfire caused widespread damage to the area.
Speaking to Business News Australia on Tuesday afternoon, Van looked to the future and focused on the positives in the aftermath of the damage.
"It's fantastic to be part of a small community where you can have a fairly large impact - building sustainable and modern cool-looking homes that are easy to operate and low in energy - but we are also employing people from within the community, who are our friends and neighbours," Van says.
"We've just had the fire, there are other businesses that are impacted, and we're going to look if we can help them out, in whatever way we can, and that may well be employing people from those areas.
"That's the beauty of living in a small community; you help each other out wherever this is possible, and that is something many people see as a really good trait.
"We are very proud of the values and the culture we have in our business, and that is something, especially in the small community, we can showcase who we are, not just as a business, but as a community as well."
Get our daily business news
Sign up to our free email news updates.
Help us deliver quality journalism to you.
As a free and independent news site providing daily updates
during a period of unprecedented challenges for businesses everywhere
we call on your support