SITTING pretty with 7.5 million followers, Tammy Hembrow has undeniably broken into the top echelons of Instagram.
However, as one of Australia's top ten most followed celebrities, unbridled popularity was not enough on its own for Hembrow.
The health and fitness queen who founded Tammy Hembrow Fitness has expanded into fashion, creating a line of in-demand clothes called the Saski Collection.
It's only been six months since the Saski Collection launched, but it's already broken records that some entrepreneurs take years to achieve.
Hembrow, the winner of Business News Australia's Gold Coast Influencer award, leveraged her following to build a business that's already cracked the $1 million sales mark.
Customers from over 30 different countries adore Hembrow's collection of unique designs, made for active women and gym goers.
When Hembrow recently launched the second collection, the Pastel Collection, there were over 1,000 people on the site at any one time. The initial collection quickly sold out, with more than 1,000 transactions made on launch day.
Hembrow, one of Instagram's pioneers, understands exactly how to embrace social media in a business context.
"Social media is a tool that is evolving and more companies are embracing the opportunities it has presented," says Hembrow.
"I saw these opportunities early on when I started to build my online community, you need to be smart with your brand. I always suggest being transparent and honest because people can relate to that."
Business News Australia spoke with Tammy about her journey so far, how to build a brand on social media, and why she stood out from the crowd.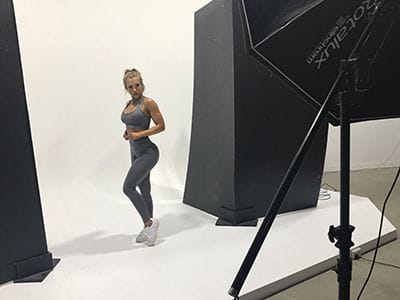 Tammy Hembrow modelling Saski Collection
Your brilliant career started because of the massive amounts of attention you received on social media but there are millions of us on Instagram, why do you think your account stood out from the crowd?
My intention from the outset was to simply share my experiences with other women and the growth happened really organically. I was just posting my honest day to day experiences and fitness journey and people really related to it and from there it started to snowball.
People choose to follow people that they connect with because of similar interests, expertise and inspirations because they are relatable.
People enjoyed watching me on my journey and being able to feel like they're a part of it. I know there are many things I represent online that people, in particular women, can relate to; being a mum, my dedication to a healthy lifestyle, my interests in beauty and fashion and working hard to achieve your goals.
Social media allows people to see different aspects of my life which I think makes my followers feel closer to me. I still monitor my own social accounts and respond to comments etc. myself, so I am really connected with them too!
What do you wish you knew before you went down this path?
Honestly there isn't much I wish I knew beforehand. I came into the industry at the right time and saw an opportunity before a lot of others did.
I specifically remember telling someone I would turn this into a career and they didn't believe me.
It was such an obvious opportunity to me that I haven't looked back and as a result it has been the foundation for my brand. Now almost everyone is trying to do it and the market is quite saturated with content.\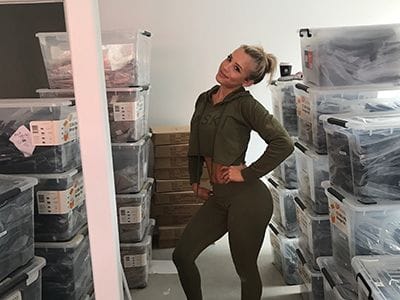 Tammy Hembrow at the Saski base of operations
How did you go about leveraging your social media following into a fully-fledged health & fitness lifestyle brand?
I think the two go hand in hand. My social media was attracting attention because of my fitness posts.
People wanted to know how I was achieving my body goals and I wanted to share that.
This naturally lead to my first fitness venture where I began to sell my fitness programs and purely promoted them on social media.
The same happened with Saski Collection, my athleisure clothing brand. Both my business have only relied on social marketing.
What are your top five tips for building your social media brand?
Be transparent - people can tell when someone is fake and with so much saturation in the online market now people want to connect to something real.
Focus on what you're passionate about - You can really tell when someone's account has a certain look and feel because they really enjoy what they're posting about.
Create good content - You want to take the time to set your own content standards and really stick to pushing those standards higher as you invest more time in your account.
Post regularly - You want to have something for people to come back for; my account is my social offering to my audience.
Engage with your audience - I respond to a lot of questions, listen to what people want to see and really listen to the people following my accounts (not every little thing of course; there can be a lot of negativity, but there are also some really useful suggestions and feedback).
Never miss a news update, subscribe here. Follow us on Facebook, LinkedIn, Instagram and Twitter.
Business News Australia
Get our daily business news
Sign up to our free email news updates.