Since founding her Gold Coast-based charity Baby Give Back seven years ago, Carly Fradgley has helped 23,000 children gain access to safe baby equipment, clothing and food across Queensland and Northern New South Wales.
Through the power of community, the relief agency has been able to help those facing homelessness, natural disasters and domestic violence – issues that collectively affect thousands and thousands of Australian families.
Speaking with Business News Australia, Fradgley shares what it has been like growing her charity while navigating motherhood, and what continues to drive her to make an impact in the local community.
---
After spending more than a decade in the legal sector as an estate lawyer, Carly Fradgley left her career behind to contribute to a cause that meant more to her than stability or prestige – helping Australian families in need.
From nappies to cots to car seats, a community of 300 volunteers in Varsity Lakes sort through donated items and conduct safety checks to ensure disadvantaged babies and children have the items they need to grow up in a healthy environment.
Speaking to Business News Australia, Fradgley says becoming a mother to two children played a major part in her decision to ditch her life in law and focus on building Baby Gives Back.
"I started to realise how lucky we were to be able to give our kids everything that they needed," Fradgley says.
"Even now I get a lot of people expressing surprise that I gave up a secure career as a lawyer to do this, but for me there was there wasn't ever anything else that I really considered once I became so heavily involved in giving back in the community. I knew that that was all I ever really wanted to do.
"While I'm the public face of Baby Give Back and the work that I do is visible, there is a village behind me that is propping me up and supporting me and my family."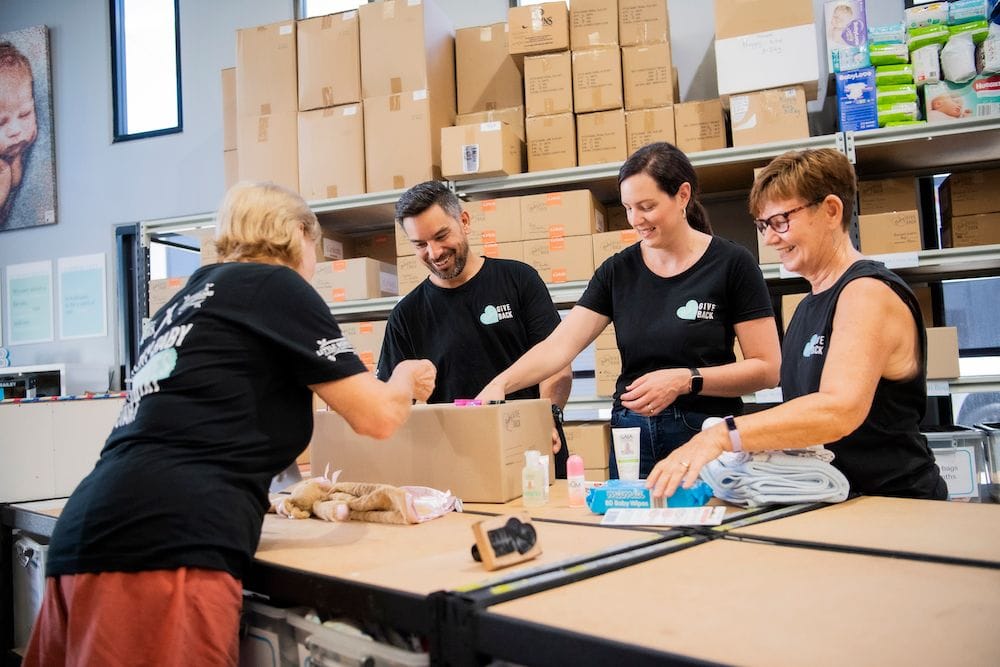 In 2022, the charity focused its efforts on assisting families affected by the Eastern Australia floods – an event that claimed an estimated 22 lives and generated $4.8 billion in insured losses, according to the Insurance Council of Australia (ICA).
Just over a year ago, Baby Give Back launched a Flood Appeal campaign to help hundreds of residents from flood-affected areas access essential items for their children.
Fradgley notes the disaster has been one of several events in recent years that has contributed to an increase in demand, on top of the COVID-19 pandemic and cost-of-living crisis.
"We had a couple of years of the pandemic, the floods affecting so many communities significantly last year, and then straight into our cost-of-living crisis…we saw the effects it had on vulnerable families months ago, long before it became more widespread," Fradgley says.
"Even towards October last year, we were having caseworkers contact us asking if they could get a second packet of nappies for a family from us because that was the only way the family would be able to have food on the table.
"It's a really dire situation. We've seen an increase in domestic violence in the affected families that we're supporting and also homelessness. Last year, we were helping an average of 30 people a week affected by homelessness."
In January, Baby Give Back recorded a 55 per cent increase in requested support on the prior year.
To keep up with the influx, the charity has more than doubled warehouse capacity in Varsity Lakes to 800sqm so it can serve people in need across Southeast Queensland. In order to centralise operations, Fradgely opted to shut down operations in Brisbane last month.
But even as demand grows, the founder notes access to capital has been slashed as corporate partners cut back on funding and Australian households tighten their belts.
"We've seen a huge downturn in fundraising. We are already having to look at what can we do to scale back our expenses, which means scaling back our impact, because the fundraising and the level of support we need financially has already dropped off," she says.
According to data from the Australian Bureau of Statistics (ABS), the nation's economy rose by only 0.5 per cent during the final three months of 2022. The household savings ratio, a measure of how much money households save every quarter, dropped to 4.5 per cent from 7.1 per cent – the lowest level seen since September 2017.
The ABS said saving fell following a rise in household consumption and a fall in gross disposable income.
"Baby Give Back is an organisation that really has been built off individual giving. Most of our funding actually comes from mums, dads and grandparents in the community who donate $50 to $100 here and there - that all adds up to be able to grow an organisation like this," Fradgley says.
"I'm quite concerned this year about what's going to happen within our community because all of the organisations like Baby Give Back are all in the same kind of situation. We're not talking about growing, we're all talking about making sure we can keep the doors open."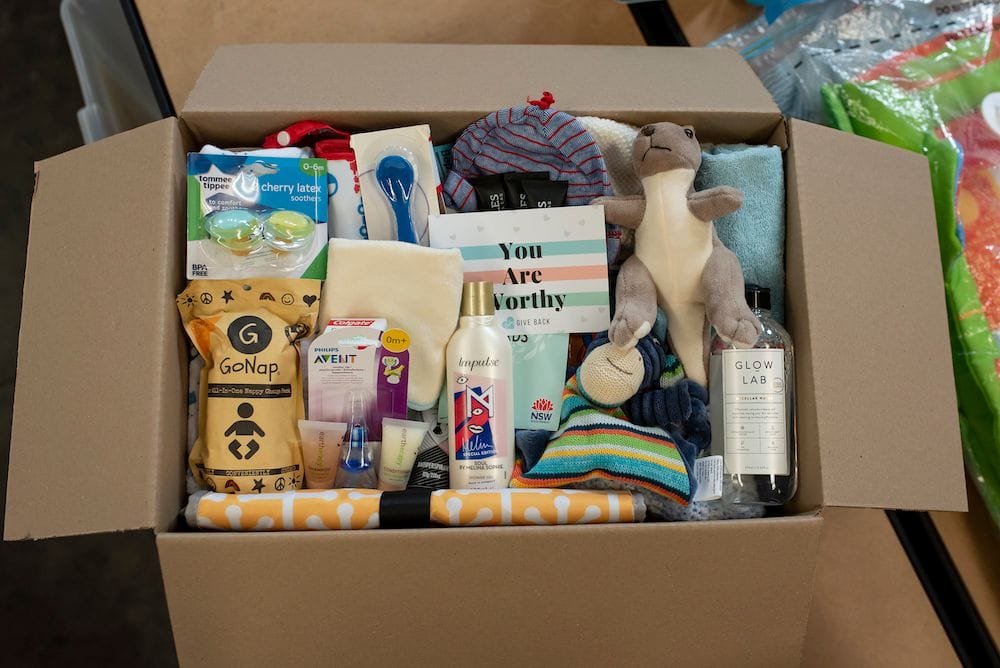 When asked about what she believes has helped the charity grow over the last seven years, Fradgley notes setting up a strong governance structure was pivotal to building trust with the community early on.
"One of the keys to the success of Baby Give Back being able to grow as a really respected organisation is that I focused from day one on having good governance in place," she says.
"Even at the initial stages, when I thought it would be more of a side project, I set it up as a registered charity and we've got insurance in place and had a board.
"I think setting those foundations enabled us to fundraise and secure the level of community support that you need to really grow an organisation from a garage into a warehouse."
Her best advice for founders running a charity? Don't be afraid to ask for help.
"Be vulnerable and authentic, and don't feel like you have to do it alone," Fradgley says.
"It's easy to feel a huge sense of responsibility. Every time that I feel weighed down by things, I remind myself that I'm not in this alone and reach out for help.
"That's part of being vulnerable - asking for support and not feeling like you have to have the solutions to all the problems."
Get our daily business news
Sign up to our free email news updates.
Help us deliver quality journalism to you.
As a free and independent news site providing daily updates
during a period of unprecedented challenges for businesses everywhere
we call on your support