IN THE business of luxury and looking good, Oscar Oscar might be considered a natural fit to jump on the social media bandwagon.

But the business, founded by Oscar Cullinan, isn't concerned about social influence.

In fact, Cullinan even goes so far to say it's a 'little bit of a false economy'.

"I'm not a massive fan of the supposed social media frenzy that's happening right now; I think people forget it as quickly as they look at it," says Cullinan.

"Solid online and print media tells a more longstanding story. An It Girl blogger who has scored heaps of followers through circumnavigating the whole system - well, I think that's a little bit of a false economy."

This wisdom might be grounded in Cullinan's country roots.
Growing up on a farm in the countryside, Irish-born Cullinan never dreamed of entering the hairdressing industry as a young boy.
It wasn't until he moved to Australia on a holiday visa and fell in love with Brisbane that hairdressing became an option.

From the age of 21, Cullinan worked as an educator for Jon Le Court, a hair veteran who at his peak in the 80s and 90s owned around 30 commercial salons in Queensland.

Cullinan opened his first salon aged just 24. Despite his youth, a time when many hairdressers are still training, Cullinan felt 'it was about time to carve my own way'.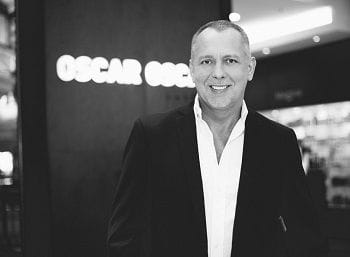 He noticed a gap in the luxury market, where there were 'great hairdressers but no great environments'.

Now Cullinan has 15 salons of his own and a farm in northern NSW, where he takes a break from cutting hair to cut grass on the tractor.

Cullinan's newest salon is at Pacific Fair, which is said to set a benchmark for instore experience.

He believes the degree of customer satisfaction, not the number of influencers behind a brand, is what makes a quality business today.

This means only serving a particular coffee, offering select magazines and triple-checking the pictures on the wall are straight, otherwise Cullinan says, 'clients can't guarantee straight haircuts'.

"Expectations are very, very high these days, particularly at the luxury end of hair and beauty - and so they should be," says Cullinan.

"Even if you are the best hairdresser in the country, if you're working out of your garage, you will quickly lose people no matter who you are.
"It's a little bit like buying a second-hand Gucci bag or a fake Gucci bag in Thailand - people identify true quality, they want the real deal and they are prepared to pay for it."
Cullinan says out of 3000 clients per week, he probably receives feedback from two or three which is 'rarely technical and more about the meetings of the minds between hairdresser and customer'.

He believes there's no shortcut to success and has seen 'plenty of cowboys charade as high-end brands' over the past quarter century.

"You have your players and your stayers in this industry especially and we are certainly the latter," says Cullinan.

"A lot of people try and replicate what we do, and for a little while at least, the lines get blurred for the end consumer because in some cases they have our ex-stylists too.

"It's a process of reiterating and reconfirming with the customer that we are different and hairdressing isn't a lifestyle at Oscar Oscar where you choose whether you want to work late nights or weekends.
"We train, mentor, coach and develop staff to the end point. If you cut the mustard, it's a bit like working for a luxury car brand - you don't want to leave and take a job with Toyota."

Get our daily business news
Sign up to our free email news updates.
Help us deliver quality journalism to you.
As a free and independent news site providing daily updates
during a period of unprecedented challenges for businesses everywhere
we call on your support