There's no shortage of ideas in the Festival State.
While outsiders might perceive South Australia as the small, quiet, wine-sipping cousin of Victoria, the state's entrepreneurial scene is growing fast.
Perhaps this is best represented by its new innovation hub Lot Fourteen, which once built will be one of the Southern Hemisphere's largest entrepreneurial neighbourhoods.
Undeniably the age of Adelaide startups is off to a good start, but according to the first ever South Australian Chief Entrepreneur Jim Whalley there's still plenty of room for improvement.
Whalley certainly knows a thing or two about running a business; as a former air force fighter pilot he took the skills and ideas gathered on the job and transformed them into a booming defence industry company called Nova Systems.
The company has offices around the globe in Australia, New Zealand, Singapore, the United Kingdom, Ireland and Norway, employs over 550 specialist consultants, and according to InDaily brought in $180 million in revenue last financial year.
Who better then to helm the ship that is entrepreneurship in South Australia?
According to Whalley, the state's problem isn't with ideas, but rather turning those ideas into money-generating businesses.
"There's no shortage of innovation, technology or smart people in South Australia," says Whalley, referencing how five out of Australia's 15 Nobel Prize winners have come from the state.
"But one thing South Australians are really bad at is we just don't commercialise."
There's nothing in particular stopping South Australian entrepreneurs from building on their innovation - the infrastructure is mostly there for business owners to succeed - but Whalley thinks there's something more intrinsic about SA that is holding superstars back from reaching their potential.
"I've realised that the entrepreneurial scene exists just a little bit below the radar," says Whalley, who took on the voluntary role of Chief Entrepreneur back in August.
"South Australia is generally a bit conservative; they don't like big-noting themselves, and that's a nice thing, but I think there's some really good stories out there that we should be telling."
"It's a nice thing that South Australians are modest but if we go too far then those good stories don't get out there, and it's important that they do because it's a great example for other entrepreneurs in the State."
"We've got tall poppy syndrome too; people are reticent to create large successful organisations because they're afraid they'll be taken down or they'll have a target drawn on their head. We've got to change that attitude."
The entrepreneurs of the city certainly have a lot to celebrate; by building Lot Fourteen the state is flexing its commitment to those who are creating their own businesses.
Housed on the grounds of the old Royal Adelaide Hospital will be a seven-hectare space aimed at building a community through supporting those making strides in innovation, research, art and culture.
The centre will be the home for some ground-breaking new facilities, including the Australian Space Agency, the Australian Institute for Machine Learning, Stone and Chalk Adelaide, and the Aboriginal Art and Cultures Centre.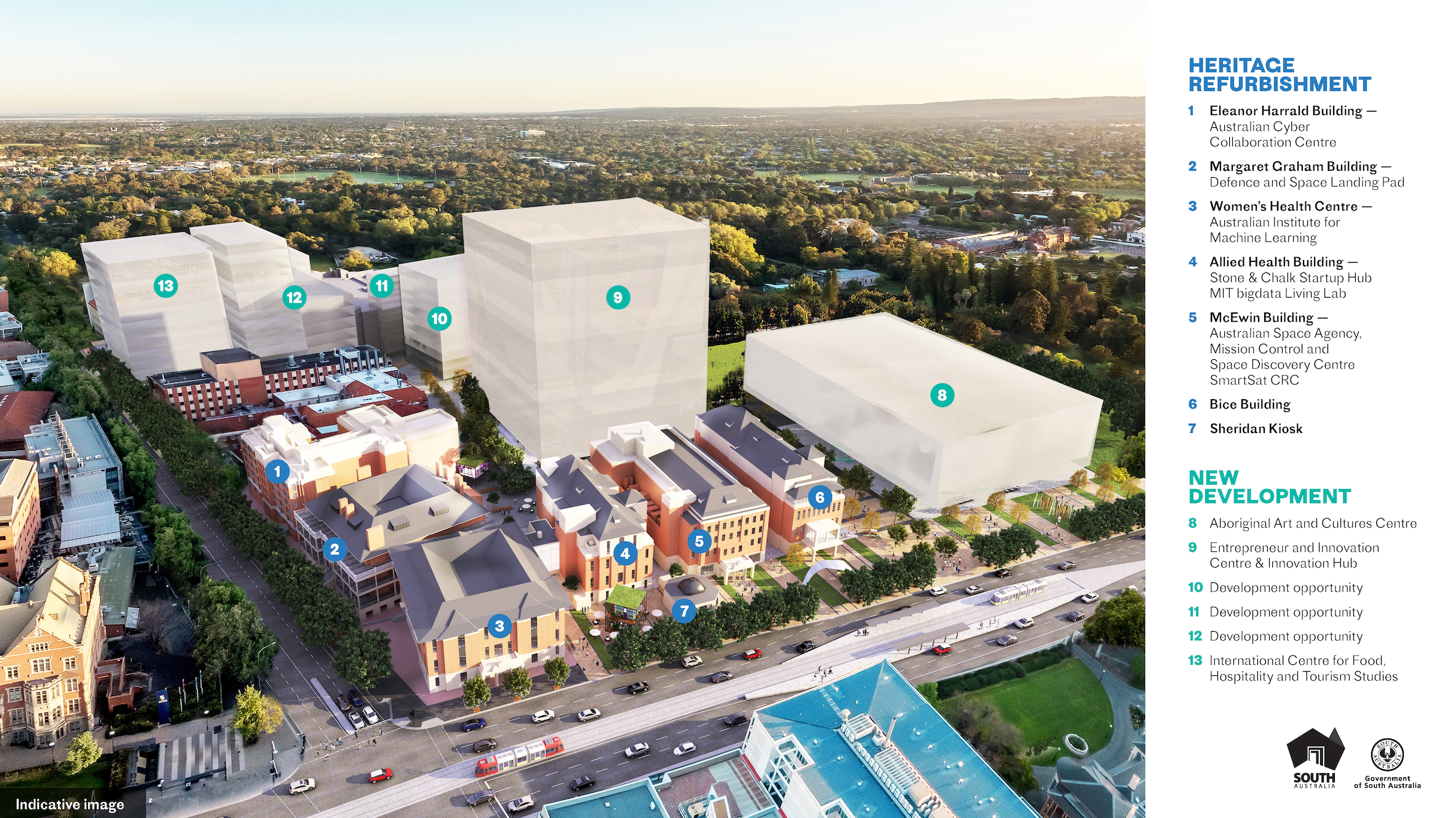 The ultimate vision for Lot Fourteen is to construct an innovation hub in the centre of Adelaide
"The whole site is being created, designed and built so that everybody is involved," says Whalley.
"We want people to walk from the Botanic Gardens onto North Terrace and through the buildings. We want the community, schools, and everybody else to feel a part of it. We want to attract not only people locally but the world's best talent and say this is a good place to be."
"SA will spend half a billion dollars on this site, and it really is a visible manifestation of South Australia's commitment to entrepreneurship and the changing nature of how we do business."
Undoubtedly Lot Fourteen will likely inspire a generation of entrepreneurs into growing amazing companies.
"I've lived all over the world, I have a company that operates all over the world, I travel a lot, and this is the best place to come home to - it genuinely is," says Whalley.
"But we've got to get the commercialisation part right. We've got some great ideas, but we've got to get a bit more sophisticated in terms of how we commercialise. I'm a great example; I started a company 20 years ago and workhorsed it. We need to get people talking to each other so those that have gone down that path and learnt some lessons can pass those lessons onto others."
Never miss a news update, subscribe here. Follow us on Facebook, LinkedIn, Instagram and Twitter.
Business News Australia
Get our daily business news
Sign up to our free email news updates.