BOXER turned businessman Shannon 'Shaggy' King will share his journey at his first speaking gig in a major coup for the Agile Business Convention.
The three-time Australian super welterweight champion has gone from strength to strength since opening Corporate Box Gym in Brisbane in 2008.
The Lutwyche facility has become one of the biggest fight gyms in the world in terms of its member base, leading to an expansion to Ipswich and Everton Park to keep pace with demand.
King has also partnered with 2014 Brisbane Young Entrepreneur Award winner Phillip Di Bella to launch Espresso Martini, a ready-to-drink cocktail in a can.
He says making the switch from professional athlete to entrepreneur was surprisingly smooth, after applying the same discipline to business.
"I was talking about life with Wallabies player Quade Cooper while training him, and how boxing is a completely different sport," King says.
"You can only rely on yourself, it's just you and someone else with the objective to hurt you to win and it got me thinking that has a lot to do with business.
"You can't sook about things. If you get punched in the face, you've got to keep your wits about you and get ready to dodge the next one."
Corporate Box Gym's 'zero attitude' approach has attracted a loyal following, with its diamond boxing ring now speaking for itself in the fitness industry.
"I used to think we were just a kickboxing and boxing gym, but actually our brand is a home away from home where people can be themselves," King says.
"People can come to our gym and have a go at fighting without being judged. As long as you're giving it a go, everyone is happy."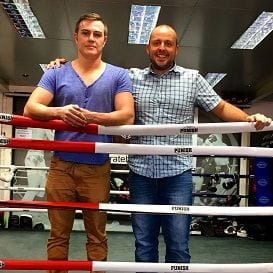 King will share his experience when he joins a line-up of entrepreneurial heavyweights at the Agile Business Convention at North Lakes Resort Golf Club on February 25.
The inaugural event, hosted by business education institute Agile Transitions, aims to provide business owners with a roadmap to success with real-life advice and networking opportunities.
Agile Transitions founder and managing director Pano Dimopoulos says he wanted to create a platform for entrepreneurs to learn from their peers.
"There is nothing like this currently available in Brisbane," Dimopoulos says.
"Both universities and private education providers just aren't keeping up with the pace of change in the business world. By the time it makes it into the curriculum things have changed."
Dimopoulos says the convention has received 'overwhelming' support from Brisbane entrepreneurs, as well as the community.
"Business owners and entrepreneurs will benefit by getting real-world lessons from their peers about how to establish and grow a successful business," he says.
"Participants will be able to take home what they have learned at the convention and put it into practice in their business.
"They will also get the opportunity to network with over 150 fellow business owners, entrepreneurs, investors and form long-term relationships."
Speakers include Reload Media managing director Llew Jury, The Van That Can managing director Tara-Jay Rimmer, Donovan Knapp Lawyers managing director Nathan Donovan and Inspire CA CEO Ben Walker.
Image: Shannon King and Pano Dimopoulos.
Get our daily business news
Sign up to our free email news updates.