WHEN it comes to making money, some Gold Coast businesses are up there with the best but, for many, that's not always the end game.
Gold Coast Business News this week highlights five major local businesses that have chosen to pay their success forward.
Collectively, these businesses have raised more than $5 million for local charities, supporting a range of issues from muscular dystrophy to child sexual assault and the protection of animals.
From the city's biggest ASX-listed companies to a real estate group and a car dealership, Gold Coast Business News reveals the stories behind this culture of giving.
RAY WHITE SURFERS PARADISE GROUP
THE Ray White Surfers Paradise (RWSP) Muscular Dystrophy Ball is regarded a premier event on the Gold Coast social calendar and has raised close to $2.6 million to help support the research into finding a cure for a range of genetic diseases.
For the past 30 years, brothers Andrew and Greg Bell have been committed to helping stop defective genes being handed down from mother to child and say giving back was engrained in them from a young age.
"There is no question that it is part of our upbringing - my brother Greg and I were always taught by our parents that you have to do things for other people and you have to give back and support your community," says CEO Andrew Bell (pictured above at the 2015 charity ball with wife Sandra Bell).
"It is a very heartfelt situation - there are many kids with muscular dystrophy that we have met and knowing we can do something to make their life just a little bit better is a great feeling.
"But there is also a sense of hopelessness as well because so often you think 'I wish I could do so much more', but it is good to know that our values are aligned with helping other people."
This isn't the only event RWSP has initiated, with the group teaming up with Surfers Paradise Surf Life Saving Club to deliver the annual Sportsman's lunch which aims to raise funds to better protect the city's most enviable asset, its beach.
In addition, the real estate group has sponsored a child through the foster parent plan for the past 25 years and works alongside RACQ Care Flight.
"As a high-profile business we see that it is a great thing to set an example to give back and use some of your strength as a company to give back to the community," says Bell.
"And by having these sort of charity events, it actually does provide great entertainment for people and we have people coming back year after year and they say 'it is just the best event we go to, we just love it'.
"Some people look at these kind of things and think 'oh no, we have to go to some sort of charity event' but these days they provide great entertainment and great social nights out and it brings the community together."
VON BIBRA AUTO VILLAGE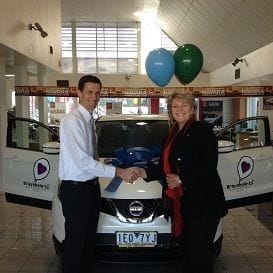 VON Bibra Auto Village is shifting up a gear with its corporate social responsibility, donating $20 from every car sold to two local charities - Bravehearts and The Animal Welfare League of Queensland.
Since the launch of the initiative two and a half years ago, the automotive group has raised close to half a million dollars to help reduce the incidence of child sexual assault in the community and re-home animals on the Gold Coast.
Group manager Wade von Bibra says it is a natural responsibility of any large organisation to give back to the community.
"I love the Gold Coast, our staff love it and as a group we just love being part of this city," says von Bibra (pictured right with Bravehearts CEO Hetty Johnston).
"It is important that we give back and support the people that support us. It just goes without saying, and is a natural inclination for us. It is part of our culture and who we are."
Von Bibra has donated $220,000 to Bravehearts children's charity with funds going directly to Gold Coast education and counselling programs.
"There is nothing more gratifying or satisfying than knowing you are making a difference so I am very proud of what we have accomplished and we will continue to give back for as long as I am calling the shots in the organisation."
RETAIL FOOD GROUP
ONE of the city's top listed companies says that, as a global company, it is important to recognise the individuals that make its business a success.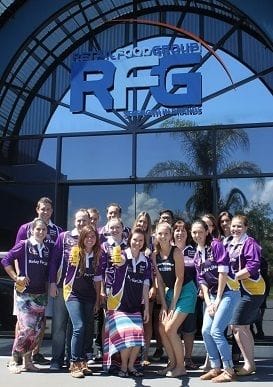 Retail Food Group (ASX:RFG), the Gold Coast-headquartered franchisor of Donut King, Gloria Jeans and Crust Pizza, has donated more than $1 million to HeartKids over the past five years, a charity that supports children with congenital (childhood) heart disease.
RFG also actively encourages its franchisees to support their local communities, with Brumby's Bakery donating more than one million loaves of bread to local charities, homeless shelters and soup kitchens each year.
Gloria Jean's Coffees franchisees this year raised over $100,000 for Variety children's charity, through their annual Cappuccino for a Cause campaign.
"As a global company it's important to recognise the individuals that make our business a success, from our customers to our team members to the broader communities in which our business operate," says RFG chief operating officer Mark Connors.
"We firmly believe in supporting the local regions we operate in to give back to the communities that support our franchisees.
"We are also proud supporters of many community activities on the Gold Coast, including the Gold Coast Cancer Council's Biggest Morning Tea events, Relay For Life and the GC SUNS stadium sleepout."
Picture: RFG's Relay for Life team
BRUCE LYNTON AUTOMOTIVE GROUP
IT IS best known for its annual sell-out charity ball which has raised $1.6 million over the past 15 years, but Bruce Lynton Automotive Group doesn't stop there, aligning with a range of not-for-profit organisaitons across the Gold Coast.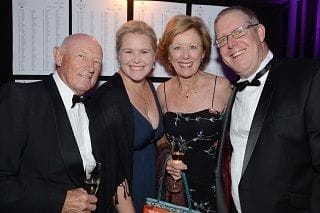 In addition to the five beneficiaries of the Bruce Lynton Charity Ball - Guide Dogs Queensland, Cancer Council Queensland, Youngcare, Men Of Business and 4 ASD Kids - Bruce Lynton is a keen supporter of local initiatives including IPS Charity Golf Day, Perry Cross Charity Golf Day and St. Hilda's Junior School Musical.
"We employ over 160 people and believe that we all need to help people in less fortunate situations with what they have been dealt," says dealer principal Beric Lynton.
"If we don't all work together and give back to our community, our local charities would cease to exist, and thousands of people depend on their continuous support just to get by on a day-to-day basis.
"Charities, clubs and schools receive little or no government funding and therefore it's important that through sponsorship or charity work, we assist these institutions to deliver the tools and activities required for the betterment of the greater community."
In addition to the charity ball, Bruce Lynton Automotive Group hosts the annual Bruce Lynton Charity Golf Day which has filled to capacity in the last few years with local business owners and executives.
"To see someone receive a guide dog or a group receive a tangible object due to monies raised is what makes the charity side so rewarding. We all wish for a cure for cancer. As a corporate community member we feel it's the least we can do," says Lynton.
Other local, long-term sponsorships include The Southport School Rowing Club, St. Hilda's Aquatics Club, Merrimac Football Club, Tennis Gold Coast's annual Rosebowl Tennis Championships, the Southport Golf Club Men's and Ladies' Championships and the Gold Coast Business Excellence Awards.
Picture: Beric Lynton (right) pictured with his family at the 2015 charity ball.
BARTERCARD SOUTH GOLD COAST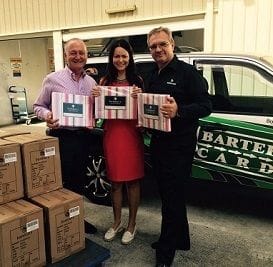 THE Bartercard Foundation is doing things a little differently, not only raising funds for worthy charities but donating products and services to those in need.
Bartercard South Gold Coast (BSGC), in collaboration with the foundation, has donated more than $200,000 in funds and products to needy organisations across Queensland, most recently supplying more than 60 bedding sets to Hummingbird House, Queensland's only children's hospice.
In addition, it donated 120 bedding sets earlier this year to online charity GIVIT, that were distributed throughout north Queensland's Cyclone Marcia recovery zone.
Closer to home, BSGC assisted in the renovations of the Early Learning Centre Burleigh and aligns with a number of junior sporting codes including the Seagulls and Burleigh Bears, to help nurture young talent.
"The Gold Coast has been really good to us and our business and I decided to be more proactive in giving back something to the community," says Andrew Federowsky, franchise principal of BSGC.
"We have had a good run with Bartercard and I just think it is a fair thing to put back into the marketplace that we have been lucky enough to run a good business from."
Get our daily business news
Sign up to our free email news updates.