ESTABLISHED in 2007 by bodybuilding champion Luke McNally, MASS Nutrition has grown sales from $100,000 a year to more than $35 million, and now the group has its sights set on a share market float in the next five years.
The MASS Nutrition chain compromises more than 40 stores across the county - with more than half of those stores added in the past couple of years - offering a range of vitamins, supplements and natural health products.
McNally has a grand vision of establishing 1000 stores globally and aims to do this by building on the company's reputation as "the truth" in the industry and eliminating "bullshit marketing".
MASS Nutrition is also set to flex its offering, with the launch of personal training courses.
"We will be delivering nationally recognised courses across health and fitness, and also general wellness covering detox strategies and optimal digestion," says McNally, the Gold Coast Young Entrepreneur of the Year in 2014.
"We aim to go global and float with the intention of 1000 stores in the next five years."
McNally talks to Gold Coast Business News about future plans, his biggest mistake in business and offers advice for young entrepreneurs.
What are three key leadership strengths you bring to your role at Mass Nutrition and how do they assist in the successful running of the business?
Relativity - to be a leader I believe one must always have walked in the shoes of those looking up to you for leadership. All the challenges that my owners and operators are faced with, I have faced them too. Without having done that I do not believe I could ever have had so many happy business partners. Not only can I help them avoid making the common mistakes that I made with no one showing me the way, but I can also help them navigate their way out of them should they arise.
Passion - to give a toss about the success of the business. I have to believe in it and almost be obsessed with it.
Brutal honesty and integrity - everyone that knows me knows I am brutally honest. Sometimes too much, some may say. But when my associates, major distributors and customers know that I call a spade a spade no matter what, it builds trust, dependability, respect and integrity surrounding the brand.
Describe your biggest regret in business and what you learnt.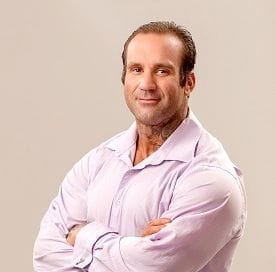 Too eager to move forward quickly. This led to explosive growth in the business and consequently, difficulty managing cash flow and stock supply issues. We are only just now catching up to be able to maintain supply to all stores. It is tough to hold back as my love for formulating cutting-edge supplements drives me to want to release more and more products, and when not careful I have ended up cannibalising one product for a new one. If I did it all again, proper forecasting and budgeting would be implemented to ensure an efficient rollout of new lines.
What has the growth of MASS Nutrition been like since inception and what do you attribute this growth to?
It has been nothing short of a runaway freight train at times, with me just holding on for dear life looking for the brakes.
In 2006 I started with nothing in the bank and a loan for a car for $20,000. I had three products that I had packed together here in Australia, a 3sqm area in my garage in Redfern with about $10,000 in stock packed in there, and just me packing some orders. Turnover was around $100,000 per year.
The first actual storefront opened in Tweed Heads in 2008 with my business partner. A year later a second store in Brisbane, with a third, and then the following year on the Sunshine Coast with more owners. This evolved into a license structure. Fast-forward to now, we are franchising with 40 stores holding around $150,000 in stock each, and a combined turnover of $35 million.
What have been some of the biggest challenges Mass Nutrition has faced over the past five years and how did you overcome these?
Cash flow and stock resupply was our biggest concern and challenge. We overcame these with better warehouse management and reporting systems as well as implementing cash flow and stock forecasts which have allowed us to budget.
With the growth came the need to change structures. Licencing served a purpose, but as the business grew we needed to harness the benefit of being a large group. We had to be able to bargain harder with distributors to increase our gross profit, provide streamlined marketing and operations strategies and maintain quality and uniformity across the board for the brand. A transition across to franchise structure is imperative and it's a challenge we are currently facing as we continue to transition across.
What makes the Gold Coast a great place to do business and what can be done better?
The Gold Coast is a fitness hub. Sunshine, beaches and nightlife are all congruent with people that go to the gym and want to look great. Our company provides the necessary nutrition strategy to do so. We also have so much now to offer general people like the average mum and dad who care about their health and wellbeing.
What can be done better? Not much. The place is perfect. Perhaps the traffic is starting to creep up and if that isn't managed, it's going to become a nightmare traffic jam.
What advice would you give to young entrepreneurs with a vision to start their own business?
I'm not educated past high school. I failed Year 12 business studies. I threw my business plan in the bin a long time ago when it proved useless. But what I do know how to do is have a good old Queenslander crack. Grind until you get there. There is no fail. There is only a miscalculation. If it happens, pick yourself up, dust yourself off, recalibrate and go again, and again, and again. Failure is a term you use when you decide to give it all up.
Get our daily business news
Sign up to our free email news updates.
Help us deliver quality journalism to you.
As a free and independent news site providing daily updates
during a period of unprecedented challenges for businesses everywhere
we call on your support