HE is the Gold Coast CEO that edged out corporate heavyweights Alan Joyce and David Thodey to take home the 'Oscar' of business awards - the 2015 Executive of the Year title in the 2015 Asia-Pacific Stevie Awards.
Founder of Opmantek Danny Maher talks to Gold Coast Business News about leadership traits that undoubtedly assisted in his win over the CEOs from Qantas and Telstra and discusses the growth of his business from 20,000 organisations using its products to more than 60,000 in 130 different countries.
The leading businessman also highlights some of the challenges the Gold Coast faces moving forward and his strong desire to build a commercialisation infrastructure network that can be leveraged for all Gold Coast and Australian technology businesses.
Read below Q&A to find out more about this budding Gold Coast CEO.
What have been some of the biggest challenges Opmantek and you have faced over the past five years and how did you overcome these?
We have gone through every challenge that we imagined we would have and many we didn't.
Our biggest challenge has been growth - with 60,000 organisations using our products in 130 countries and a new organisation every SIX minutes, how do we manage the activity, work out who to communicate with and the methods to communicate?
For us the solution must always be in creatively innovating a repeatable, leveraged business model and not just hiring more people to cope with demand. We have invented and deployed significant technologies and processes at the back end of our business that allow us to manage activity and communication through multiple methods to a very large customer base, filtering the communication appropriately from automated emails to personal emails, right through to web conferences, phone calls and face-to-face meetings.
What are three key leadership strengths you bring to Opmantek?
Confidence
Creativity
Experience
Is there a leadership mantra you work by?
I have many which suit different situations.
Our type of business is a safari, not a train journey - there is no schedule, no plan to be followed without adapting significantly at every point, no precise map, no one mantra - but there are several fundamental attitudes you need to take on a safari.
We will discover fantastic things we weren't expecting which create new opportunities for us, we will hit problems we did not foresee and need to creatively overcome, but we will always get to our destination, even though we cannot map out the exact path. Be prepared to encounter things you aren't prepared for, be excited by the journey more than the destination. We are the modern-day explorers.
What have been some of the biggest highlights of your career?
The biggest highlights have always been the people I have met on the journey - customers, co-workers, investors and business partners all around the world and the opportunity to learn different personal and business cultures being guided by some fantastic people. It's a lonely journey sometimes and a difficult journey sometimes, but it's the good people you meet that become lifelong friends that make it worthwhile.
What are some of the biggest challenges the Gold Coast represents for Opmantek?
The biggest challenge on the Gold Coast (aside from the time zone which is a challenge for all Australian companies) is the supporting business ecosystem. The reason why places like Silicon Valley are great places to commercialise technology is because of the ecosystem that exists to support the commercialisation - for example, the external companies and skills that you need to draw on from lawyers and accountants to funders/investors, marketers and other entrepreneurs operating at your stage and scale.
I work very hard to try and create linkages globally to appropriate individuals and organisations that can be leveraged by all Australian companies, and especially Gold Coast companies, to take them to the global market. As one simple example, Opmantek has brought 60 new investors to the Gold Coast. This has been quite purposeful. It is our intention to make sure those investors make a lot of money and that they reinvest in other Gold Coast and Queensland IT businesses. I have a strong desire to take the Gold Coast forward and that Opmantek builds a commercialisation infrastructure and network that can be leveraged for all Gold Coast and Australian technology businesses.
What makes the Gold Coast a great place to do business?
The Gold Coast is not an obvious location for a global software company and anyone who says differently is either working for the council or a lunatic (or both!). On the positive side, the lifestyle on the Gold Coast allows us to attract high quality people, and compared to Silicon Valley and other overseas locations, our ability to retain staff is greatly enhanced. The council is very supportive of the diversification of the Gold Coast economy and it is a great place to try and make a difference.
What expansion plans are in the pipeline and what is your ultimate vision for Opmantek?
Opmantek continues to open offices in key geographies around the world. Continued innovation in our products to make them easy to purchase and deploy, along with a global channel strategy, are key to continued success. Opmantek is emerging as a key player in IoT (Internet of Things) due to our ability to manage anything, and we continue to lead the way in the management of big data and cloud solutions.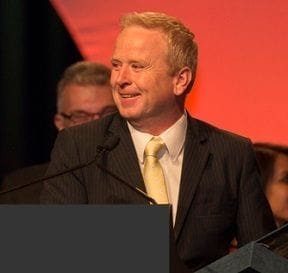 You recently won a Stevie award - how did it feel to win Executive of the Year?
I always say I'd rather be awarded a contract than awarded an award - but it is a massive honour obviously, especially considering the other executives that were runners up. It is testament to a lot of people I have worked with, but in particular for what the Opmantek team is achieving and I can only hope that the award further helps the profile of Opmantek and the Gold Coast.
What advice would you give to budding entrepreneurs looking to start their own business?
The richest person is the one that wants the least, not the one that has the most. Be prepared to lose everything and live like a university student. Structure your life and desires so that you genuinely don't want a lot, then you can put all your time and resources into the business and you will be able to push the business harder and further without selling out too early. If you do nothing, nothing will happen - make the leap with the certainty that you have a desire to be a modern-day explorer, no matter how hard it is, no matter what it costs, because it is who you are.
Maher will be speaking at a Gold Coast Central Chamber of Commerce breakfast in June. CLICK HERE for more information.
Get our daily business news
Sign up to our free email news updates.