HOLLY Ransom recalls a 'really strange phone call' in 2013 from then Prime Minister Tony Abbott.

The 26-year-old social entrepreneur was asked to lead the G20 Youth Summit.

At that time, Ransom never could have pictured one year later she would be challenging political and business leaders at a table which seated the likes of US President Barack Obama and the bosses of the International Monetary Fund, World Vision and Wesfarmers.

Even less imaginable was leading the first G20 Youth Summit in history to successfully influence the agenda.

A few years before, Ransom, the CEO of Emergent Solutions, remembers feeling as though she would never fit the leadership bill.

Times have changed, and just last week Ransom became the Australian Football League's youngest ever female director for her much-loved Port Adelaide Football Club.

She received the call from Port Adelaide tragic David Koch, of course, who recognised Ransom's success in marketing to hard-to-reach millennials through her consultancy agency.

"Up until I was 15, I thought a leader was a 50-something grey-haired guy who would yell at other 50-something grey-haired guys; it didn't help that only 12 per cent of experts quoted in the Australian media are women," says Ransom to Melbourne Business News.

"It wasn't until I took part in a leadership program at 15 years old when my concept of a leader was shattered.

"At this point in my life, I was the absolute runt of the pack, not in a comparative sense, but because I wasn't opening myself to all of the possibilities.

"Now I understand the significance of giving yourself permission to do something and permission to own your power."

Ransom says she had 'zero government relations experience' when she agreed to Abbott's offer.

She describes herself as a 'recovering law student', despite at 19 being a paralegal for one of the top barristers in Perth and advising young people to learn with legal and engineering frameworks in order to get ahead.
"I got off the phone to the Prime Minister, jumped on Google and felt like I was having a minor heart attack. I didn't feel ready for the role by any stretch," says Ransom.
"Twenty countries coming together, which made up 85 per cent of the world's GDP, 70 per cent of world trade, two-thirds of world population and home to 1.5 billion young people.

"The Prime Minister said it was a volunteer role that would require four hours per week to pull together 100 young leaders. I made it my full-time job."

This attitude saw Ransom dive headfirst into an issue that was heavily brewing beneath the surface.

During her research, she couldn't see any evidence of young people really being part of the G20.

"There was no evidence of people our age actually sitting at the table and discussing issues; just photos with world leaders," says Ransom.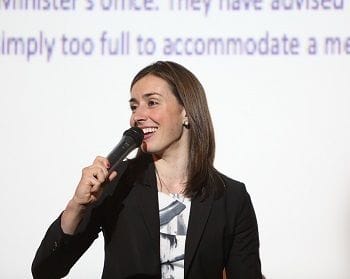 "I asked one of my mentors why young people weren't getting involved. One guess is that they had never really been invited to the table or, if they had been invited, they didn't really know how to show up."

Ransom admits part of the proposal felt like a 'token entry ticket', but her grandma's wisdom rang clear.
"It's not the hand you are dealt, but how you choose to play it," she would say.

So when an Australian senator said to Ransom one month out from the G20 Summit that 'I don't care if you do something or nothing, you tick my box the exact same way', this only revved her up even more.

"Basically, 50 per cent of the world's population are under 30 right now. That's massive. We're huge. And we disproportionately bear the brunt of economic and social prices, where one in three young people are not in education, training or employment," says Ransom.

"I asked the summit if they would give a young person a seat at every table and they called my bluff and said yes.

"In November 2014, we became the first summit in history to successfully influence the agenda. There was a declaration regarding youth unemployment and an action plan for every single country."

This motivated Ransom to face more fears, so she embarked on a '365 days of fear' challenge in 2015.

Standout experiences included a polar plunge in Antarctica with other Australian entrepreneurs and taking on an Ironman.

At 250km, this is the largest endurance race in the world and Ransom had never run more than 20km or even swam since 2010.

"People ask how I have so many things I'm afraid of, but that's because we don't really understand what fear is," says Ransom.
"It's not always about those big-tickets items, rather making active choices to do something tiny that pushes you out of your comfort zone - like not putting in that job application."

Ransom says there's a 'mirage of readiness' and, from experience, she thinks young women in particular are suckers for it.

"It really taught me that you have to blow up the idea there's a thing called 'ready'," she says.

"How many criteria do men and women feel they need to meet out of five to apply for a job? Men put the hat in the ring at two and women at four.

"The key is to just start your life now."

Get our daily business news
Sign up to our free email news updates.