PHILANTHROPY is much more than donating 10 per cent of profits to a red-taped charity for these two Australian businesses; it's about building entire villages from the ground up in developing parts of the world.

Melbourne-based architecture firm ClarkeHopkinsClarke and the Gold Coast's Bond University are taking an innovative approach to corporate social responsibility.

The regulated tertiary education framework and desire to aggressively develop Australia's urban centres can deter thinking outside the box, however these businesses have not only managed to do so, but build a new box themselves.

Both run ongoing aid missions to developing nations, Bond to Solomon Islands, and ClarkeHopkinsClarke to Kenya.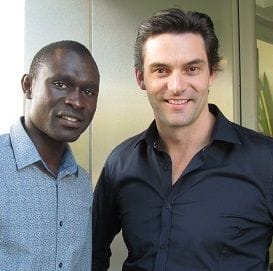 ClarkeHopkinsClarke partner Dean Landy (pictured right with mentor David Rudisha) visited Kenya in 2007 and felt compelled to transfer his expertise to bring at least one community out of poverty.

The firm weighed up the pros and cons and decided that establishing a not-for-profit, One Heart Foundation, was the best means for maximum impact.

"Once fully established, the foundation will look to start replicating this model in other parts of the world to increase the impact we can make in the lives of disadvantaged, orphaned and abused children," says Landy.
"I don't know of any other architecture firms involved in the actual creation, daily operation and expansion of an entire series of a children's village from the ground up.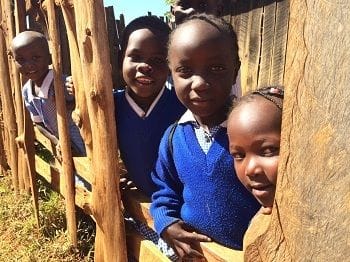 "We've designed this to a humble standard and budget, but are simply looking to end poverty in as many lives as we can."

ClarkeHopkinsClarke designed the masterplan for One Heart Children's Village in Turbo, Kenya.

The firm purchased five acres of land in 2012 to start the Village, after leasing two adjacent homes that allowed the team to care for 25 orphaned children initially.

One Heart Children's Village now has 30 staff looking after 75 orphaned children in four homes, runs a primary school and a surrounding 21-acre farm that generates food and income for the residents.

Landy believes good sustainable development should be universal, and despite the surrounds being third world, ensured there was an emphasis on the village being a 'vibrant community' you would find in urban hubs like Melbourne and New York.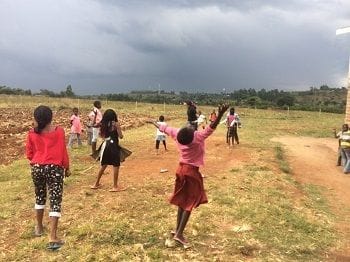 ClarkeHopkinsClarke believes education is the only way of pulling communities out of poverty, as such is planning for a high school to be erected by 2018.

Bond is obviously a big believer in the power of education too.

The small University follows the 'one step at a time' approach like ClarkeHopkinsClarke and is currently assisting the small village of Kirakira, a remote community on Makira Island with no more than a few thousand people.

In less than four years, Bond has sent more than 100 students and over 20 staff to Kirakira.

Bond University dean of Medicine, Peter Jones (pictured middle left), says Kirakira was singled out due to its dire need for assistance - there's only one doctor for 33,000 people - and also its uniqueness in that it's close to the Gold Coast and an equitable society despite not having a lot.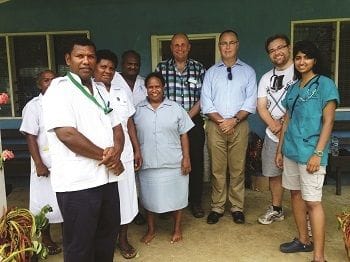 From what Bond can tell, its level of outreach is also unparalleled. The Solomon Islands Project to date has brought together students and academics from Health Sciences and Medicine, Sustainable Development, and Film and Television.

Final-year medical students undertake two-week clinical placements at the 60-bed Kirakira Hospital, dialling up their front-line experience and saving lives in the process.
"The goal is for this community to become a model that others could follow and rather than replicating our efforts elsewhere, we just want to do a really good job in Kirakira," says Jones, a founding member of the Project.
Nicole Webb, Bond University assistant professor of Urban Design and Planning, says the Project encourages students to 'think outside the box' of design conventions.

"It's a fantastic opportunity for students to be creative with their planning knowledge, as the Solomon Islands do not have the same rules and regulations we have here in Australia," says Webb.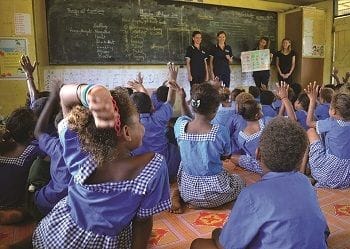 A standout example came from the first trip when urban planning student Jon-Paul Hogan turned the barrel of a cement mixer into a hospital waste incinerator to save around $20,000 and alleviate the risk of hazardous waste being buried in land behind the hospital.

The Solomon Islands Project will be funded by the Australian Government's New Colombo Plan through to 2019, which is aimed at strengthening ties with the Indo-Pacific region.

For other companies looking to emulate missions like this - whether in the Solomon Islands, Kenya or central Australia - Jones advises keeping sensitivity top of mind.

"Be there to help out but remember you can't change the politics or the governance - there will always be things you shake your head about," says Jones.
"In the context of providing autonomy, we recognise it's a fine line between colonial paternalism and providing expertise."
Dean Landy of ClarkeHopkinsClarke says the reward comes from humbling oneself and being there on the ground.

"I've had the privilege of seeing one of the first girls who came into our home go from having no education, spending most of her days scavenging for food for herself and her little brother after fleeing from their mentally handicapped mother who tried to burn them alive, to recently graduating her middle school after six years with us in the 95th percentile in all of Kenya," says Landy.

"As professionals we have the ability to leave a lasting legacy in disadvantaged children's lives, and I'd like to partner with more people in the Australian construction industry who share my view on wanting to literally help end poverty rather than just making token gestures."


Get our daily business news
Sign up to our free email news updates.
Help us deliver quality journalism to you.
As a free and independent news site providing daily updates
during a period of unprecedented challenges for businesses everywhere
we call on your support