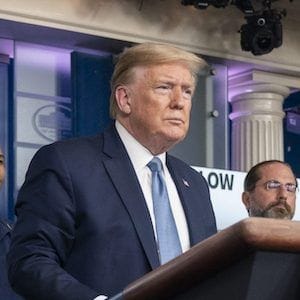 US President Donald Trump has encouraged Americans to avoid gatherings of 10 or more people for the time being.
"We've made the decision to further toughen the guidelines and blunt, the infection," said President Trump at a press conference on Monday.
"We'd much rather be ahead of the curve than behind it, and that's what we are."
"Therefore, my administration is recommending that all Americans including the young and healthy work to engage in schooling from home when possible."
"Avoid gathering in groups of more than 10 people, avoid discretionary travel and avoid eating and drinking in bars, restaurants and public food courts."
Elsewhere overseas Germany, Canada, Egypt, Switzerland, Malaysia, and Chile have closed their borders.
The Spanish Government has nationalised all private hospitals and healthcare providers to tackle a surge in coronavirus cases.
And the global death toll is now at 7,119 people, with 181,377 total cases confirmed.
Updated 9:21am AEDT on 17 March 2020.
---
Get our daily business news
Sign up to our free email news updates.