Dense landscaping with more than a thousand trees is planned for a green residential development dubbed "The Urban Forest" in South Brisbane.
Aria Property Group and Koichi Takada Architects have lodged a development application for the building they claim will be the "greenest residential building in the world".
Aria's development manager Michael Hurley says the building would set a new Australian benchmark, and he hopes over time Brisbane will be mentioned in the same breath as Singapore as a global leader in green buildings & sustainability.
"Cities like Singapore have been the international benchmark for green urban centres and sustainable architecture, targeting up to 200 per cent of site area covered by foliage," he notes.
The iconic design has been inspired by the best green buildings around the world, specifically the Bosco Verticale in Milan, Italy.
The announcement follows hot on the heels of the announcement of Atlassian's planned hybird timber tower as a tech precinct at Central Station in Sydney, also with elements of vertical greenery and natural ventilation.
Designer Koichi Takada, a prominent figure nationally and internationally completing projects in Tokyo, Shanghai, Los Angeles, Mexico City and Doha, says Urban Forest will inspire the next generation to follow of "mass greening" for a sustainable future.
"We designed away the barrier between the building and nature. The result is the greenest residential building with generous 'backyards in the sky' and offers a healthier way to live," says Takada.
"The Urban Forest is a vertical park which features five times the trees found in nearby Musgrave Park and a Green Plot Ratio 292 per cent the site area in gardens, equivalent to taking over 150 cars off the road each year.
"It is important to bring such a building to Brisbane at this time as unlike more populated cities, Brisbane still offers abundant opportunity to define and shift the city to a more natural and humanised approach."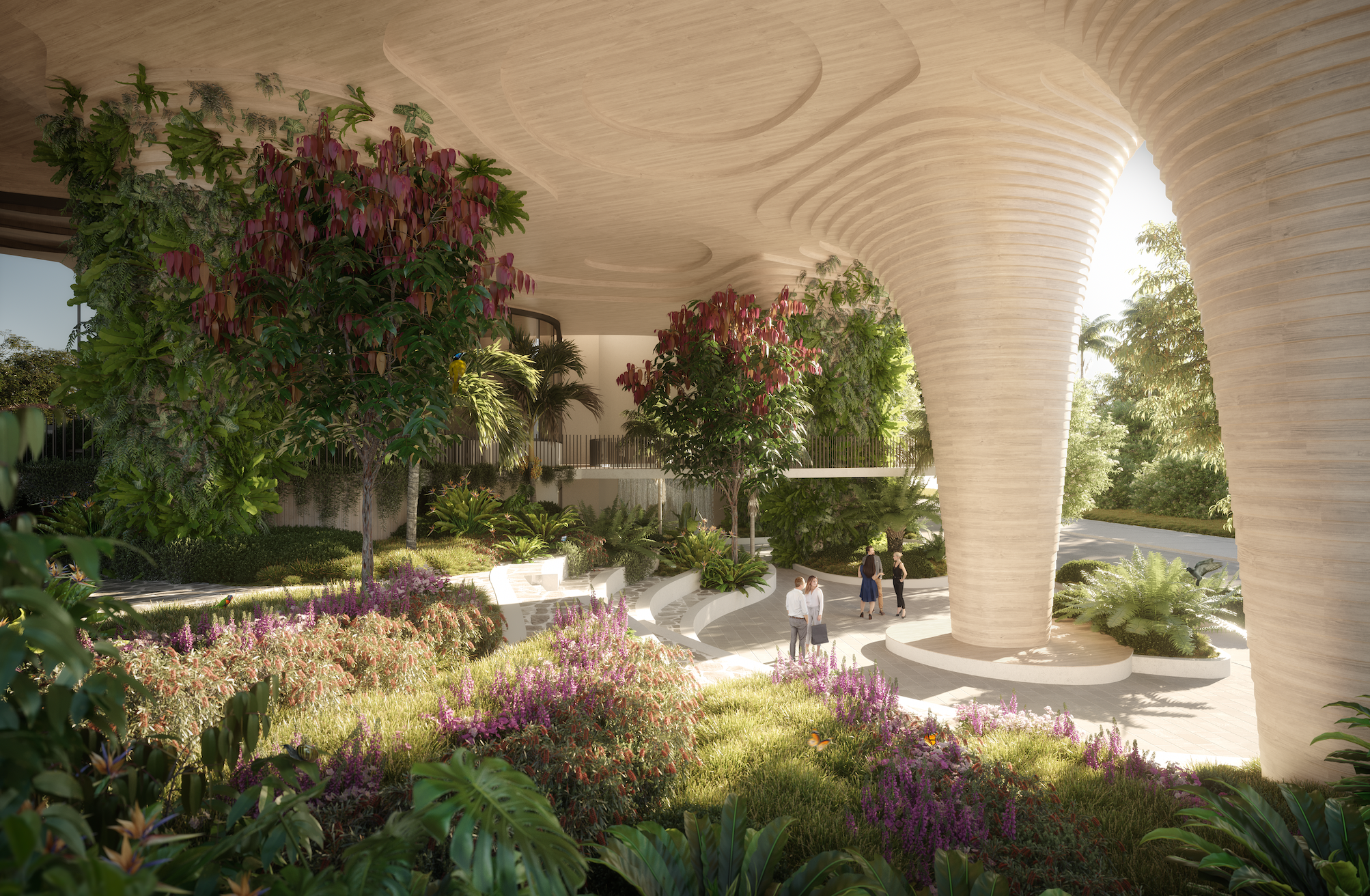 The development application contains a number of ground-breaking initiatives including;
The greenest residential building in the world featuring 1,003 trees and over 20,000 plants;
Green spine connecting Musgrave Park and South Bank;
A new 1,350m2 public park at the base of the building, with more than half the ground floor publicly accessible;
The first stand-alone five-star Green Star residential building in Queensland;
The most livable apartments in the world with average balcony sizes of 28m2;
The most communal recreation facilities in Australia, with more than 13m2 / unit;
A landmark public art and lighting design to promote the Brisbane City of Light's initiative;
An onsite education centre showcasing design and landscaping excellence; and
A benchmark for Brisbane City Council's Buildings that Breathe guideline.
For perspective, nearby Musgrave Park comprises 154 trees over 43,300m2 while Urban Forest has 1,003 trees on 2,750m2.
Aria proposes a variety of tree species and planting to celebrate Brisbane's seasons with each façade tailored to respond to sun and wind seasonally.
Development Manager Michael Hurley says Brisbane enjoys Australia's best climate conditions and this building allows residents to enjoy it in a way unprecedented in Australian apartment living.
A signature element of Aria's proposal is a public park under the building which follows a similar theme to Aria's Fish Lane Town Square re-development with neglected space converted to public realm.
The Glenelg Street park features a stage, outdoor classrooms, amphitheatre and event space.
The design also incorporates a floating canopy bridge meandering between columns and above the park to let visitors explore and adjoins an information centre.
"The information centre will be a unique focal point for the public with the ability to provide education on tree species, biodiversity, design and maintenance of the building," says Hurley.
"We want the Centre to promote the building and Brisbane as a global city, demonstrating what pioneering urban development actually represents."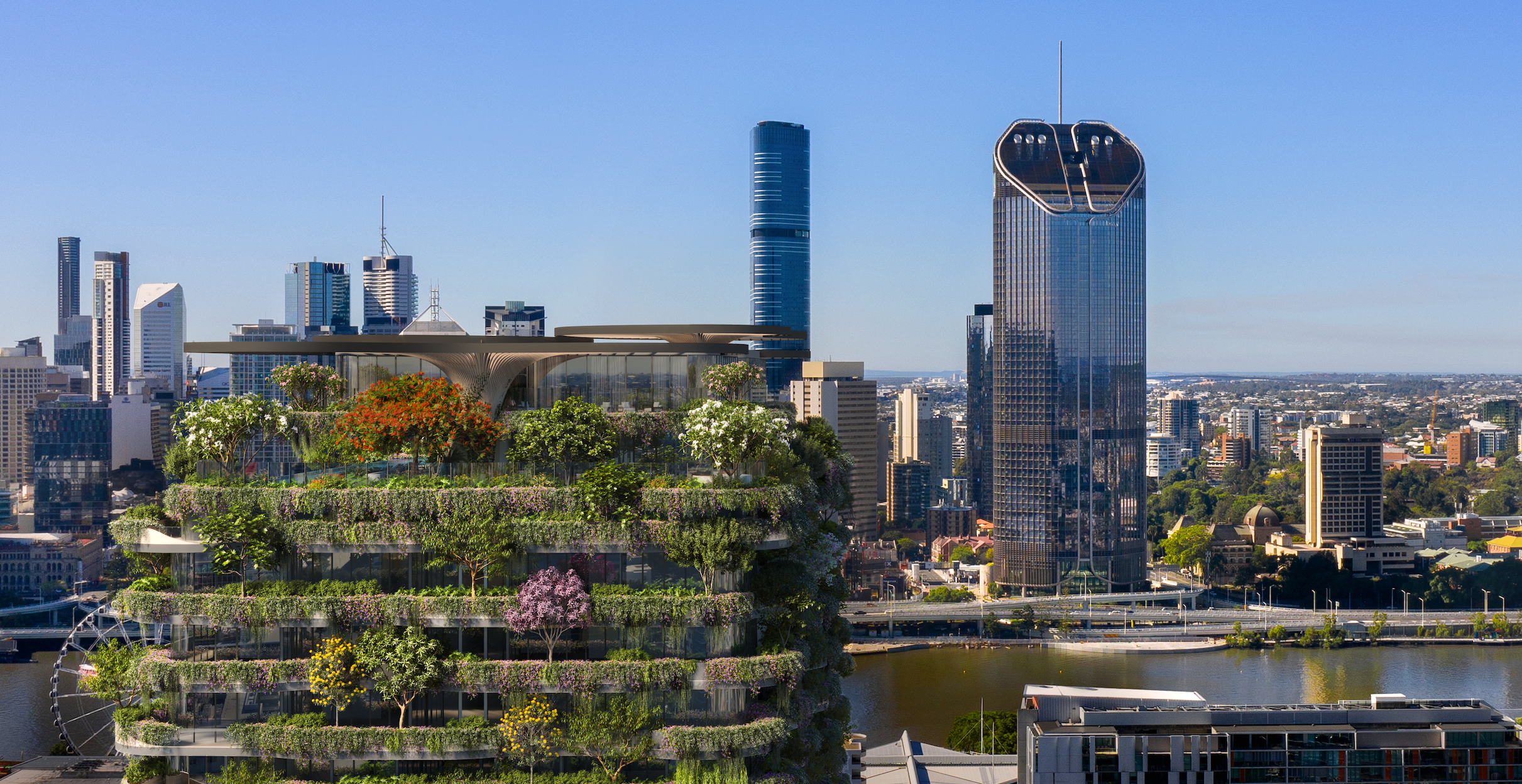 Apartments are designed to take advantage of Brisbane's sub-tropical climate with average outdoor areas in excess of 28m2.
"We want to celebrate Brisbane's sub-tropical climate and bring the traditional backyard experience into each apartment," says Aria design manager Simon White.
"High ceilings, over-sized terraces and lush greenery embrace Brisbane's identity and encourage residents to enjoy their own backyard in the sky."
Aria is known for delivering world class recreation spaces. The resident rooftop amenity is spread over two-stories featuring an array of amenities including rooftop pool, wellness area, fitness centre, lounge, private dining rooms, boardrooms and workspaces, games room and rooftop wine bar to name a few.
Aria has been a long-term investor in South Brisbane championing public realm initiatives including the Fish Lane Arts Precinct which houses restaurants, bars and cafes and is surrounded by public art, lighting installations, greenery and signage.
In late 2020 Aria expects to complete stage one of Fish Lane Town Square - a new public park, retail and event space in the heart of South Brisbane which converts 50 fenced off car parks into high quality landscaped public realm.
Never miss a news update, subscribe here. Follow us on Facebook, LinkedIn, Instagram and Twitter.
Business News Australia
Get our daily business news
Sign up to our free email news updates.