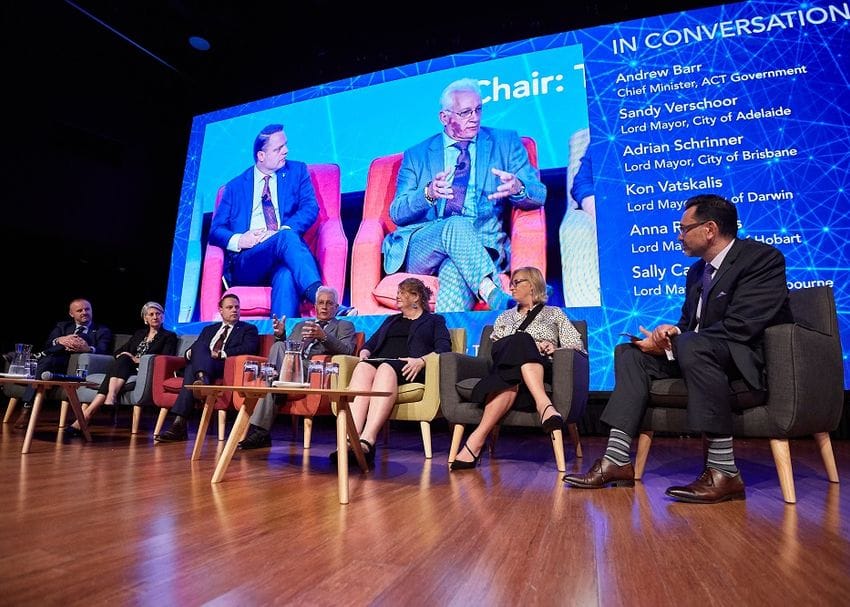 Former US presidential candidate and Gold medallist to headline Brisbane's 2021 Asia Pacific Cities Summit
Former United States presidential candidate Martin O'Malley and renowned Australian Paralympian Kurt Fearnley AO will be the headline acts at the Asia Pacific Cities Summit and Mayors' Forum Special Edition (2021APCS Special Edition) in Brisbane from 8-12 September.
Announcing Governor O'Malley and Mr Fearnley's attendance, Lord Mayor Adrian Schrinner said the pair's involvement was a major coup for one of the world's leading summits for civic leaders, providing delegates from Brisbane, Australia and abroad with a chance to hear from a globally-renowned thought leader and one of Australia's most inspirational athletes under the theme 'Redefining Cities through Opportunities and Challenges.'
Governor O'Malley and Mr Fearnley join a star-studded list of people who have previously featured at the summit including Olympian Lord Sebastian Coe, Netflix co-founder Marc Randolph, Amazon chief scientist Andreas Weigend, Virgin boss Sir Richard Branson and former Mayor of London Ken Livingstone.
"For local companies and business leaders, this is a rare opportunity to connect with other major cities and hear first-hand from unique leaders like Governor O'Malley and Mr Fearnley," Cr Schrinner said.
Governor O'Malley is a former mayor of Baltimore, the 61st Governor of Maryland and a 2016 US Democratic presidential candidate, was named 'one of America's five best big-city mayors' by TIME magazine.
Governor O'Malley's revolutionary use of location-based analytics to drive operational transparency has been adopted by government leaders around the world to make true evidence-based decisions and track performance.
"I can't wait to hear from Kurt Fearnley also. He's one of Australia's most well-known and respected athletes, and his feats, including 13 Paralympic medals spanning across five games, are an amazing achievement," Cr Schrinner said.
Kurt Fearnley's impressive career includes winning some of the world's most prestigious marathons in London, Paris, Rome, Los Angeles, Chicago and New York, as well as his astonishing feat of crawling the 96km Kokoda track.
Kurt is actively involved in various charities as a board member, patron and ambassador. In 2016 Kurt was elected by his peers to be one of six Summer Paralympic Athletes to serve on the International Paralympic Committee's Athletes' Commission.
"The knowledge to be gained from this event is invaluable and I urge anyone interested to get in quick and register to secure an opportunity to connect with local and international businesses as well as government leaders."
The 2021APCS Special Edition is an incredible opportunity to help connect businesses with the world with the event being the first time mayors and local businesses across the region have gathered since the start of the coronavirus pandemic. Since its inception in 1996, APCS has grown to be the cities signature, biennial, international event for driving economic growth for Brisbane, South East Queensland, Australia and the wider Asia Pacific region.
The 2021APCS Special Edition will be held live online and in person at the Brisbane Convention and Exhibition Centre from 8-12 September.
For businesses, the summit is accessible in two primary ways: as a delegate and as an exhibitor.
Delegates gain access to networking opportunities, speaker sessions and a program showcases while exhibitors are able to showcase their brand, services, and products to key decision-makers of the region, including government, business, and industry leaders.
For more information and to register, visit www.apcsummit.org or call Council on 3403 8888.
The Asia Pacific Cities Summit (APCS) and Mayors' Forum is the region's premier Summit that brings together one of the largest number of city leaders with the best and brightest in business. Today, cities are increasingly recognised as key influencers, connectors and contributors to the global economy and the Summit is the platform for connection and knowledge exchange.
APCS is focused on bringing business, industry and cities together to enable them to build relationships and effectively contribute to the success and sustainability of our cities into the future. APCS attracts city leaders and key influencers looking to engage with companies who can provide innovative urban solutions to cities.
More from 2021 Asia Pacific Cities Summit and Mayors' Forum
Former United States presidential candidate Martin O'Malley and renowned Australi...
2021 Asia Pacific Cities Summit and Mayors' Forum