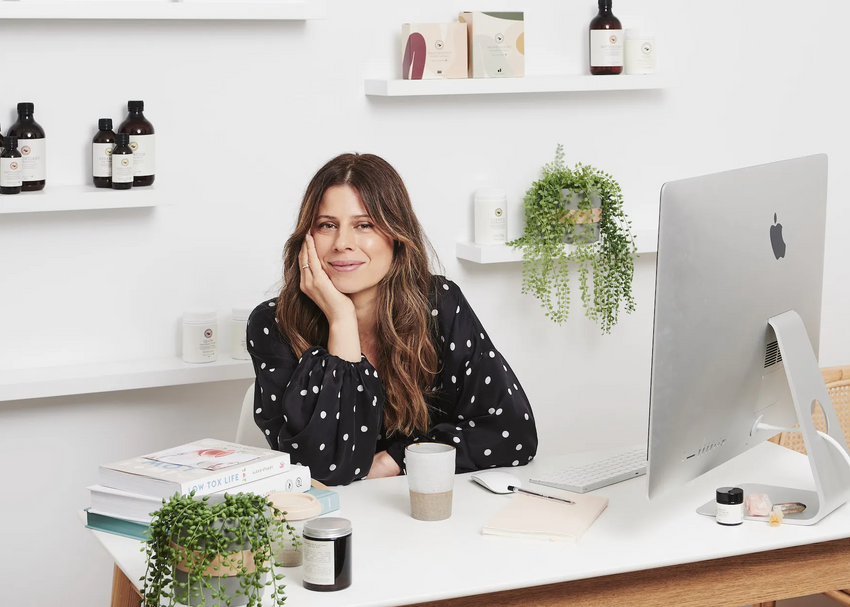 Holistic health makes more than business sense for The Beauty Chef founder Carla Oates
Australians are increasingly recognising the importance of inner health, creating an emerging market of curious consumers wanting to make positive changes. But knowing how to make those changes is the biggest challenge for many, and it's one The Beauty Chef is stepping up to take on.
With a passion for holistic health under her belt, Carla Oates, founder of The Beauty Chef, is hoping to take the lessons she's learnt, and an in-demand product range, to customers wanting to change for the better.
An early introduction
From a young age, Carla Oates experienced the powerful benefits of pursuing holistic health practices. After suffering from eczema and allergies as a child, Carla was taken to a naturopath who recommended dramatic changes to her diet.
Though daunting at first, the process of eliminating processed foods and allergens such as gluten and dairy from her diet significantly improved her health.
"I experienced first-hand the connection of food as medicine—that what we eat can affect our skin and health," Oates said.
Working as a beauty editor for a mainstream newspaper, Carla was inundated with the newest beauty products from major brands - but her excitement to use said products quickly dissipated.
"After researching the ingredients, I became increasingly concerned about the toxic chemicals in skincare products," Oates said.
"Women from all over Australia were writing into my column asking for advice on what products to use for chronic skin issues. I knew looking after your skin properly was an inside-out job and that none of these chemical-laden products would help, heal or regenerate their skin."
This realisation set Carla on a new mission to help change the paradigm in the beauty industry and educate women on how to look after their skin in a healthier, more holistic way.
From family kitchen to a growing market
When Carla's daughter also began to experience eczema and allergies, she knew how to help, but it also inspired her to dive deeper into how our diets play a large role in shaping the health of our skin.
"I started researching the link between gut and skin health and found some of the studies fascinating," Oates explains.
"As I explored this link, I decided to put my family on a gut-healing protocol which included eliminating certain foods and introducing lots of lacto-fermented wholefoods teeming with beneficial bacteria (aka probiotics), such as sauerkraut, kefir and kimchi.
"As I began experimenting in my kitchen at home, I realised I was onto something."
Carla began receiving comments from friends and family asking her about her skincare regime, and it wasn't long before she shared her secrets with her community.
"I quickly became the local beauty pusher and supplier of these fermented foods. Everyone found they had better energy, happier tummies, and healthier, more radiant skin," Oates said. "From here, the first iteration of GLOW™ Inner Beauty Powder was born, my first product containing 24 bio-fermented superfoods with prebiotics and probiotics for gut health, glowing skin and well-being."
Creating a GLOWbal success
Carla entered the market in 2009 with her signature GLOW™ Inner Beauty Powder, but it wasn't a simple endeavour.
"The concept of inner beauty was very left of field, and the idea of an inner beauty powder formulated from fermented foods with probiotic bacteria for gut health and glowing skin was even weirder!" she exclaimed.
"But I felt passionate about what I had discovered—a real solution to skin and gut issues that I knew worked."
Her belief and determination has paid off. Since launching, the inner beauty category has continued to grow. While being a pioneer in this space meant the first few years were tough, Oates is proud to have started the business when she did.
"I truly believe that 'beauty is wellness' and 'wellness is beauty', and this ethos runs through everything we do," she explained.
"Three years ago, we built a state-of-the-art fermentation plant alongside leading microbiologists. The Beauty Chef has always created powerful probiotic formulas, but now that we have our purpose-built plant in Sydney, we can control the process from start to finish."
Backed by beauty and research
The Beauty Chef remains a leader in the space thanks to Carla's focus and prioritisation of developing science. Everything she creates is backed by robust research, and she's continuously looking at emerging data to improve her products.
"While our products are grounded in nature, they're backed by science," Oates said.
"More than 20 years of research has gone into developing our unique and natural bio-fermentation process called FloraCulture™."
Witnessing her own business go from strength to strength thanks to research, science and rising levels of education about the connection between gut health and overall wellness, the entrepreneur is keen to keep pushing boundaries and bringing new, exciting products to her global customer base.
"New product development is one of my passions," Oates said.
"As a former beauty editor, I've always been interested in how to best support skin health through both the gut and skin microbiome, so from both inside and out.
"All I can say is, watch this space!"
Disclaimer: This article contains general information about health issues and is not 'advice' because it does not consider your personal health requirements or existing medical conditions. For health advice, and before taking any supplements, always consult your medical practitioner.
More from The Beauty Chef
Australians are increasingly recognising the importance of inner health, creating an em...
The Beauty Chef