SCALING UP - MASTER CLASS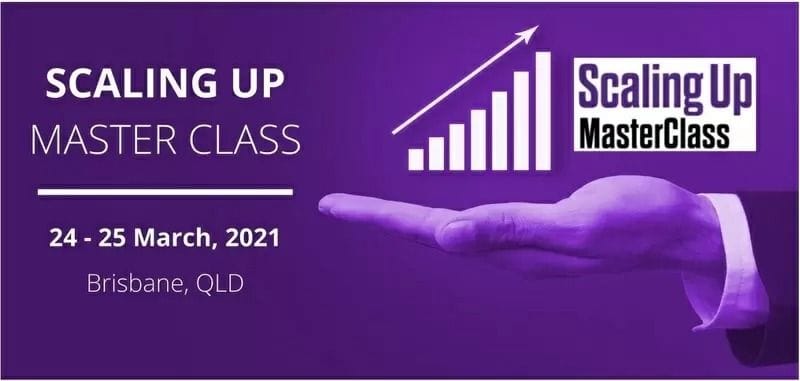 Are you a leader of a growing mid-market firm?

Join Verne Harnish (via live Video feed), Dr Glen Richards, Joss Milner, Ted Bonel & Bernard O'Brien for 2 days of practical executive education.
Within these two days, our speakers & facilitators will present a technical masterclass on scaling up any business. Our speakers each have over 40 years of business experience spanning all continents, cultures and markets. With the use of scaling up techniques, that they will impart onto you, you will have access to a toolkit not only to grow your business, but to maintain sustainable growth
The Scaling Up Performance Platform has helped the leadership teams of over 70,000 scaleups through a set of tools/techniques that address the 4 decisions in scaling a business: People, Strategy, Execution, and Cash based on the book Scaling Up: How a Few Companies Make Itand the Rest Don't with almost a half-million copies in print across 17 languages.
This multi-award-winning global master class has been honed over two decades and we're now giving scaleups everywhere this complete solution a combination of assessments, learning, coaching, and software to help you manage the chaos that comes with scale. It's a highly interactive workshop with teams seated at roundtables to facilitate discussions and decision-making.
So join the scaling up performance platform, and over 70,000 scaleups that make use of the 4 foundations in scaling a business: People, Strategy, Execution, and Cash.
The Master Class is for...
Leadership Teams new to Scaling Up who want to get a significant jump-start in implementing the tools and techniques.
Experienced Leadership Teams desiring to review, fine-tune, and advance their implementation of Scaling Up.
CEOs with New Team Members that they want to get up-to-speed and spend quality time integrating onto the team.
CEOs looking to strengthen relationships with the leadership of customers/key suppliers.
CEOs who want to run their companies like a professional sports team, not a family.
Highlights:
Be expertly facilitated by Master Implementers of the Scaling Up/Rockefeller Habits 2.0 Performance Platform.
Craft your One Page Strategic Growth Plan.
Voted the "Best Business Educational Event' by YPO
LEARNING OUTCOMES:

PEOPLE: Learn how to attract, develop and keep a team of 'A' Players
STRATEGY: Understand the process of how to craft an industry -dominating strategy using various 'best-in-class' strategy frameworks.
EXECUTION: Reduce drama and the time it takes you to manage your team through systems, processes, accountability and technology.
CASH: Hands on 'Cash is King' working session with Joss Milner - Cash flow, margins, key performance indicators & efficiencies.
ALIGNMENT:
Gain clarity and focus and get everyone aligned and on the same page - make Rockefeller Habits 2.0 your Performance Platform & Scale Up with Confidence.
PLUS:
Each team of 3 or more that signs up for the Master Class will receive a complimentary Scaling Up 4 Decisions Assessment and Cash Flow Story assessment.
Speakers:
Verne Harnish (by Live Video Link)
Founder of the world-renowned Entrepreneurs' Organization (EO) and chaired for 15 years EO's premier CEO program, the "Birthing of Giants" held at MIT, a program in which he still teaches today. Founder and CEO of Scaling Up, a global executive education and coaching company with partners on six continents who have helped over 70,000 companies, Verne has spent the past three decades helping companies scaleup. He's the author of the bestseller Mastering the Rockefeller Habits, and along with the editors of Fortune, authored The Greatest Business Decisions of All Time. His latest book Scaling Up (Rockefeller Habits 2.0) has won eight major book awards including the prestigious International Book Award for Best Business book.
Dr Glen Richards
Shark Tank panelist and investor since 2016. Founding Managing Director (retired) of Greencross Limited - Australia's largest veterinary group, Glen applied this Scaling Up framework to scale Greencross from a one vet clinic in Townsville to the ASX 200 company it is today with an annual turnover of over $800m.
Glen has over 26 years of experience in the retail and professional services sectors with extensive experience in fast growing companies, especially in health care and allied health sectors.
Joss Milner
CEO, Director, Co-founder of 'Cash Flow Story' - financial analysis techniques that have become a global standard for businesses, CPAs and banks. These techniques are now being used in 30 countries by over 20,000 customers including 500 leading banks. The diagnostic principles he developed are now changing the way business leaders are reviewing their financial performance.
Joss is a co-author of the global best-selling book by Verne Harnish, Scaling Up (having written the financial component of the book).
TESTIMONIALS
A few notable Australian success stories that have implemented Scaling Up. Read some of their experiences, feedback and a video below:
"Scaling up a significant business requires precisely the kind of discipline and focus detailed in Verne's practical and 'how-to' driven book."
Scott Farquhar - Co-founder and CEO, Atlassian"
I learned from Verne Harnish in Mastering the Rockefeller Habits book, about what causes a successful business and this we have definitely applied to RedBalloon".
Naomi Simson - Founder Red Balloon & on Shark Tank
"Implementing the Rockefeller Habits gave us the tools we needed to drive hard, expand our market share, grow our practices, and keep the chaos under control."
Glen Richards - Founder GreenCross (PetBarn) & on Shark Tank.
Facilitators:
Ted Bonel - Internationally recognised, multi award-winning Scaling Up Practitioner of 15 years. Ted is a strategic advisor & coach to CEOs and Executive Teams across Australia. Scaled up his own 4 successful businesses.
Bernard O'Brien is an accomplished and successful senior executive with extensive experience across several industry segments such as food, agriculture, merchandising, consulting, retailing, construction and tourism sector.
Event Schedule:

DAY 1 - Wednesday 24 March 2021 from 8.00am 5.00pm.
DAY 2 Thursday 25 March 2021 from 8.00am 5.00pm.
Event Timezone: AEST Brisbane
| | |
| --- | --- |
| Venue: | Brisbane Convention and Exhibition Centre |
| Venue Address: | Cnr Merivale and Glenelg Streets South Bank, Brisbane Queensland Australia |
| Starting: | 8:00 AM |
| | Wednesday 24th March 2021 |
| Ending: | 5:00 PM |
| | Thursday 25th March 2021 |
| Phone Enquiries: | 0411156176 or 0418 742333 |