SYDNEY developer William O'Dwyer didn't take any notice of his southern peers 18 months ago when he said he wanted to embark on a major development on the Gold Coast.
Today, he launched construction of the first stage of the $1.4 billion Ruby development, a 30-storey apartment tower adjacent to the Paradise Resort on the northern fringe of Surfers Paradise.
The project has already proved the doomsayers wrong following a sellout of the first of four residential towers. This has boosted the confidence of O'Dwyer and his private development company Ralan Group to proceed with the final stages to be delivered over the next five years.
It was a different story when, early last year, O'Dwyer felt the Gold Coast was ripe with opportunity, leading him this year to scoop up the 2.48ha Paradise Resort for about $75 million.
"My peers in Sydney said I needed my head read because the Gold Coast was on its knees," says O'Dwyer, who until now has largely focused on the Sydney market.
"I am a great fan of the Gold Coast and always have been, and anybody who thinks the Gold Coast is down and out need their head read.
"The Gold Coast is in the embryonic stages of an incredible burst of growth over the next decade. It is a city that is resilient and has proven itself time and time again to all the doubters.
"It's fair to say I am putting my money where my instincts are. I'm backing my belief that the Gold Coast will be the growth story on the eastern seaboard of Australia over the next five to 10 years. I don't have a molecule of doubt in my mind that this will be the case."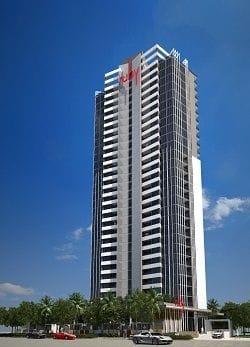 O'Dwyer says a progressive council, the light rail and the rise of middle class tourism from China are playing their part ion this growth.
He says Ruby has been inspired by the success of Oracle at Broadbeach, a development that has created a vibrant precinct for the area.
Ruby Surfers Paradise, which has been designed by DBI Design, will ultimately comprise four towers, the highest at 60 storeys, with a mix of private apartments, serviced apartments and townhouses.
The ground level will incorporate a village green, a 2543sqm retail precinct and a podium playground that will house a host of leisure facilities including an ice-skating rink, laser tag and climbing wall.
"This will be a precinct that will be attractive not only to visitors, but to locals," says O'Dwyer. "It is going to revolutionise this little hub at the northern part of Surfers, an area that has been crying out for it."
Mayor Tom Tate says because Ruby is backed by an Australian developer, this is a pivotal project that will make southern developers take notice of the Gold Coast as an investment destination.
"It's not just a project; it's a whole new precinct, a whole new level of lifestyle," he says.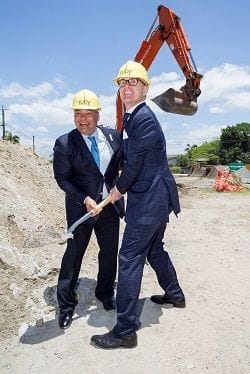 The project is expected to create peak employment of 6000 jobs during its expected five-year life, and 1000 permanent and part-time jobs after completion.
Construction has started on the first stage following a strong run of sales, with apartments achieving an average price of around $700,000 per unit above O'Dwyer's own expectations.
The first stage will comprise 241 apartments and townhouses, part of 1600 apartments planned across the four towers. All but 12 apartments in the first tower have sold out, which O'Dwyer says he will retain as his own investment in the project.
Ruby is the largest project undertaken by Ralan Group which has predominantly focused on Sydney developments. The cost of construction is expected to be up to $900 million.
Stage one will be completed in 2017, which will then lead to the demolition of Paradise Resort to make way for the remaining stages.
O'Dwyer says the staged nature of the project minimises the development risk to Ralan Group.
"The successful delivery of stage one really proves up the viability of the other stages," he says. "Our goal is to develop stages two, three and four simultaneously, but still separate them in terms of delivery by four or five months."
Get our daily business news
Sign up to our free email news updates.
Help us deliver quality journalism to you.
As a free and independent news site providing daily updates
during a period of unprecedented challenges for businesses everywhere
we call on your support