In the words of venture capitalist Vinod Khosla, an entrepreneur and early backer of technologies that shaped internet infrastructure, not to mention his speculative punt on plant-based success story Impossible Foods, "If everyone played it safe, we wouldn't get anywhere."
It takes guts to spearhead your own company, whether that is manifested in a bold, long-term vision others may deem unreasonable, or a business with more immediate horizons to scale and make an impact.
In a time when some purse strings have tightened and valuations have been crunched against a backdrop of inflation and higher interest rates, perhaps a more sober outlook will reign in the startup universe, placing greater emphasis on cash flow, but for the most innovative of entrepreneurs who can prove their business nous with the right teams and supporters, opportunities abound.
To quote Investible co-founder Trevor Folsom, "Founders - certainly in the last 10 years - had it a lot better than the founders of today who may be really having to demonstrate some key milestones before they achieve lofty valuations again, but nothing has changed; good quality businesses led by good quality founders will attract capital."
In compiling the following list of Australia's Top 100 Young Entrepreneurs, Business News Australia scoured the country to identify the nation's leading business talent aged 40 and under, not just from valuations but through a wide range of metrics around financials, growth, traction, brand value, business model strength, positive disruption, societal impact, inspirational attributes, proven achievements and potential.
Whilst the young founders out there who have enviable capital raising notches on their belts are present, and rightfully deserve to be, there is also a large contingent on this list whose businesses are bootstrapped or have received minimal outside funding. There is no single path to success for any particular founder, and the following cohort demonstrates the myriad ways that one can achieve their goals – whatever they may be – with business as the conduit.
1. Cliff Obrecht (37) and Melanie Perkins (35)
Canva
Sydney
Arguably Australia's most successful startup of the past decade, Canva, took a hit in 2022 amid a slew of tech companies cutting back staff and a souring of sentiment towards cryptocurrencies.
Some of Canva's biggest investors had marked down the value of their holdings in the online graphic design company, including Blackbird Ventures which slashed its valuation by $US14.4 billion ($20.5 billion) to $US25.6 billion ($36.4 billion) in mid-2022.
Blackbird, which described 2022 as 'brutal' for the tech sector, slashed the value of its 14 per cent stake in Canva after 'strengthening' its valuation policy. So, despite the last capital raising by Canva in 2021 which valued the company at US$40 billion ($56.9 billion), Blackbird says the 'tried and tested model of relying on the last round valuation has not held up as it did before'.
That doesn't necessarily mean Canva had a tough trading year, with reports that Blackbird is pleased with the company's progress.
While a number of tech companies were cutting back on staff, Canva is reported to have hired more than 700 during the year, taking its total staff count to more than 3,000 globally.
The company was founded in Perth by Melanie Perkins, Cliff Obrecht, and Cameron Adams, 43, in 2013. Perkins came up with the idea of building a simple platform to create school yearbooks. Now it has more than 100 million monthly active users in 190 countries, up from about 60 million users a year ago.
Canva boosted its numbers by 15 million a month at the end of last year following the launch of its Visual Worksuite, which allows users to communicate visually on any device through Canva's software.
Company growth in 2022 was aided by a US$200 million ($273 million) capital raising in September 2021.
While Canva is a private company, with its revenue figures kept under wraps, it has been reported that the company generated more than US$1 billion ($1.4 billion) in revenue in 2022. It counts about 85 per cent of the Fortune 500 companies in the US among its customers.
To cope with its growing workforce, late last year Canva made its mark on the Sydney office market with the $120 million purchase of an office building in the city's tech precinct near Central Station, close to its existing headquarters at Surrey Hills.
Canva is reported to be planning a refurbishment of the building with a view to consolidating its team which is spread out in other buildings within the Sydney CBD.

2. James Ferguson (30), Robbie Ferguson (25) and Alex Connolly (24)
Immutable
Sydney
Global blockchain technology company Immutable has been on a stellar ride since it was founded by Alex Connolly and brothers James and Robbie Ferguson in 2018.
A US$200 million ($273 million) capital raising last year valued the company at US$2.5 billion ($3.5 billion), pushing it firmly into unicorn territory, and drawing investments from leading blockchain game juggernaut Animoca Brands and China's Tencent, the owner of WeChat.
Built to become the go-to platform for gaming, DeFi (decentralised finance) and Web3 marketplaces, Immutable is providing infrastructure to enable the transfer of NFTs at scale at a level that is cheaper and quicker than its competitors.
The application of the Immutable X protocol for gaming alone is seen as a reason for the hefty market valuation with the industry said to be worth more than US$200 billion ($284 billion).
Immutable, formerly known as Fuel Games, is responsible for one of the world's largest blockchain games, Gods Unchained. Immutable X provides game developers with a platform for users to trade and earn assets in cryptocurrency Ethereum due it its NFT integration capabilities.
Summing up 2022, Immutable president Robbie Ferguson revealed that nearly US$1 billion ($1.4 billion) had been invested in game building on its platform and it grew from five games building on Immutable to more than 100.
"We onboarded more games in Q3 (than) the company's lifetime combined, and outpaced this again last quarter," Ferguson said in a LinkedIn post in January.
Despite valuations sliding for the tech sector in 2022, Ferguson also noted that after raising US$200 million ($287 million) in February, PrinceVille Global investing dipped in at US$20 million ($28.7 million) in July last year at the same valuation.
After last year's capital raisings, Immutable launched a US$500 million ($718 million) venture fund to invest in and help develop blockchain gaming and NFT projects.
The Immutable Ventures fund is dedicated to supporting web3 games and NFT-centric companies that build on Immutable X. Its target is to accelerate the growth of the Immutable X protocol by allocating token grants and investments to 'the most promising games and projects building on the Immutable X platform'.
"Gaming is bigger than movies and music combined, and is compounding by 10 per cent every year," said Ferguson when he announced the new fund.
"With the knowledge we have from building two of the blockchain's biggest games in-house, we're going to be providing the funding, expertise and infrastructure needed to grow this to a trillion-dollar ownable economy over the next decade."
Ferguson sees 'immense, untapped potential' in the Web3 economy and, through the fund, the company plans to grow its own ecosystem to establish itself as a market leader in the space.
The collapse of Do Kwan's Terra network early last year pushed Immutable closer to that goal. The company announced in October that the collapse saw games such as Deviants' Factions, Undead Blocks, Tatsumeeko, and StarHeroes move to Immutable X.
Earlier in the year, Cartamundi and Warner Bros. Consumer Products announced the launch of new hybrid physical and NFT trading cards based on legendary superheroes such as Batman and Superman, with their digital parts minted on Immutable X.
The Sydney-based company has a team of more than 300 and is backed by the likes of tech investors BITKRAFT Ventures, King River Capital and AirTree.

3. Andrew Barnes (34), Vu Tran (34) and Chris Eigeland (32)
Go1
Brisbane
Ed-tech Go1 may still be far off its audacious goal of reaching one billion learners worldwide by helping them upskill and reskill, but that's what comes with the ambitious path its founders have chosen.
As the world's leading learning and development content expert with 10,000 organisations as customers including Microsoft, Amazon, state and federal governments, and numerous small businesses, Go1's learner numbers swelled by 1.5 million to reach eight million last year alone.
Go1 estimates it has a course started every 1.3 seconds, and has expanded its content offering by partnering with Pluralsight and Harvard Business Publishing Corporate Learning, which join other content partners such as EdX, Skillsoft and Coursera.
In mid-2022 the company – founded by Andrew Barnes, Vu Tran, Chris Eigeland and Chris Hood – achieved double unicorn status in USD terms with its second major capital raise in the space of 12 months, which stood at US$100 million.
The founders explain the company didn't need to raise funds but there was too much inbound interest from investors to ignore.
Following that round which took the total raised since inception to US$400 million, Go1 reported it would be using the capital injection to take its product offering beyond corporate learning, investing in technological innovations such as virtual reality-based learning and video streaming on the Go1 platform.
Go1's backers are some of the biggest names in the venture capital industry such as early Amazon.com investor Madrona Venture Group, Microsoft's VC fund M12, AirTree Ventures, Blue Cloud Ventures, Five Sigma, Salesforce Ventures, and SoftBank Vision Fund 2.
Since 2015 the company's revenue has doubled every year, and now it employs 700 people in more than 25 countries.
Global growth was helped by the landmark acquisition of Swiss-French company Coorpacademy in April 2022, representing Go1's biggest deal to date to expand the company's content in German in French.
Two months earlier Go1 had acquired Education Changemakers, an Australian e-learning platform built to provide professional learning workshops and personalised support for teachers and school leaders.
More recently, Go1 kicked off 2023 with the acquisition of UK ed-tech company Anders Pink, tapping into the company's expertise in artificial intelligence to create targeted content feeds around relevant topics and skills for different learners.
The US continues to be Go1's biggest market and growth driver, with further expansion expected there as well as in European and Southeast Asian markets.

4. Izhar Basha (39)
EHPLabs
Sydney
After a decade of growth with millions of fitness fanatics now sharing the benefits of its OxyShred metabolism boosting products on social media platforms like TikTok and Instagram, EHPLabs has gone mainstream.
It is a feat that likely would have never been achieved had EHPLabs' Fijian refugee founder Izhar Basha not come down with autoimmune disease ulcerative colitis in 2011 – a health scare that led the then corporate lawyer to shift his priorities towards health and fitness, ultimately prompting him to establish his own company the following year.
Basha says a decision to reach a broader health-conscious market led to the launch in March last year of OxyShred Ultra Energy, a carbonated canned energy drink that effectively condenses the benefits of OxyShred's powders into a ready-to-drink product.
OxyShred Ultra Energy has been a key driver of sales for EHPLabs which are expected to hit $150 million in the current financial year, up from $90 million in FY22.
Basha says about $40 million of that revenue will come from the carbonated drink, which was rolled out in partnership with Woolworths, Coles and 7 Eleven in Australia.
In the US, a key growth market for the company, the product is being distributed through the 24-Hour Fitness network of 5,000 gyms, The Vitamin Shoppe's 1,000 outlets and the H-E-B Grocery chain in Texas.
"It's a crossover product for our existing customer base that already has loyalty to the brand," says Basha. "It's positioned in the 'better for you' space - zero calories and tastes amazing."
The carbonated drink is among a slew of products in development by EHPLabs that Basha says are key to future growth as the young entrepreneur notches up 10 years in business.
"Innovation is part of our DNA, so we continue to create new flavours and new formats," he says. "There is a whole range of new formats coming out in our plant-based brand called Blessed. That includes plant-based protein snacks that are cool, funky snacks, as well as cupcakes, protein twinkies and crunchy munchies. There's a lot happening in that space."
While social media has been a key driver of brand recognition, Basha says EHPLabs 'can't rely solely on that'.
"As we turn 10, the next chapter needs to be backed by the scientific credentials as well as the testimonials. When COVID hit in March 2020, we sat down and looked at how we double down, how we strengthen our brand. One of the many things we came up with was the decision to invest in clinical research. It was at a time when a lot of brands were pulling their funding."
EHPLabs spent about $1 million over the past two years on clinical studies in the US to prove the claims supporting its products.
The company's four core markets are the US, Australia-New Zealand, Canada and the UK where the company offers direct-to-consumer e-commerce delivery through its website and Amazon.
In October last year, EHPLabs acquired a 10 per cent stake in Toronto Stock Exchange-listed Wildpack Beverages through a US$1 million ($1.49 million) placement. The buy-in was accompanied by a two-year contract for Wildpack to produce EHPLabs' flagship product OxyShred for US distribution, totalling 77 million cans.
"This is a strategic acquisition to gain a minority stake to give us supply chain certainty with our manufacturing," says Basha.
The deal secured Basha a seat on the Wildpack board.
5. Xavier Orr (36) and Chris Chaw (37)
Advanced Navigation
Sydney
Growth has been the primary focus for the founders behind Advanced Navigation, which secured a whopping $108 million in Series B funding three months ago to bolster its R&D in the navigation and AI sector.
The company was founded a decade ago by engineers Chris Shaw and Xavier Orr, who put their heads together to commercialise the latter's thesis research on inertial navigation – a system that uses computers, motion sensors and rotation sensors to determine an object's positioning.
It serves as a more accurate alternative to the Kalman filter algorithm, which has been a common application for the guidance, navigation, and control of vehicles since the 1960's.
"There's definitely been a lot of theses over the years trying to tackle the problem of upgrading the Kalman filter," Orr says.
"It just happened to be that the particular technique and the particular way I approached it when I did my thesis allowed me to have that breakthrough."
It was this research that enabled the duo to secure their first breakthrough deal with Canada-based train and jet manufacturer Bombardier. Now, Advanced Navigation has customers in 70-plus countries with global giants like Airbus, Boeing, Tesla, Google and General Motors among its clientele.
Another major client includes NASA, which will be using two of the company's navigation systems - Boreas X90 and light detection altimetry and velocimetry (LiDAV) – to allow space vehicles to reliably explore shadowed craters and lava tubes on the Moon.
The landmark deal came after the company acquired Canberra-based Vai Photonics in May 2022, which developed LiDAV for more than 15 years at the Australian National University (ANU) before it spun out as a business.
On top of the acquisition, Advanced Navigation has secured a 5.5-acre site in Perth where it will aim to produce 10,000 units of its fully autonomous submersible drone Hydrus.
The underwater technology can help monitor CO2 absorption, reef bleaching, loss of sea life and biodiversity, coastal erosion, fishery declines, and more.
"Hydrus builds off the back of 10 years of research and work on different technologies that are all accumulated into the one platform," Orr says.
"Previously, you'd need really expensive vessels and trained crew to go out and run an underwater survey or underwater inspection. Now a kid can do it using a phone."

6. Dean Mintz (37)
Cettire
Melbourne
Online designer fashion retailer Cettire (ASX: CTT) was founded in 2017 by software developer Dean Mintz.
While the young entrepreneur's background seems to be at odds with the products sold on the Cettire platform, the success of the business in light of a hugely successful IPO in 2020 and the rapid pace of sales growth since then is undisputed.
Profitability eluded the listed company until just recently, when Cettire reported a net profit of more than $8 million in the first half of FY23, following a 65 per cent surge in revenue to $187.7 million.
Luxury goods seem to be in demand despite tough times and Mintz is banking on Cettire's key metric of repeat customers representing 50 per cent of gross revenue to drive profitability further.
Launched in 2017, Cettire is a global online retailer offering a large selection of in-demand personal luxury goods such as Gucci, Fendi, Dolce and Gabana, and Prada via its website, cettire.com.
Cettire's website provides customers access to an extensive catalogue of more than 2,500 luxury brands and more than 400,000 products of clothing, shoes, bags, and accessories.
Sales revenue hit $210 million in 2022, up from $23 million just two years earlier and more than double the FY21 result. The stellar growth earned the company runner up in the leadership category of the latest Deloitte Technology Fast 50 list.
However, investors who have ridden the company's IPO journey from the start might be suffering from a touch of vertigo as their shares shot to a closing high of $4.75 in November 2021 and slumped to a low of 33 cents in June last year – well below their 50 cents offer price in the $65 million IPO in December 2020.
The shares have regained a lot of ground since then, but the share price last year wasn't helped by the company's media-shy founder selling down his holding.
The latest saw Mintz pocket $60 million from the sale of 41.1 million shares at $1.46 each in November. He still holds just under 46 per cent of the company's stock.
Cetttire, which is chaired by former Tourism Australia chair and former Mantra Group CEO Bob East, is an aggregator for third-party retailers and wholesalers, with the cettire.com website providing a fully automated order fulfillment process for customers without the need for the company to hold inventory itself.
The top three markets in which it operates are the US, UK and Australia, although Mintz notes in the company's annual report that revenue in FY22 had become more diverse across geographic markets. He said the company's emerging markets were showing 'exceptional early-stage growth'.
Cettire invested heavily in its technology platform in 2022, moving to its proprietary storefront software which Mintz describes as a major milestone for the business.
The updated platform allows Cettire to 'localise' its customer interface which it says will help the company extend its penetration outside of its top three markets. The improvements were accompanied by the launch of mobile apps which Mintz says has improved customer engagement.
Cettire has set its sites on launching into China this year, in partnership with Chinese e-commerce company JD.com. It is also planning to launch a beauty offering.
Cettire launched a Chinese language version of its mobile apps in the December half.

7. Dimitry Tran (36) and Dr Aengus Tran (29)
Harrison.ai
Sydney
Harrison.ai is a clinician-led technology platform that aims to change the face of healthcare with the lofty mission of tackling inequality and capacity constraints within the health system globally.
Founded in 2018 by Dr Aengus Tran, a medical doctor, and his brother Dimitry Tran, Harrison.ai uses AI to design new algorithms and treatments for healthcare professionals. The company has grown significantly over the past year driven by two joint-venture partnerships and a record-breaking $129 million capital investment at the end of 2021.
Rapid growth has led to an expansion of the Harrison.ai team by more than 120 since this time last year, with the numbers buoyed by the addition of 60 staff from the Annalise.ai joint venture and 25 staff from Franklin.ai.
This facilitated the need for bigger premises, with Harrison.ai opening a new head office in Sydney's CBD, the base for all three of its businesses.
Annalise.ai is a joint venture with I-MED Radiology Network, one of the world's largest radiology companies with operations in Australia, the US, UK and Netherlands.
Franklin.ai is a joint venture with medical diagnostic leader Sonic Healthcare (ASX: SHL) that is putting ground-breaking artificial intelligence in the hands of pathologists globally.
"Combining our skills and experience is the fastest way to achieve our common goal of improving the capacity and quality of pathology services globally," says the company.
"We're working hand-in-hand with pathologists to develop AI-powered tools that will augment their pivotal role at the heart of the healthcare system."
The joint venture with Sonic is designed to meet the demand for rapid and accurate diagnoses in tune with accelerating advances in medical imaging technology.
"Annalise.ai fuses the highest quality imaging data with the very best in computer science to produce comprehensive AI clinical decision support solutions, empowering clinicians to make accurate, faster decisions," says the company.
"Our patient-first approach is proudly clinician-led and comes from a deep understanding of the challenges faced in medical imaging. AI solutions provide clinicians with a second set of eyes, allowing them to detect and protect with confidence and drive better health outcomes for all patients."
Over the past year, Annalise.ai's Enterprise CXR chest x-ray product has saturated the market, and is used at 55 private hospitals, 34 public hospitals and more than 200 community clinics in Australia, New Zealand and the UK.
The company reveals that radiologists assisted by Annalise Enterprise CXR showed an improvement in accuracy for 80 per cent of findings. It currently estimates 25 per cent of radiologists in Australia are using the Annalise Enterprise CRX product.
Harrison.ai's growth in 2022 was supported by a $129 million Series B venture capital round completed in December 2021, which was one of the largest Series B funding campaigns in Australian history.
The funding has positioned Harrison.ai to continue to meet the vision set out by the Trans to 'make healthcare better for one million patients around the world every day'.
The company is tackling some of the biggest issues causing inequitable diagnosis and treatment today with rapidly developed AI products in chest x-rays, brain CTs, all with the aim of helping clinicians make the right diagnoses faster and treat patients sooner.
Harrison.ai is forecasting further growth this year, announcing it has a third joint venture in the wings.

8. Dr Reuben Sim (38) and Dr May Chan (37)
Melbourne
Having become a dominant player in the Melbourne cosmetic dentistry space since its founding in 2013, trusted by celebrities, influencers and those just looking to make their smiles perfect, Dental Boutique has been on an expansion tear lately, taking their offering to more Australians.
The business, helmed by Dr Reuben Sim and Dr May Chan, has pushed into new frontiers, opening clinics in Adelaide, the Mornington Peninsula, Geelong and Sydney - the latter having recently launched with 19 chairs and a long waiting list.
Dr Sim says the company's approach to expansion was driven entirely by customer demand.
"We want to be where the patients need us. For example, when we were just in Melbourne, we had patients from Sydney, Adelaide and Brisbane flying down to see us - that's why phase one of our expansion was into Sydney and Adelaide," Dr Sim says.
"Now what we've found is that after opening the Sydney and Adelaide branches that we've got a big bunch of people from Brisbane and Tasmania coming in - New Zealand too."
These new clinics will serve eager clients looking to improve their smiles and take advantage of Dental Boutique's 'reimagined' take on cosmetic dentistry that prioritises the comfort of patients to deliver a relaxing, non-threatening service.
Dental Boutique specialises in porcelain veneers, Invisalign and dental implants, but stands out from the pack by offering patients sleep dentistry, whereby clients are induced with general anaesthesia during the procedure, making their services accessible to even the most anxious client.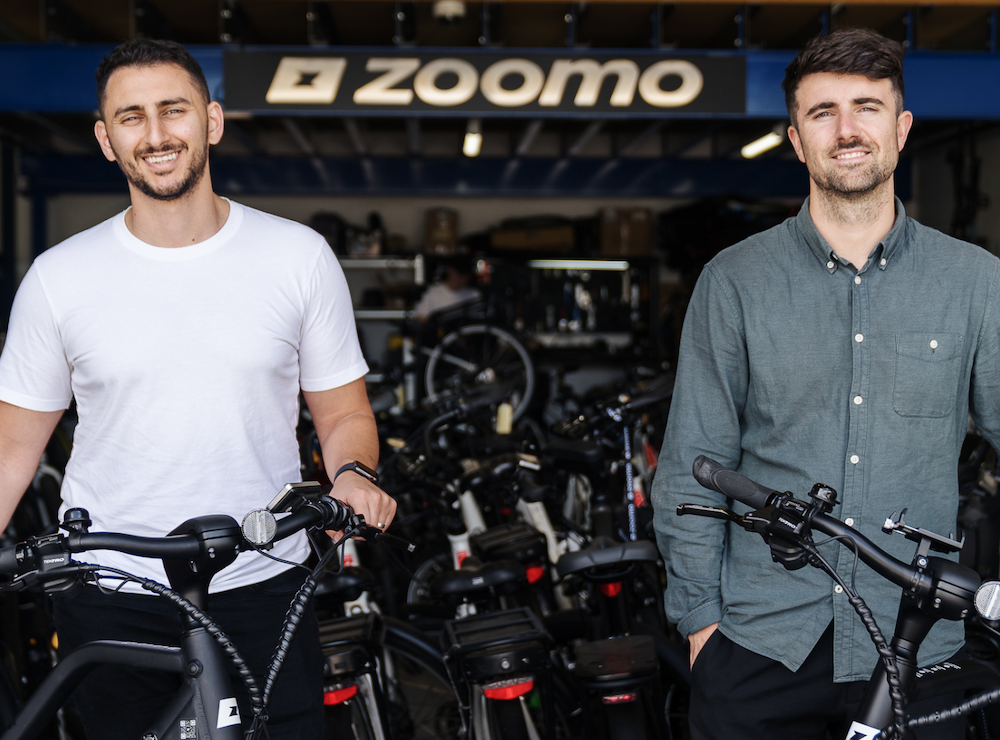 9. Mina Nada (34) and Michael Johnson (35)
Zoomo
Sydney
E-bike innovator Zoomo has been on a sharp growth trajectory since it was founded in 2017 by Mina Nada and Michael Johnson.
Their mission was to 'electrify every urban mile' through last-mile delivery solutions - and the company is now a world leader in the field. Zoomo's solutions have been adopted by major players globally in the food and grocery delivery segment, including UberEats, Doordash, JustEat Takeaway, Amazon, Deliveroo, Domino's and Pizza Hut.
Zoomo, which operates in Australia, the US, UK and Europe, expanded into Spain, Germany and Canada in 2022, as well as several new UK cities including Edinburgh.
Growth has been aided by new partnerships and, in 2022, the company teamed up with integrated mobility solutions provider SG Fleet (ASX: SGF) to support the company's objective of putting more light electric vehicles on Australian roads.
Apart from research and development opportunities, the SG Fleet partnership will enable Zoomo to expand its offering to the parcel delivery sector. Zoomo's e-bikes are being offered to SG Fleet's customer base, giving them more sustainable and economically viable solutions for last-mile deliveries.
Zoomo also partnered with LUMOS to roll out the latter's advertising-enabled smart bags across their respective networks. The agreement is aimed at providing additional revenue for delivery riders in the gig economy.
The launch of Zoomo One, the 'moped killer', was among the company's key highlights of the past year. This e-bike model has been specifically designed for delivery riders. With a carrying capacity of 60kg, the Zoomo One is being pitched at the courier market and is a step above the company's Zoomo Zero model.
Zoomo's growth objectives were buoyed early last year by a US$20 million ($28 million) Series B funding round that Zoomo says brought the total amount it has raised to date to more than US$100 million ($139 million).
The company has also bolstered its leadership team after securing Silicon Valley talent in the form of former Lyft vice president Jules Flynn, who stepped in as Zoomo's chief operating officer, and former Cruise and Uber executive Alan Wells, who was appointed Zoomo's vice president of product. Former Bain & Co consultant Michelle Crockers also joined Zoomo as its first vice president of people and culture.
This year, Zoomo plans to complete delivery of its fleet-management software suite. The company is also aiming to lift the pace to reach profitability as it capitalises on what it sees as 'booming demand for micromobility fleet solutions'.

10. Alex Tomic (29) and Nik Mirkovic (27)
HiSmile
Gold Coast
HiSmile founders Nik Mirkovic and Alex Tomic are ramping up business growth in the bricks-and-mortar space in 2023 after spending most of the past nine years building their retail brand exclusively online through hugely successful social media campaigns.
It's a step change that began last year for the young entrepreneurs culminating in a distribution agreement with Coles Group (ASX: COL) for the company's newest products, a range of flavoured high-end toothpastes branded as Hi by Hismile.
The Coles deal added the product to the shelves of more than 800 Coles supermarkets Australia-wide, building on earlier agreements with retailers that took its products to 4,000 outlets by the end of 2022.
This year, HiSmile is aiming to grow its footprint to 20,000 stores, a target bolstered by a distribution deal with Walmart in the US, already one of HiSmiles' biggest markets.
HiSmiles products will also hit the shelves of the CVS Pharmacy chain which has more than 9,600 stores in the US.
Bolstering the global rollout is a distribution deal with the Superdrug chain in the UK and Harrods' H Beauty network.
Mirkovic last year revealed to Business News Australia that the US and UK will be a key focus for business growth in the near term.
Hismile is aiming to build on revenue of $96 million achieved in 2022, a figure that represented growth of about 50 per cent year on year.
Mirkovic says the company is on track to double revenue this financial year on the back of its expanding retail store footprint.
The company, which was started by Mirkovic and Tomic in 2014 with just $20,000 selling teeth-whitening kits online, built its business on social media.
The entrepreneurs used a targeted strategy of micro-influencers to build brand awareness but gave the brand a big shot in the arm in later years after snaring endorsement deals with Kylie Jenner to Conor McGregor.
While the partners have resisted entering the traditional retail space in the past, Mirkovic says the strategy was always to build the brand first. They say the timing is now right to take the product to storefront globally.
---
---
Click below for this year's top 100
Get our daily business news
Sign up to our free email news updates.
Help us deliver quality journalism to you.
As a free and independent news site providing daily updates
during a period of unprecedented challenges for businesses everywhere
we call on your support