THE 7 Habits are carried through the Covey bloodline, but David Covey has another tool up his sleeve for supercharging effectiveness, and it's something he thinks Brisbanites are experts at employing.

The son of the late Stephen Covey, American businessman and author of international bestsellers including the 25-million selling The 7 Habits of Highly Effective People, has been travelling far and wide to spread the word about the concept of self-navigation.

Lighthouse Consulting recently brought Covey to Australia to promote the concept which he believes is the key to powering up a career, and the staple 21st century addition to the 7 Habits.
Self-navigation has already been adopted by more than 2500 organisations, including Fortune 500 companies,
"To maximise workforce performance, we're seeing smart companies move from a top-down management style to a self-navigation model – specifically designed to empower employees and build a corporate culture centred on resilience, trust, and improved productivity - not to mention the retention of valuable staff," says Covey.
"The number one issue in business is leadership development, and it seems to be becoming more of an issue over the past ten years.
"We need people that navigate their own way through an organisation, drawing on those above them for help but not necessarily direction.
"Self-navigation is about giving professionals an internal compass (see right) to navigate themselves externally."
Covey says there is no better time to adopt this framework in light of a prevailing disengagement of the workforce in both the United States and Australia, institutional and business trust being at an all-time low, and an economic squeeze out of managers in organisations.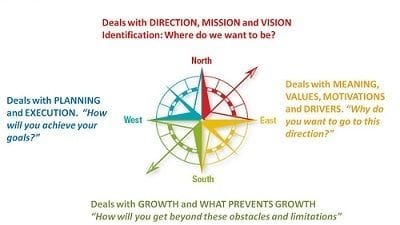 He says a work-style rooted in initiative is something the world is asking for, with staff attrition rates and replacement costs soaring, and an approaching workplace generational shift.

Generation Y set to make up half the workforce by 2020, a group collectively described as more iconoclastic than their predecessors, boasting a stronger desire to be their own bosses.

"These individuals want more control and influence, so rather than compromising this, self-navigation is the middle-ground as it prompts leaders to change their attitude when it comes to training up young professionals."

Covey goes on to provide a couple of straightforward tips to tap into this internal compass.

"People need to think hard and thoroughly about what they are good at, and then factor in what they enjoy doing and how they can make money – this is what brings out greatness," says Covey.

"One of the trends we are seeing in both Australia and America is a massive disengagement of the workforce with people who aren't really clued into their jobs

"A lot of individuals have never thought about their work in that way, instead just hopping on the treadmill and increasingly picking up the pace.

"You also need to control your automatic negative thoughts (ANTs) which are self-limiting behaviours that we all have a habit of reverting to.

"ANTs are nothing more than things to be stomped on, as they get in the way of you making a difference and contribution."

In typical Covey fashion, the performance coach advises that on top of this, it is important to follow a structure – cue self-navigation.

"It's not enough to dream big and be excited about what you are doing or planning to do – you need to have a plan on how to get there."

At the end of it all though, Covey believes Brisbanites have a pretty impressive work ethic already.

"I lived in Brisbane for a number of years and one of the things I learnt was that Australians don't live to work, which was such a refreshing change from places elsewhere, in particular the east coast of America.

"People in Brisbane taught me that you work so you can live – they seem more confident to follow their internal compass and make work their life so life then comes out of their work – it's all connected and that balanced perspective is truly something for the better."

Help us deliver quality journalism to you.
As a free and independent news site providing daily updates
during a period of unprecedented challenges for businesses everywhere
we call on your support