Nathan Ford isn't your average entrepreneur.
From running a bar in the heart of Nepal to establishing a string of IT startups back home, you'd be hard pressed to find a man with a more eclectic resume.
While Ford's business interests may have changed over time, his love for motorcycles has remained constant, making his decision to create the Auto LED Group in 2015 an easy one.
HogLights, the Auto LED Group's flagship brand which creates and sells LED headlights for motorbikes, was partially inspired by the simple question that almost all motorcyclists, including Ford, have asked at some point.
"There's a saying among motorcyclists, it's SMIDSY which means 'Sorry Mate I Didn't See You'," he explains.
"Too many motorcyclists die because car drivers aren't aware on the roads, it's the biggest danger we have to contend with because we don't get seen, we end up as roadkill."
"So, we created our slogan 'can you see me now arsehole?' because I can guarantee you that pretty much everybody who has ridden a motorcycle has asked it at some point."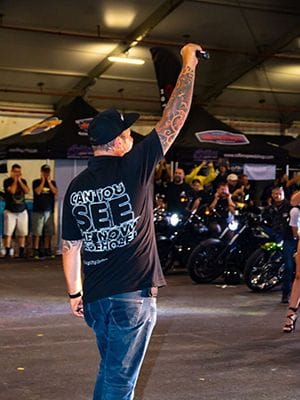 If HogLights' rapid success is anything to go by, it's safe to say that the global motorbike fraternity feels the same way.
The company currently exports its LED headlights to more than 125 dealers worldwide, with around 25 per cent of total sales exporting overseas.
Ford's Brisbane-based Auto LED Group officially launched its second subsidiary, Aussie Heavy Vehicle LEDs (AHV), on Saturday at the annual HogLights 'Show, Shine & Shoot' festival at the RNA Showgrounds which was attended by more than 3,500 local riders and enthusiasts.
"AHV is the cars and trucks side of the business, and we will continue to grow HogLights for bikes," says Ford.
"At the moment we're focused on increasing our dealership base and international export capabilities."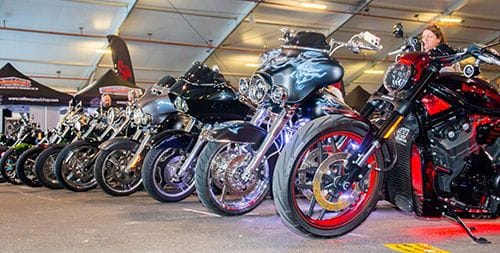 HogLights' 2018 Show, Shine & Shoot festival
HogLights is currently the only company in Australia which is solely focused on developing and distributing lights for bikes as a full-time gig.
Although creating safer and better products for his fellow motorcyclists has been a major highlight, Ford says the most rewarding part of his job is being able to share the success with his wife Lisa.
"The fact we are working together, that in itself is a serious reward," he says.
"We don't necessarily agree on everything but that is a great thing because it brings additional creativity and ideas it's a bit of a yin-yang balance.
"Both of us can look at this and be proud of how the business has grown in such a short timeframe."
Photos by Tia O'Connor Design and Photography
Never miss a news update, subscribe here. Follow us on Facebook, LinkedIn, Instagram and Twitter.
Get our daily business news
Sign up to our free email news updates.