FIRST stop, Brisbane. Next step, Running The World.
The League of Extraordinary Women is converging on Brisbane this May for its annual Run The World convention, an event dedicated to profiling female entrepreneurs who are making waves in the business community.
The first speaker announcement includes
Renegade Collective
founder and editor in chief Lisa Messenger, Showpo founder Jane Lu, Charlton Brown founder Petrina Fraccaro, The Content Folk and 4Cabling's Nicole Kersh, and the brains behind Nads, Sue Ismiel, of Sue Ismiel & Daughters. The final five speakers will be announced by the end of January.
The Brisbane community is the second largest of the 15,000-plus membership-based organisation, and The League of Extraordinary Women general manager Chiquita Searle (pictured left) says it was an easy decision settling on Brisbane as the landing pad for 500 go-getter girls.
Creative corporate Searle, who is a fashion designer and stylist with a background in mining and construction, took the reins of The League in August 2013 following her work as a Queensland Crusader for the community.
"Brisbane is a great community and really thriving on the entrepreneurship front, but unfortunately tends to miss out on events like this while some of the capital cities are spoilt for choice," says Searle.
"We also specialise in female entrepreneurship, not just corporate progression, so that really sets us apart from other events Australia-wide."
The promise of Run The World is providing a platform for networking with likeminded women, and it's a tangible one too considering the beginnings of The League of Extraordinary Women.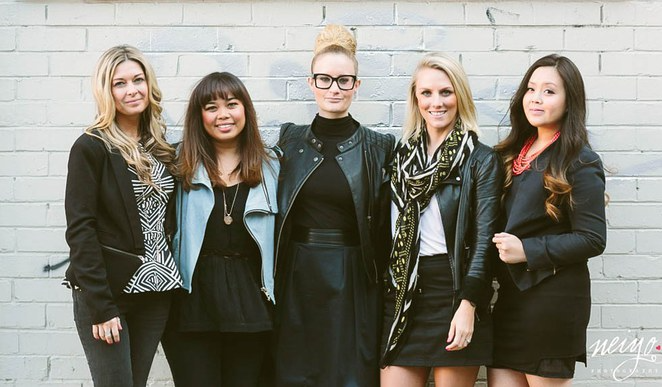 The four founders - Sheryl Thai, Sarah Riegelhuth, Liz Atkinson and Marie Crus (pictured right) - met at an entrepreneurial event in Melbourne in 2011, and bonded over being a handful of only a dozen women in a room full of a couple of hundred people.
In 2015, female entrepreneurship is now one of the fastest growth markets in Australia.
"All of the League's founders are co-founders of multi-million dollar businesses - but what also connected them were their feelings of loneliness, fear and isolation," says Searle.
"They realised other business savvy women must have been feeling the same, and so decided to hold their own entrepreneurial event with a twist: it was for women only.
"We've grown up in a culture of tall poppy syndrome here in Australia and haven't been encouraged to celebrate our wins or share our achievements and these events are a way of confronting this head on by having a platform to celebrate the successes and dreams of female entrepreneurs."
The League holds a slew of events throughout the year in ten locations, and has also recently announced expansion into webinars.
To find out more about Run The World and The League of Extraordinary Women, click through to
http://leagueofextraordinarywomen.com.au/
.
Get our daily business news
Sign up to our free email news updates.