The volume has been turned up a few decibels for music-tech start up Jaxsta (ASX: JXT) after signing a commercial deal with Australian music royalties association APRA AMCOS.
The milestone is the first revenue-generating commercial deal for the company's Jaxtsa Pro platform - a comprehensive music credits site where industry professionals can display their entire career in one place.
As a kind of IMDB for the music industry, Jaxsta leverages data and technology through a B2B subscription service.
JXT shares were up 26.7 per cent to hit $0.19 by 11:40am AEDT.
The deal will bring in 270 subscribers amongst APRA AMCOS staff and ambassadors, while the association will also work on reaching its 100,000 members through a coordinated education campaign and a reduced-price subscription offer.
Having APRA AMCOS on its books follows the recent soft launch of Jaxsta Pro Beta, and may pave the way for similar organisations worldwide to come on board.
Jaxsta CEO Jacqui Louez Schoorl (pictured left) tells Business News Australia there is nothing else like the platform in the world.
"Right now, we have the world's first and only verified and automated CV for the music industry," says Schoorl.
"All of our data comes directly from our partners who are custodians of the data, be it the record labels or publishers or industry associations we're working with."
The platform is particularly significant for those who work behind the scenes building the singles and albums of global superstars, who until now haven't had a place to comprehensively display their work.
For those in the industry, building a profile on the site is simple. Profiles have already been created automatically by Jaxsta's data library; it's just a matter of verifying your identity and then your entire work history is compiled into an online portfolio without any effort.
"It's pretty significant in our industry, it's basically our version of LinkedIn," says Schoorl.
"But again, it's the fact that the credits are already in the platform. It would be like us automating our profiles on LinkedIn but each company we've worked for has already validated or verified the fact that 'yes she did work for the company for this period of time'."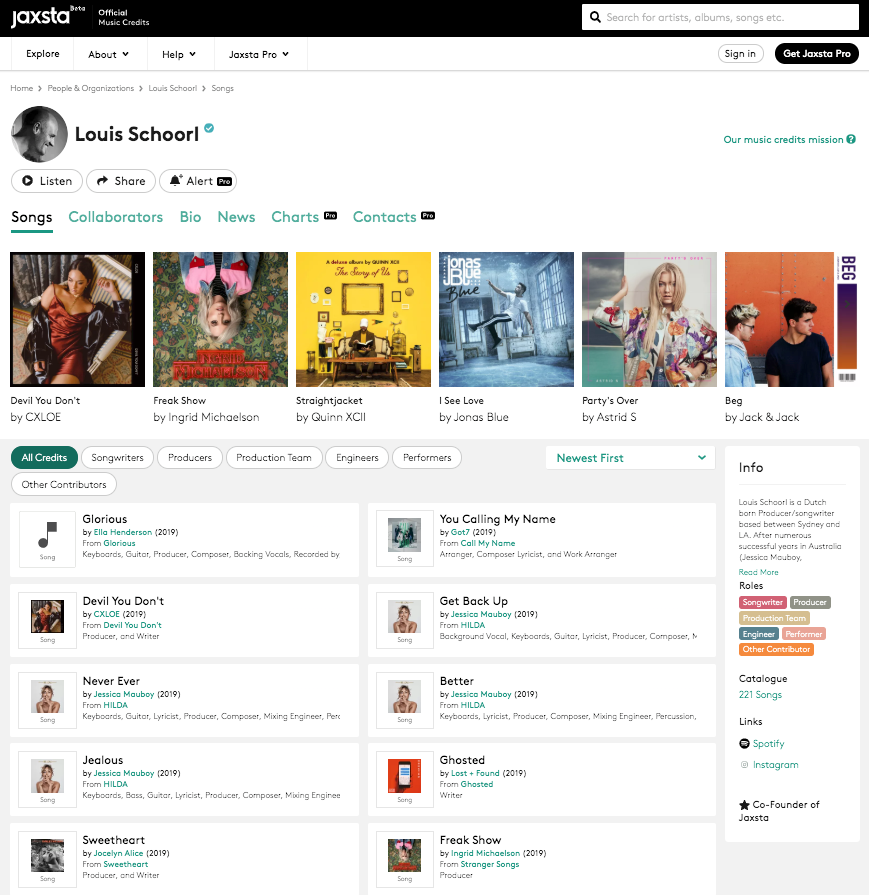 An example of an artist's profile on Jaxsta Pro
APRA AMCOS chief executive Dean Ormston (pictured right) says Jaxsta Pro will give songwriters and composers a new level of control over their portfolios.
"Jaxsta will help empower songwriters and composers to present their work and achievements accurately and with credibility to the music industry and broader public, worldwide," says Ormston.
"The service's emphasis on giving credit where credit is due is one that resonates with our members, who often work behind-the-scenes."
Schoorl says the company is in a unique position, considering the power of data in 2020; Jaxsta owns an absolute pile of the stuff and the company estimates that the addressable market for its platform is worth around US$200+ million per annum.
"When you consider every day, 40,000 new tracks are being released digitally online by different services, getting that information as accurate as possible is only a good thing," says Schoorl.
"We're not moving into an era where less poor data is a good thing; we're moving into an era where good information is really the new oil."
"We've built a really significant database. We already have 32 million individual pages which makes up six times the size of Wikipedia's current Anglo footprint. If you compare us to an industry PMI like IMDB they have over 6.5 million titles in their database, whereas we have 23 million individual songs and albums already in our database."
As for the future Schoorl is optimistic, considering data is driving the music industry into new and uncharted worlds (think automated playlists and voice assistants which are fast becoming the new normal). Say goodbye to recommendations from the guy at your local record store; Jaxsta hopes it will be driving those consumer choices.
"We're obviously very pumped, we have a very exciting 2020 ahead of us," says Schoorl.
"Especially because Jaxsta.com and Pro are already in market it just means we are out of the blocks and racing, it's very exciting."
Shares in Jaxsta are up 23.33 per cent to $0.18 per share at 10.48am AEDT.
Never miss a news update, subscribe here. Follow us on Facebook, LinkedIn, Instagram and Twitter.
Business News Australia
Help us deliver quality journalism to you.
As a free and independent news site providing daily updates
during a period of unprecedented challenges for businesses everywhere
we call on your support