AUSTRALIA'S startup community is celebrating the Turnbull Government's Innovation Statement released today but questioning the weighting of the policies.

Entrepreneur, investor and founder of tech co-working community River City Labs, Steve Baxter (pictured left), says the new innovation policies around accelerator support, tax breaks, entrepreneurial visas and STEM initiatives are a welcome addition, but support may still be skewed in the wrong direction.
Baxter says the weighting of funding towards the startup community was 'disappointing'.
The 24 policies include investors in startups being able to claim tax rebates of up to $200,00 per year, $3 billion into research facilities and scientific programs over the next decade, a new visa category to entice entrepreneurs and high-skilled tech workers to Australia, and a pledge to officially define 'startup' for funding eligibility.

The policies will cost the Government $1.1 billion over the next four years.

"I am confident today's policy framework will mark the beginnings of a new era for Australia's startup and entrepreneurial community," says Baxter.
"As a passionate advocate of the pipeline approach, I believe to achieve a truly entrepreneurially friendly and inclusive environment we require a collaborative, consistent and multi-faceted approach to business.
"In my view though, there has been too much emphasis placed on the traditional support for university and education sectors in today's announcements.
"Left unaddressed, this will be to the detriment of our global positioning. To compete on the world stage, we need to put the focus on supporting the people with real skin in the game, in the trenches of our startup community."
Baxter voiced support for changes to bankruptcy laws, which will put Australia more in line with the US system, where the period before a bankrupt can restart a business will be reduced from three years to one year.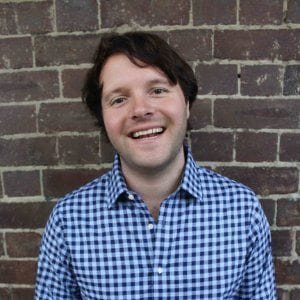 The policy proposed today may still be viewed as rudimentary though, with Baxter calling it a 'strong first step'. Fellow community members including StartupAUS CEO Peter Bradd (pictured right) added 'it is a great start' to see the government 'intent on real action rather than just rhetoric', while OneShift founder Gen George said the 'capped claimable investment was seen to be a disappointing amount' but the Prime Minister has 'repeatedly referenced this is just the first release'.

Brendan O'Kane (pictured below left, centre), founder and newly minted CEO and managing director of Brisbane-based mobile marketing and analytics company OtherLevels (ASX: OLV), says there are items in the statement that he has been waiting for since the turn of the century.

This includes employee share schemes, which will become more 'user friendly' through being able to offer shares to employees without having to reveal commercially sensitive information.

"I've been an active angel investor since 2000, have seen governments come and go, and remember the issue around employee share schemes too well where for 5 years it was really unclear what was going on and some cases quite negative," says O'Kane.
"We just want consistency."
O'Kane points out that half a billion dollars of the plan is going towards 'government oriented initiatives'.

"You imagine the government is going to spend a lot of money on cyber security with or without an innovation statement, so Steve Baxter's point is fair in terms of the weighting," he says.

O'Kane says OtherLevels is also in an interesting position where it's still in startup mode but it's public status makes it ineligible for many of the incentives.

While still being finalised, to be an eligible startup, the company must have been incorporated in the past three years, have expenditure and income of less than $1 million and $200,000 the two years previous, and not be listed on any stock exchange.
This may reveal a policy gap where some fall through the cracks - but O'Kane says 'it's a 'greater good' argument' at the end of the day.
Back at Steve Baxter's home base, River City Labs general manager Josh Anthony says the policy mirrors the co-working community's expansion in many ways.

A definite way, Anthony says, is the $8 million incubator support program, which the government says will 'support development of new incubators and accelerators in regions or sectoral areas with high innovation potential'.

He added it's just as important to take the next step too, though.

"The proposal to establish five landing pads in major, global hotspots is also critical," says Anthony.

"While increasing incubators and accelerators will grow the number of startups here in Australia, putting into place landing pads in key destinations will allow our entrepreneurs to more rapidly expand into pivotal export markets."


Get our daily business news
Sign up to our free email news updates.