BRISBANE office space workmanship has never looked this good, thanks to Lemont Properties (trading as I&H Contractors).
Suited to its name, the 180 Brisbane project is a complete 180 degrees away from traditional podium facade design, setting a new benchmark for office towers in the CBD.
For its work on the project, I&H Contractors was awarded a design and construction contract (D&C) with local builder Watpac Construction.
During the design phase, client, Daisho, was given the opportunity to work closely with Watpac and I&H Contractors to design a bespoke podium design, creating a true test for the engineering and fabrication abilities of facade systems.
"Daisho was after high quality finish," says Steve Zimmermann, the project manager for I&H Contractors on this project.
"Utilising the D&C component of our contract, I&H was able to improve the expected quality while reducing the procurement costs.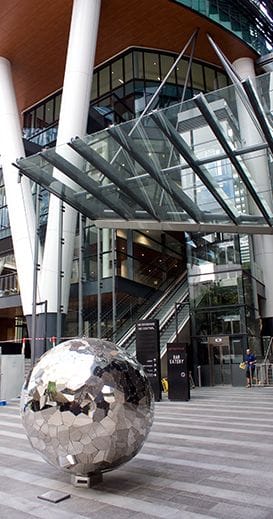 "I&H proposed to supply the facade elements as aluminium, producing several benefits including decreasing the weight of the overall system to reduce installation difficulty and increasing surface finish quality with no potential to rust.
"It is quite common for podiums to consist of face glass supported by glass fins alone; 180 Brisbane incorporated aluminium components into the facade system to produce a superior architectural appearance, whilst still providing the podium with a spacious feel."
During the construction phase, the works program was configured to deliver the best possible outcome.
"With such a unique podium design featuring so many different facade types you need a site team with a lot of experience," says Steve.
"I&H Contractors were additionally challenged with complex installation methodology due to the limited access available and therefore we had to utilise multiple rigging systems to transfer glass into difficult locations.
"Fortunately our team, having worked together for almost 20 years, were able to provide a seamless delivery.
"The unique facade system, together with our attention to detail, is the most impressive feature of the project, serving as concrete evidence that 180 Brisbane is of the highest calibre in design, manufacture and quality installation."
With vacancy rates high in Brisbane's CBD, Daisho had no difficulty in securing two high-profile tenants.
Commonwealth Bank was quick to secure a lease in the building for its Brisbane head office.
It was quickly followed by Tatts Group which secured an 11-year lease on six floors.
It is safe to say that this project has been a success for all parties involved.
Get our daily business news
Sign up to our free email news updates.