MOST would shudder at the thought of making 20,000 cold calls in a period of three months, but PlantMiner co-founder Dan Wilson labels this experience - which fast elevated the company to become Australia's largest online hire marketplace - 'fun'.

The plant equipment hire company's vision didn't take long to build up steam.

Since launching in 2012, the Brisbane company that Wilson (pictured left), Michael Trusler and Mike Davis founded has ballooned from three to 80 staff and can now name 148 of Australia's 200 biggest equipment hire companies as clients.

PlantMiner is Australia's largest online hire marketplace, connecting plant and equipment hire searchers with hire companies.

"Michael and I went to school together and were good mates," says Wilson, a Brisbane Business News Brisbane Young Entrepreneur of the Year finalist.
"We started putting these ideas together and he said the idea definitely has legs - can you sell it?"
Coming from a real estate background, Wilson understood how to 'sell earth'. The small real estate agency where he was sales manager was bought out by Ray White. He was hired as sales manager again, but he wanted to shake things up.

Wilson now assumes the general manager role at PlantMiner, the head salesman and team leader.

Davis came on board to help his 'little brother's mate' - that being Trussler - and the founding team of three quickly pulled together a sales team which at first comprised friends from university and school.

"I knew we'd need to make 20,000 phone calls to construction companies to get off the ground running and had to quit our jobs; on 24 September 2012 we made the first call, and we'd made 20,000 by Christmas that year," says Wilson. "It was fun."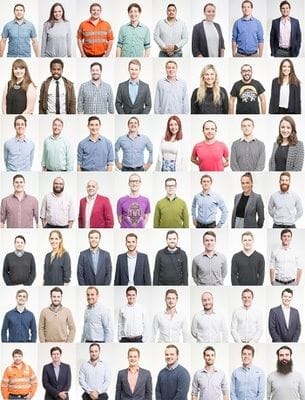 Wilson says the team were lucky to have sourced seed investment prior to starting from the 'right investor', with whom they struck a deal to buy out at a profit.

The end goal is to be able to hire 'everything you need' from the PlantMiner portal, and it seems achievable considering the company has blitzed through the plant equipment hire market.

"Our business model works through subscription where we sign up clients for 12 months," says Wilson.
"There's about 10,000 plant equipment hire companies out there in the market and we are growing about 1000 per year at the moment, or about 150 per month.
"We may run out of new clients, so from there we have initially looked to subcontractors who provide a service like concrete, electrical or building.

"That's why our business strategy is so good. We will never stop growing because there's so many we can continue to find."

PlantMiner has recently 'found' another gem, which resulted in the launch of Procure.IT, a white label enterprise procurement product.

"The product allows organisations - public, private and government - the ability to use the PlantMiner engine, which is essentially the major matching algorithm and innovation, to pre-qualify and engage and manage their unique supply panels rather than access the public PlantMiner marketplace," says Wilson.

"It really fills a gap and means we have a product that suits the entire construction industry, at a high level or head office level now, rather than just those who are looking to adhoc hire from the market."

Such lofty goals to become the 'go-to' for everything require lofty capital.

For the past six months, the team has been working on a capital raising to launch in the US.

"Mike and Michael, who are both co-CEOs, have done a lot of research over there to determine the sweet spot, deciding whether we launch over there with PlantMiner or our enterprise version or something else," says Wilson.

"We're expecting to close that soon and it's going very heavy at the moment."



Get our daily business news
Sign up to our free email news updates.