In this special annual report, Business News Australia uncovers Brisbane's leading public companies and shares an insight into their success.
11. SUPER RETAIL GROUP
ASX: SUL
RETAILING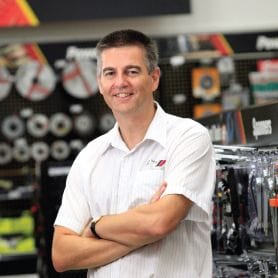 2015 Rank: 9
Market Cap April 2016: $1.6b
CEO & MD: Peter Birtles
1H16 Profit: $44.9m
1H16 Revenue: $1.2b
Staff: 12,000
Listed: 2004
INVESTORS punished Super Retail Group after posting mixed results in the first half, with the share price plunging 17 per cent to a year-low.
Despite an increase in sales across the board, earnings in its leisure division declined to $13.4 million compared to $22.3 million a year earlier.
The owner of Amart Sports, Rebel Sport, BCF and Supercheap Auto brands outlined plans to transform information systems, as well as its inventory planning and management system.
The group appointed Paul Hayes from the UK as CIO in January. The former head of information systems at John Lewis will introduce new technology to drive both bricks and mortar and online growth.
Super Retail Group plans to open four new Supercheap Auto stores and three Amart Sports stores in FY16. Read More
12. TECHNOLOGYONE
ASX: TNE
SOFTWARE & SERVICES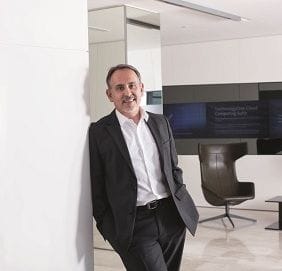 2015 Rank: 16
Market Cap April 2016: $1.5b
EC: Adrian Di Marco
FY15 Profit: $35.8m
FY15 Revenue: $218.7m
Staff: 1000
Listed: 1999
FOUNDER Adrian Di Marco believes TechnologyOne is ripe to benefit from market consolidation around cloud and enterprise solutions.
Operating a software-as-a-service model, TechnologyOne's offering is full suite and includes development, marketing, sales, implementation and support of enterprise software business solutions.
Di Marco had plenty of naysayers in the early days who believed enterprise software should be left to the more sophisticated international markets. But the Brisbane founder proceeded to set up shop in a factory cubicle in 1987.
Now, the market takes the business very seriously as a market leader in cloud technology.
TechnologyOne's growth is exceeding expectations, with the value of its contracts reaching $8 million at the end of its financial year in September last year. The target was achieved three months ahead of schedule.
The company saw both pre-tax and after-tax profits rise 16 per cent.
In the full year to September, TechnologyOne added more than 50 new enterprise customers and 49 organisations including the Australian Bureau of Statistics and the Department of Treasury.
13. CORPORATE TRAVEL MANAGEMENT
ASX: CTD
CONSUMER SERVICES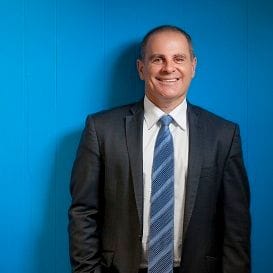 2015 Rank: 16
Market Cap April 2016: $1.28b
MD: Jamie Pherous
1H16 Profit: $14.9m
1H16 Revenue: $119.7m
Staff: 2000
Listed: 2010
RECORDS abound for Corporate Travel Management, which has just come off a record half-year that was buoyed by domestic and international growth.
Net profit after tax was up 36 per cent from the prior corresponding period and new client wins reached record levels.
Corporate Travel founder and managing director Jamie Pherous believes the business has enough scale in Australia, New Zealand and Asia.
It's now spreading its wings across Europe and the US, with Pherous trusting that high Asia EBITDA growth is reflective of what the company can achieve across these new regions.
Pherous has consistently put faith in acquisitive growth. Los Angeles-based Montrose Travel was a noteworthy purchase before the end of the reporting period, which cost Corporate Travel $47.6 million and led to upgraded full-year guidance.
Stockbroking firm Morgans comments that acquisitions coupled with growing corporate travel demand, higher airfares, a falling Aussie dollar, scale and market share puts Corporate Travel in good stead for 'double-digit earnings growth for many years to come'. Read More
14. VIRGIN AUSTRALIA HOLDINGS
ASX: VAH
TRANSPORTATION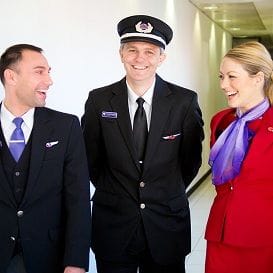 2015 Rank: 12
Market Cap April 2016: $1.27b
CEO & MD: John Borghetti
1H16 Profit: $62.5m
1H16 Revenue: $2.7b
Staff: 10,800
Listed: 2003
VIRGIN Australia lifted its statutory profit by $110.3 million in the first half. The airline cut down on flights but upped its prices, and attracted more business and government travellers in the wake.
The airline says turbulent market conditions means it can't specify full-year guidance as the Virgin Australia International business suffered during the period. The company says all it can do is anticipate a profit.
Meanwhile, Virgin Australia has just secured a 12-month $425 million loan facility with its four major shareholders as it undertakes a structural review to improve cash flow generation and profitability.
The shareholders involved in this review are Air New Zealand, Etihad, Singapore Airlines and Virgin Group. Read More
15. NEW HOPE CORPORATION
ASX: NHC
ENERGY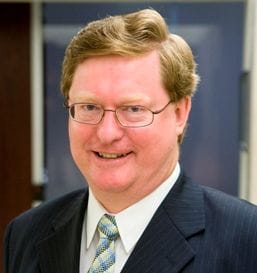 2015 Rank: 10
Market Cap April 2016: $1.09b
CEO & MD: Shane Stephan
1H16 Profit: $2.7m
1H16 Revenue: $229.4m
Staff: 600
Listed: 2003
NEW Hope Corporation bounced back into the black with a $2.7 million profit in the first half, despite challenging market conditions for coal producers.
The energy company's mining operations produced 2.53 million tonnes of clean coal during the FY16 half-year, down 11.9 per cent since the previous period following wet weather at its Jeebropilly and Acland sites.
Oil production was up 17 per cent, with subsidiary Bridgeport Energy acquiring the Moonie Oil field in the Surat Basin from Santos in December.
New Hope also acquired a 40 per cent stake in Rio Tinto's Bengalla thermal coal mine in NSW in February, delivering a positive contribution to the group's bottom line.
Demand for Australian thermal coal from traditional importers including Japan, Korea and Taiwan remains strong in the second half.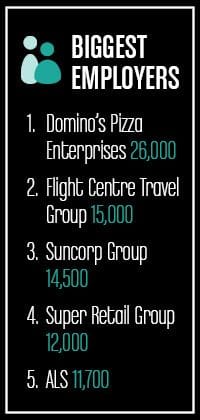 16. GREENCROSS
ASX: GXL
HEALTHCARE EQUIPMENT & SERVICES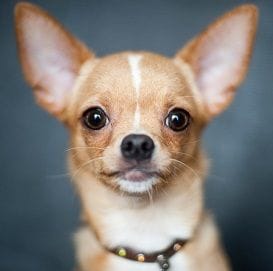 2015 Rank: 20
Market Cap April 2016: $819m
CEO & MD: Martin Nicholas
1H16 Profit: $18.7m
1H16 Revenue: $362.7m
Staff: 2350
Listed: 2007
GREENCROSS had no trouble dismissing a $770 million takeover bid of $6.75 per share launched by TPG, Carlyle and its former CEO Jeff David earlier this year.
CEO Martin Nicholas called suitors 'opportunistic' and thinks his company is only beginning to scratch the surface of what it can achieve.
Profits were up $15 million from the previous corresponding period for the operator of Petbarn, City Farmers, Animates and Greencross Vets.
The company wants to be the one-stop shop for pets by combining and often co-locating retail and veterinary services. Customers are having a hard time saying no, with the Greencross loyalty program taken up by 80 per cent of its customers in Australia to date.
Greencross might be charting it rise through an acquisitive strategy, but underdogs are making their mark with points of difference.
Fellow Brisbane company National Veterinary Care (ASX: NVL) went public in August last year, focused on the veterinary side of the industry and a cleanskin approach to acquisition, while Sydney-based VetPartners is moving rapidly with 32 practices under its collar and teaming up with US group National Veterinary Associates. Read More
17. AUSTRALIAN AGRICULTURAL COMPANY
ASX: AAC
FOOD, BEVERAGE & TOBACCO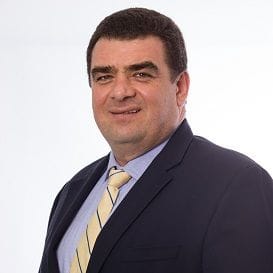 2015 Rank: 21
Market Cap April 2016: $674m
MD: Jason Strong
1H16 Profit: $50m
1H16 Revenue: $258m
Staff: 580
Listed: 2001
AUSTRALIAN Agricultural Company (AACo) returned to profit in the six months to the end of September last year after it transitioned from a pastoral company to a vertically integrated beef producer.
The agribusiness attributes the growth to a lift in beef sales combined with a price increase, with boxed beef now accounting for almost 85 per cent of total revenue.
Demand for the company's Wagyu brands continues to grow following a number of award wins in 2015, including gold at the World Steak Challenge and champion at the Royal Melbourne Fine Food Awards.
AACo also reported increased throughput at its Livingstone Beef facility, with Northern Beef contributing 16 per cent of meat sales in the first half. Read More
18. NEXTDC
ASX: NXT
INFORMATION TECHNOLOGY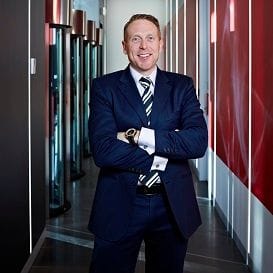 2015 Rank: 27
Market Cap April 2016: $660m
CEO: Craig Scroggie
1H16 Profit: $644,000
1H16 Revenue: $42.1m
Staff: 160
Listed: 2010
NEXTDC eked out its second positive interim result in six years with a profit of $644,000.
The data centre provider will boost its capacity with the launch of new facilities in Brisbane and Melbourne, which are expected to be commissioned in FY17.
The company has more than $320 million in cash and capital to invest in the expansion, after raising $220 million in an institutional placement and notes offering last year.
NEXTDC delivered a Microsoft ExpressRoute to Perth in a joint venture with the Internet Association of Australia and IX Australia earlier this year, followed by Nextgen Networks connecting its fibre network to the company's virtual exchange AXONVX.
EBITDA for the FY16 full-year is expected to be in the range of $25 million to $28 million. Read More
19. OROCOBRE
ASX: ORE
METALS & MINING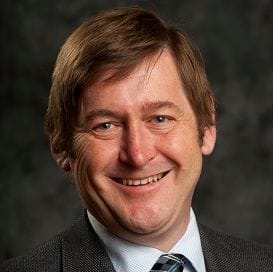 2015 Rank: 31
Market Cap April 2016: $607m
CEO & MD: Richard Seville
1H16 Loss: $28.3m
1H16 Revenue: $15.1m
Staff: 320
Listed: 2007
FOREIGN exchange drilled Orocobre into the red during first half of FY16.
The mineral resource company says it was exposed to currency exchange rate fluctuations because its activities are mostly outside Australia.
Orocobre is currently heavily reliant on the recently significantly devalued Argentine Peso. The company says it will operate a large joint venture with Sales de Jujuy using US dollars from the upcoming quarter.
Orocobre's earnings also rest on demand for lithium, potash and salar mineral deposits.
In March 2016, the market identified Orocobre as a value buy and its share price surged to a 52-week high, delivering rapid growth on market capitalisation. Read More
20. GWA GROUP
ASX: GWA
CAPITAL GOODS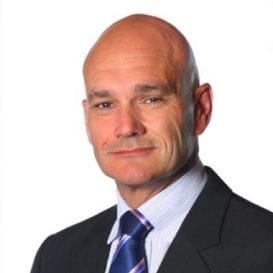 2015 Rank: 22
Market Cap April 2016: $570m
CEO: Tim Salt
1H16 Profit: $24.2m
1H16 Revenue: $220.2m
Staff: 1180
Listed: 1993
BUILDING fixtures and fittings supplier GWA Group made a return to profit in the first half from a $10.6 million loss a year earlier.
The growth was driven by the launch of new products in the company's bathrooms and kitchens business, as well as its door and access systems division. A corporate restructure also cut costs by 9 per cent.
Former Diageo Australasia managing director Tim Salt officially took the reins as CEO in January, following the departure of long-serving boss Peter Crowley.
Since December, GWA has bought back 11.2 million shares through an on-market share buyback program. Read More

Get our daily business news
Sign up to our free email news updates.