It started as a tiny startup with five employees to become the "Bunnings" of the bedding industry, and Heath Goddard's bedding business may still be racking up milestones after 40 years, but he still isn't getting carried away.
"It's all rather irrelevant to me. I very rarely take a photograph of anything I've ever done. Just get on, and do it," Goddard says.
That might be Goddard's wisest piece of advice, lifted from the Nike playbook; to Just Do It.
Pillow Talk began 40 years ago with a structure that Goddard describes as unconventional.
Instead of forking out for high-rent supermarket retail space, Pillow Talk launched in a low-rental, large floor space area allowing the business to sink more money into marketing.
Beginning with just five employees, Pillow Talk grew quickly, pushing the latest trends into the bedrooms of Australians.
Pillow Talk was instrumental in bringing the continental quilt to Australia which now resides on the beds of 80 per cent of Australia.
The company now employs over 800 people and has stores all along the east coast from Cairns to Melbourne.
But Goddard's biggest achievement in the last 40 years?
"Surviving!"
Business News Australia spoke to Goddard to celebrate the company's milestone, the future of Pillow Talk, and the looming threat of Amazon.
What has set Pillow Talk apart from the competition over the last 40 years?
We're much broader in what we do. Five years ago, we would have had 850 quilt cover designs while most retailers have 30 or 40. You go into the pillow section and most retailers have eight to 10 if they're lucky, we have 92.
I don't know that's necessarily a great thing in today's society because people are trying to trim their household clutter down. We were like a Bunnings before Bunnings was even invented.
We were running 12-1500 square metre stores in homemaker centres back in 1980. We took ourselves out of shopping centres into lower rental structures. We have a fairly large advertising footprint, because we need that to let people know who we are and what we're doing. If you'd
seen what we look liked in 1982 versus what our stores look like now, you can't compare them. They're far more visually attractive, they're more coordinated. It's an evolving process.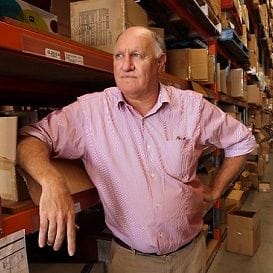 How did the company go about the challenges of internet retail?
We were too soon and it didn't work. I'm going back nearly 17 years when we did that and most people didn't have a clue about what we were talking about. I was very lucky our general manager had just come back from Europe where she was working with the BBC and other enterprises and said we've got to go online.
We got into it and Australians didn't know what the hell we were talking about and it almost did nothing for quite a long while. Probably we were a bit remiss thinking we weren't going to worry about it too much but we probably could've been better placed had we continued to put energy and vision into it but we didn't.
Since November last year [our online retail space has] been growing astronomically which is good after all the effort everyone put into it. It's not the only part but probably most retailers you talk to would think their online is their biggest shop.
Is the company worried about Amazon's entrance into the market?
I think we've got to be cognisant of the fact that they're coming, they have a formula, they have better algorithms than any other retailer is going to have.
Are they as good as everyone thinks? I'm not so certain about that. And it's imperative on any business, no matter who you are, to be in a position to have a formula that they think is adequate for a consuming customer base.
Do you think you're in a good position considering your product is more of a tangible thing?
You're right in that the tactile approach to textiles is very important. I do believe that businesses like ours have an advantage over say, a pure play service provider, because we can tell you about it.
I think that is a very valid point that you're making if we can substantiate in the flesh what we might be claiming online. And for what it's worth, our buyers travel around the world and we make sure that the mills that we're dealing with are ethical in how they go about doing their work.

It's a good industry to be in, everyone's going to need a bed.
I've often said the only thing I'm aware of anyone really needing is a feed and a glass of water. But at the same time, you've got to earn the respect of the market place, be diligent enough to keep that respect. You can lose it quickly, it takes a long time to get it but it's very quickly gone.

What are the company's plans for the next few years?
At the moment, we're going through a consolidation process. Since 2013 we've doubled in size, both in stores and in sales volumes. We've increased our warehousing capacity probably by nearly double as well at the same time.
I think there are shocks in the retail environment, you can read it in every paper, every day at the moment, people are saying JB Hi-Fi will come under pressure from Amazon, all this will happen, I mean it's all speculative. Who would know?
I think we've got three or four stores that we're looking to open in the next six to nine months. I think the other adjunct to that would be if we had an underperforming store, and I think this is happening across the whole retail landscape, and the lease came up for review we would choose not to do so, or we would choose to talk to the landlord.

Business News Australia
Get our daily business news
Sign up to our free email news updates.