DIGITAL entrepreneur Kerryn Moscicki is trading the web for traditional bricks and mortar retail this week as her footwear and accessories brand, Radical Yes, steps onto Brisbane's shopping scene.
Moscicki won the chance to set up shop in the heart of Queen Street Mall as part of accounting software firm Xero's Cloud St pop-up store road show.
The competition gives five home-grown, online retailers a temporary physical space to call their own in some of the country's most sought after shopping hot-spots.
Moscicki says the store presents an opportunity for her to interact with her customer base in the flesh and better understand the faces behind the screens.
"Selling in person allows customers the opportunity to experience and explore your brand for themselves," she says.
"It's a chance for me to chat to people to understand more about what it is they're looking for insights that are really important.
"Selling shoes online can be difficult as people can't come in to try them on, so I'm always on the lookout for ways to showcase my business offline."
Winning the competition has also allowed Moscicki to tap into Queenslanders' love of in-store shopping, which has persisted despite increasing competition from online retailers.
Xero found that over 90 per cent of people identify as "in store" rather than "online" shoppers, with over 70 per cent saying they shop the same or more in-store than they did three years ago.
The study revealed that above all, shoppers value the ability to try things on, browse products and access in-person customer service.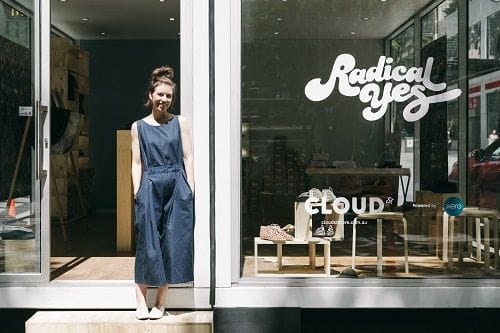 Cloud St's launch this week marks the second time the firm has put its findings to the test. Its initial appearance during the 2015 Christmas season produced big results for small businesses such as furniture designer Holy Funk, which saw sales soar by 70 per cent compared to a year earlier.
Moscicki says she was motivated to apply after witnessing such success stories firsthand as a customer in Melbourne's CBD.
"I had seen the Cloud St pop-up last year and was really impressed by what they had done and the way that Xero had supported those brands," she says.
"When I saw the competition to apply for this year I jumped straight on it. I was really keen to be amongst it.
"I felt there was a really strong alignment with our brand values and what Xero and Cloud St were offering."
She says the experience has opened doors she could never have hoped to access on her own.
"There's no way we could afford a commercial property in Brisbane mall, one of the busiest malls in Australia, so to be right in the middle of it in a glass cube is phenomenal exposure, and we've had such an amazing experience," she says.
"It's really been wonderful."
Cloud St will feature Radical Yes until 21 October before continuing its tour down the east coast, debuting a new brand in every city and shutting up shop in Melbourne on 24 December 2016.
Get our daily business news
Sign up to our free email news updates.