In the same way that Apple, Garmin and Fitbit have revolutionised human health and wellness with activity trackers and smart watches, ilume co-founder and CEO Craig Silbery hopes to do the same for dogs with his innovative startup blending premium-quality pet food with health tech.
From an industrial kitchen in Melbourne, ilume cooks up a menu of human-grade food for dogs including Turkey medallions with spinach mousse, chicken parmigiana with cheesy pork & tomato mousse, and Mexican beef.
And while the dishes themselves look fancier than what many humans chow down on for lunch (and cost more than some ready-meals too), the company has elevated its offering even further by integrating an activity tracker and smart dog bowl into the mix - two add-ons that have been so popular that they're currently sold out.
This approach has seen ilume grow rapidly, and a couple of months after the company's launch to Melbourne customers over Christmas, Silbery has been confident enough to take the business interstate, launching last month in Brisbane, Sydney and Adelaide.
Speaking to Business News Australia while petting his three dogs - English toy terriers Toyko and Dusty Rose as well as Italian greyhound Murray - Silbery said once he had the logistics in place he was more than prepared to go interstate as fast as possible.
"We wanted to stay local with Melbourne to start with because we'd done a lot of planning over an 18 month period, and while good planning is great, you need to get out there and interact with real customers," Silbery said.
"We're a direct-to-consumer business, so we wanted to make sure our customers were really happy with what we were providing.
"What we actually found was that the logistics side of it was pretty good - everything lined up nicely for us and the interstate launch has gone really well. It's been really smooth in fact, and we've been quite surprised by the response and acceptance of the brand."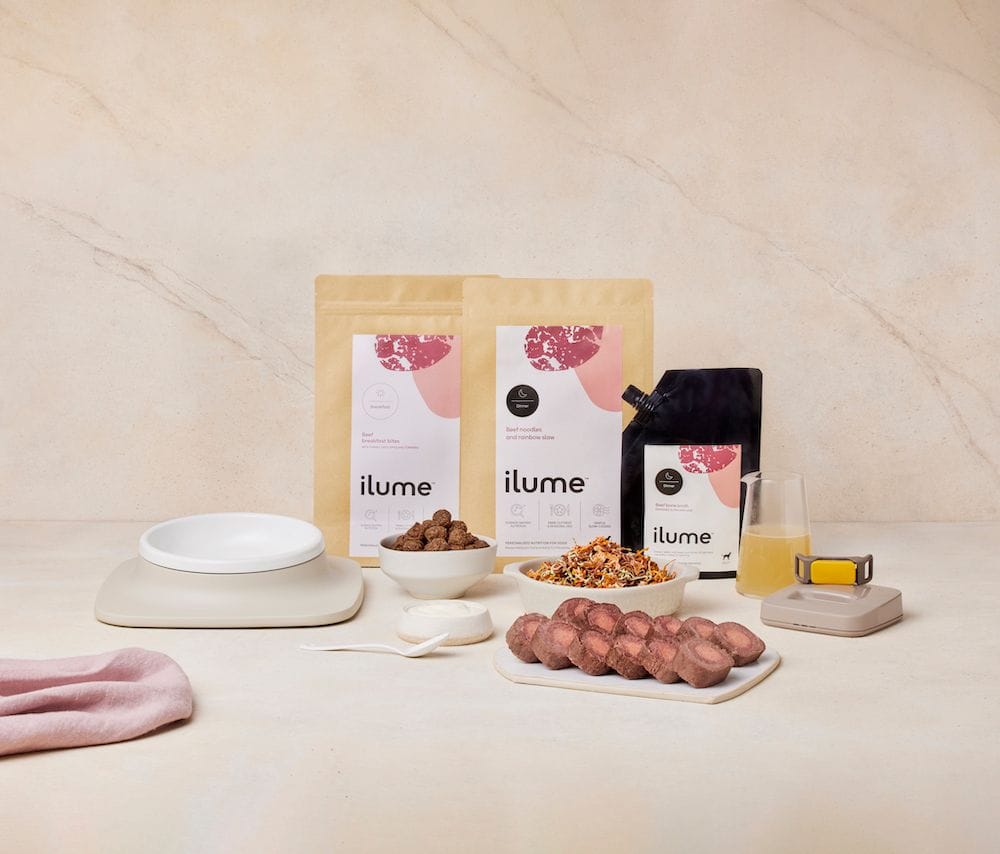 The CEO, who co-founded ilume alongside Ron Ferdinand, is no stranger to building brands, having created Life-Space Probiotics which he subsequently sold to Chinese dietary supplement giant BY-HEALTH in 2018.
The deal, valued at around $700 million, gave Silbery the option of an early retirement. However, after just a few months, the entrepreneur said he started to miss the rigour of running a company.
While contemplating what was next, Silbery realised he wanted to do something with all the knowledge he'd aggregated at Life-Space Probiotics about the human microbiome - that being all the microbiota like bacteria and other microscopic creepy crawlies that live on our skin and inside our bodies.
"I wanted to see if my learnings could apply to dogs," Silbery said.
"I realised that the food we're feeding our dogs is really not that great for their health. It's an industry that evolved on off-cuts and found a way to manufacture a product that doesn't actually bring a lot of nutritional health to a dog.
"So I thought - can I use my resources from the sale of the business to benefit dogs in a meaningful way? It wasn't just about food. So ilume was created as a food tech business."
To start, Silbery reached out to pet food manufacturers who might've been keen to come on the journey with him. What he found was reluctance on the industry's part.
"They all wanted to use this stuff called meat meal, which is crushed up kneecaps and bones and all the floor sweepings from the abattoirs, and they crush it up and mix it up, dry it and put it in a bag to sell to the dog food industry as meat meal," Silbery said.
"I didn't want to use that - I wanted to use actual real meat."
To achieve this level of quality the co-founder invested heavily in a commercial kitchen project in Keysborough, Melbourne. Silbery told Business News Australia that to-date he's invested around $40 million of his own money in the ilume project and has not brought on any external investors.
"It's a state-of-the-art commercial kitchen that is usually used for the higher-end of quality for human food, but we're making dog food," he said.
"I've been cooking for my dogs for a couple of years, but ilume's on another level to anything that I could cook.
"You know there's enjoyment from the dogs. When they get fed, it's off the scale. To see the satisfaction they have after their meals - it's quite beautiful to witness."
The co-founder said he'd tried the food himself before, and described the smell of ilume's meals as nothing like your regular dog food.
"It's got a base which is fresh vegetables that we dry in-house, and you can just smell the vegetables and the curry, the broccoli, the pumpkin - you can actually tell what it is," he said.
"It's a big paradigm shift for most people that are used to reaching for a bag of something and putting it into a bowl and not thinking about it - it's a behaviour change certainly."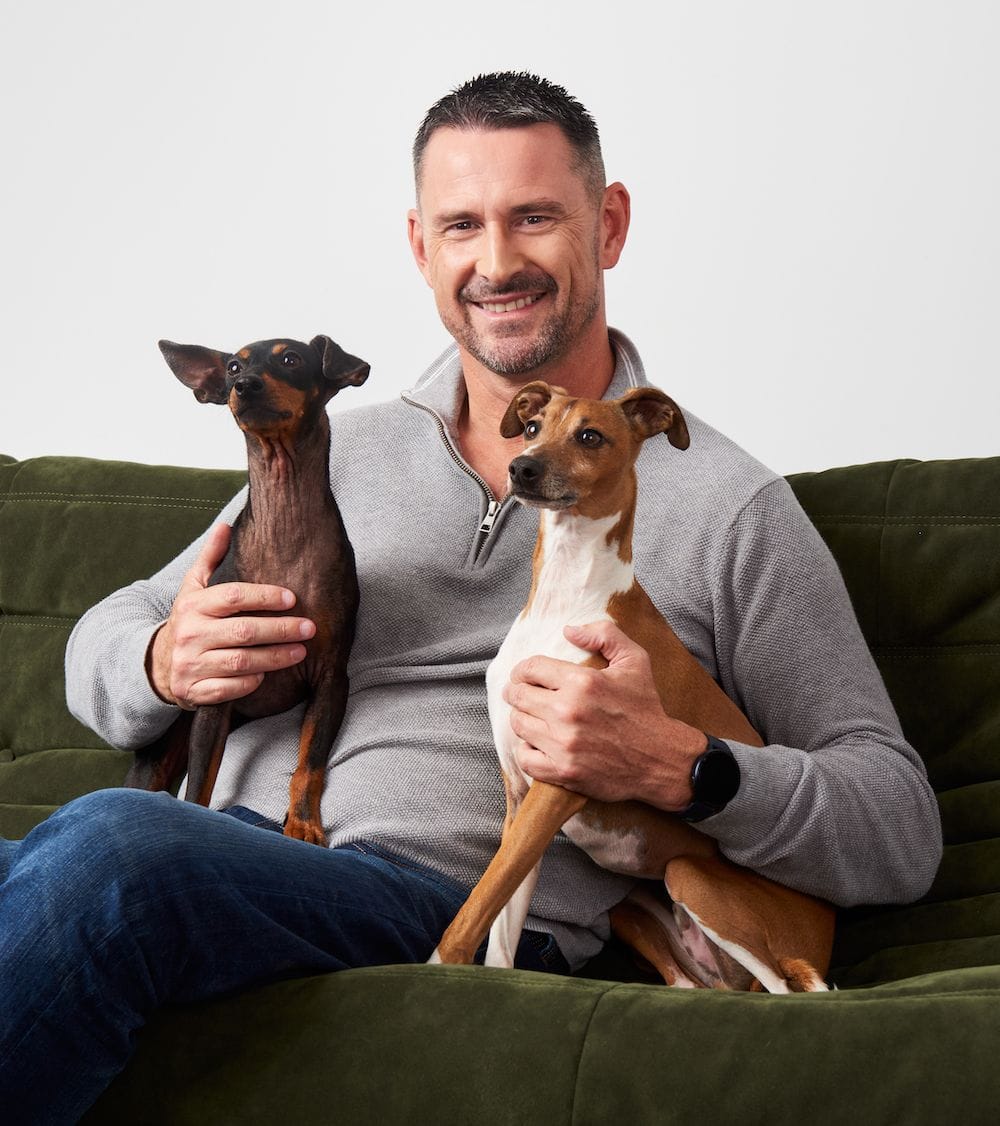 Silbery also said that after feeding his own dogs ilume food he noticed a change in their health quite quickly, with the first noticeable change being more consistency in their stool.
"That's the first thing people notice is the consistency of the poop - it's not sloppy, it's just a nice consistency," he said.
"Then probably three to four weeks later a lot of dogs grow fur back in places that they had lost it - often on their bellies and the coat is just softer too.
"And what's happening on the inside is that the dog's microbiome has less inflammation, and because of that the immune system is regulating better."
Food is just one part of the equation for ilume, with technology and pet health as core to the brand as the food.
Alongside meals, ilume sells two tech products - one being a collar attachment that tracks the movements and activities of a dog. The other is a food bowl that interacts with the collar to tell owners exactly how much the pet needs to eat at any one meal by assessing activity levels, steps, and quality of sleep.
"You really don't have to think about it at all," Silbery said about the tech which was developed in-house.
"The collar talks to a cloud and the cloud talks to an app, so it's a whole ecosystem."
But this level of quality and technological prowess doesn't come cheap. Depending on the dog's size, for two weeks of dinners and breakfasts a puppy parent is looking at spending close to $200.
That's before adding the suite of currently-sold-out tech products to the cart which retail for $199 in a bundle (the tracker is $149 alone and the bowl $109).
When asked what the target market for this luxurious dog offering was, Silbery said that internal research determined there were around 1.3 million Australians that were willing to pay top dollar to pamper their pooch.
"Our target market is really a mindset segmentation that we've done - so those that consider dogs part of the family, people that make lifestyle choices around their dogs; they might take them on holiday with them, they probably give their dog a human name, it will definitely live in the house and it might sleep in the bed with them," Silbery said.
"They see dogs as sentient beings having unique personalities, and they can't imagine life without them. This is our market and we've identified through our research there's about 1.3 million Australians that have this attitude towards their dogs."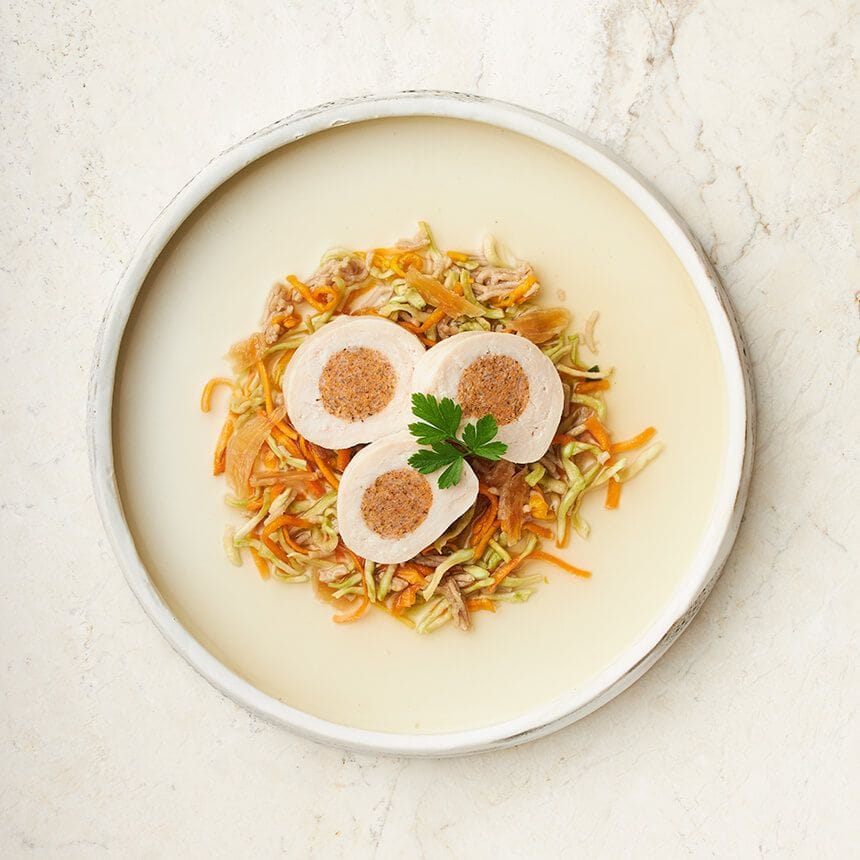 Silbery also knows there are millions more overseas that have similar attitudes, but notes that the nature of the business means significant infrastructure needs to be in place before he pulls the international expansion trigger.
"Because we're direct to home, and because we've built everything ourselves it is super scalable - there's nothing stopping us from that respect," Silbery said.
"But we'll be starting a process probably by the end of this year to look for joint venture (JV) partners, and there are some particular markets around the world that are already operating in the direct-to-home space that have synergies with and capabilities to support what we've developed."
Ultimately, Silbery just wants to make dogs happy and healthy.
"If they are healthier, they eat better and they're happier then they get to live longer with you," Silbery said, echoing the company's motto: 'give your dog longer'.
"We're creating value in different ways, and if you're already paying $3-5 per day for crushed up kneecaps, to spend another $4 a day for genuinely healthy food for your dog…I'd hope there are a bunch of smart people out there that can see value in that."
Get our daily business news
Sign up to our free email news updates.