JOCK Fairweather didn't even know what a co-working space was when he opened Little Tokyo Two. Nine months later, the 25-year-old former shoe designer has two Brisbane spaces bursting at the seams.

In a twist of fate, which took him from the rugby field to designing women's shoes in London, partying with Diane von Furstenburg and Valentino during St Tropez summers, Fairweather had gone full circle and returned to Brisbane to purchase one of the city's oldest Japanese restaurants, a 605sqm space in the heart of Spring Hill.

"I honestly can tell you I didn't even know what a co-working space was when I launched Little Tokyo Two - the first co-working space I walked into was at the global co-working conference in Sydney two months ago," says Fairweather.

"All I was doing was trying to negotiate a situation where you turn up, we give you space and help you out with the things you need, even if it's a random request like a karaoke night.

"I think having that essence - where all I was doing was creating a space that could provide opportunities for people - is what has enabled us.

"It's not a real estate or investment model, it's literally none of that. It's just about coming here and we'll help you as much as we can."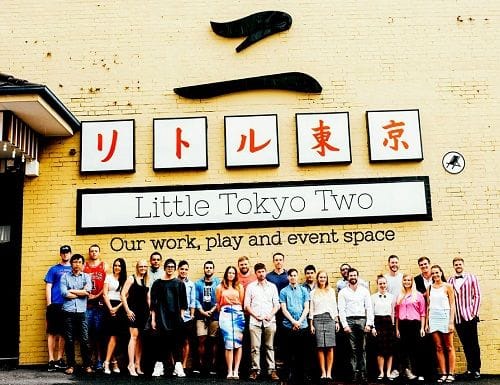 It's worlds apart from the past, when Fairweather admits he 'wasn't really helping anyone at all'.

About to graduate from Brisbane Boys College in 2006, the aspiring rugby player was stopped in his tracks by a bad back.

Fortunately, he had another dream up his sleeve.
"Since year four, I had wanted to make women's shoes," says Fairweather.
"It's just something I'd always wanted to do. Making shoes is totally selfish though, they don't really help anyone at all. In actual fact, women's shoes often cause nothing but problems."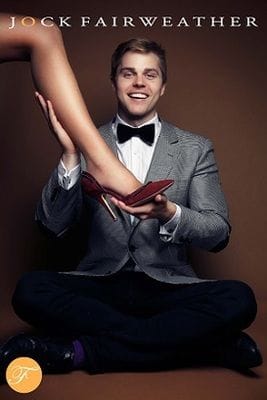 Fairweather joined an elite league of designers including Jimmy Choo and Charlotte Olympia at London College of Fashion, spending four years in the city followed by Geneva for a year and a half, and Milan for another year after that.

He graduated the fashion institution with a 98 per cent score, which he says was higher than anyone who had gone before him.

With that under his belt and youth on his side, it didn't take long for his eponymous label to draw the attention of a Swiss equity group which is also a luxury fashion conglomerate.

"I partnered with them and what happened was all the personal relationships I'd built with factories and buyers became strained by a big corporate structure," says Fairweather.

"No one liked it because it was the complete opposite end of our operating spectrum - and in fashion if you burn a buyer you will never, ever get that account back.
"It withered me down to the death."
These days, Fairweather only keeps good company.

With low vacancy rates across two precincts - one being the old Petrie Terrace substation that is 60 per cent sold out despite only being announced last week - it is safe to say that Brisbane has the goods.

"It started with 10 of my friends who were running their own small businesses," says Fairweather.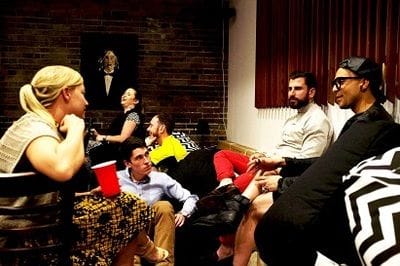 "They told their friends and suddenly there were 35 - now we have 160 members and counting in a 24-7 workspace.
"The criteria is you must be personable because we don't accept antisocial behaviour of any kind.
"It's allowed us to attract curious, good people who like the fact we don't engage in flashy advertising and encourage them to come here themselves, and also offer mentorship from what I believe to be 17 of the best businesspeople in Australia - including a former Microsoft CFO, ex-BP executive, ex-Energex CEO and two Google Glass representatives - who all do it for free.

"We offer fun and educational events, business workshops, investment-ready interviews - and of course the best hospitality with complimentary fried rice for all by token of running out of the old Little Tokyo kitchen."

For someone who has lived a couple of different lives already - and seemingly 'exited' these seamlessly - Fairweather is acquainted with risk mitigation and management.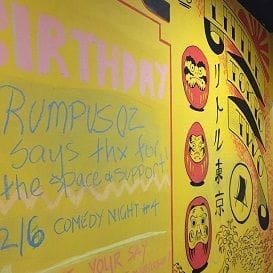 With Little Tokyo Two's traction, he won't need to draw on a contingency plan for this life anytime soon, and rather is focusing on hunting down Little Tokyo Two substations across Brisbane.
"The way I have structure the whole place is through staggered risk," says Fairweather.
"The lease of the restaurant basically covers my mortgage repayments, permanent offices have outgoings, permanent desks cover a bit of outgoings and then there's floating members.

"It's just Sarah [Little Tokyo Two office manager] and I, and our energy is going directly into helping people get to where they really want to go, behind the scenes, which is probably why the marketing and social media here isn't that great because I'm just not into that.

"We want to reinvigorate the entrepreneurial spirit in Brisbane and the best way of achieving that, in our opinion, is engaging in a real hands-on strategy, below-the-line marketing, and not worrying about our presence anywhere else besides in our actual buildings."

Get our daily business news
Sign up to our free email news updates.