Sydney-based startup Aerologix has packaged up complex drone flight paths into an innovative app and released it to the global market in a move that sets the company up for a new growth trajectory.
Aerologix, sometimes described as the 'Uber for drones' as its core business connects drone pilots with clients looking for drone imaging services, is looking to make drone usage more accessible after launching the AerologixFly app on Google Play and App Store.
The company, founded in 2019 by Tom Caska and Rakesh Routhu, sees the app as a precursor to further global expansion after establishing its drone pilot platform in India and more recently New Zealand.
The expansion of its core business has led to a doubling of revenue year on year, accompanied by a massive spike in the number of drone pilots registered on its platform from about 1,000 last year to 23,000 today.
After releasing its AerologixFly app two weeks ago, the company says it has had hundreds of downloads globally from users in New Zealand, the US, Norway, Finland, Canada, Singapore and Hong Kong.
"We've had a great response already considering not many people know about it," Routhu tells Business News Australia.
"We launched our app for Android and Apple devices so drone pilots anywhere around the world can access our technology to undertake complex missions easily."
The app, which is built on the company's patented Aeropath navigation system, has been specifically designed to assist drone pilots take on challenging tasks such as asset inspections while the company has announced plans to scale up the technology further for use in search and rescue operations.
"We are currently working with a lot of telco players who regularly inspect their telecommunications towers," Routhu says.
"Often no one really knows what's on the tower because it can have equipment on it from four or five players. Often, they need to inspect the tower looking for space to shift antennas due to electro-magnetic interference affecting connectivity, or to help with IT upgrades. That's when our drone pilots can assess this with their drones via our app.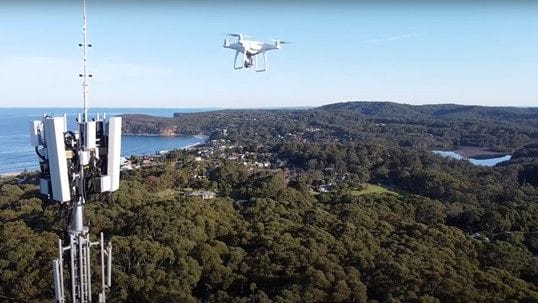 "They press one button, and the drone will fly automatically on a predetermined path via an algorithm and capture the images. If the mission involves multiple sweeps that might require a batter change, our app allows the drone to land, change the battery and it will automatically go back to the last known location, so you don't have to start from scratch."
The Aerologix technology can also be used to create 3D models without the client having to leave their office.
"We can even create CAD (computer-aided design) models that can determine strength analysis for add-on equipment," Routhu says.
"Aeropath is the jewel in the Aerologix crown and we're really excited to release it internationally, allowing pilots all over the world to benefit from our patented technology. Aeropath will allow them to complete missions efficiently and safely, every time."
The app is specifically designed for DJI drones which Aerologix says have 80 per cent market share globally, but the company is looking to eventually partner with other major manufacturers such as Skydio and Autel Robotics, depending on demand.
"Within the next two months, we are also launching other features for the app, such as Aero Live, where we will be able to live stream the images from the drone," Routhu says.
"This will allow a client sitting in an office to see a live feed of the drone footage. This is also useful for search and rescue missions, as is another feature we plan to introduce, Aero Chat, where a person in a control room can chat live with the rescue pilot.
"To be able to watch a live stream and communicate with the pilot in real-time will be a game-changer for not only enterprise customers, but especially for the likes of search and rescue or bushfire monitoring."
The app is being offered on a monthly subscription basis, building on the company's Software as a Service (SaaS) model.
CEO Tom Caska says the promising early take-up of the app globally reflects the growth and connectivity of the drone market.
"The drone pilot community is a very engaged community and when there is technology that will help them perform their jobs better, either via software or the drone itself, they don't hesitate to get on board," Caska says.
"We're really excited to be able to service those pilots with what we think is brilliant technology."
Aerologix, which has been able to scale up its business from pre-seed and seed capital raisings totalling $6 million and backed by Ellerston Capital, has grown from just the two founders to a staff 30 over the past four years.
"We have a team in India and the rest in Australia," Routhu says. "But now that we have launched in New Zealand, we will have to employ a team there and we will be looking at other markets later this year."
Routhu, the Aerologix COO, says the doubling of revenue and the exponential growth in drone pilots using its platform over the past year reflects the increased accessibility of drone technology.
"There's a big uptake in drones as their prices have come down, while the technology has also improved," he says. "Over the next couple of years, we will be seeing a lot more drones flying in a controlled environment."
Get our daily business news
Sign up to our free email news updates.
Help us deliver quality journalism to you.
As a free and independent news site providing daily updates
during a period of unprecedented challenges for businesses everywhere
we call on your support