As founders of Dental Boutique, Dr Reuben Sim and Dr May Chan have made it their mission to ensure their clients leave with a brilliant set of pearly whites. But today it is their turn to flash gleaming smiles as the duo wins the coveted 2021 Melbourne Young Entrepreneur of the Year Award.
The husband-and-wife team, whose long list of patients includes some of Melbourne's top influencers like Yummy Mummies' Jane Scandizzo and The Bachelor's Sam Wood, also took out the Melbourne Young Entrepreneur Award in the Health & Medicine category today for the fourth year in a row.
Founded in 2013, Dental Boutique operates two Melbourne-based cosmetic dentistry clinics, offering services such as teeth whitening, Invisalign and porcelain veneers.
Their stellar work and desire to go over and above when it comes to client comfort and a pain-free experience has given Chan and Sim a shining reputation in the Victorian capital - one they're hoping to take interstate soon with new clinic openings.
Chan and Sim's win today means that they, alongside all category winners, will contend against the nation's top business talent at the Australian Young Entrepreneur Awards, to be held on the Gold Coast on 18 December.
The achievement is made all the more impressive considering Dental Boutique and all of the finalists in Melbourne were subject to lengthy and regular lockdowns during 2021 - meaning many of the cosmetic procedures they normally offer were off the cards.
"We tried to improvise around what we can do and see during the lockdown period," explains Chan.
"That included a lot of virtual consultations, and creating systems for post-lockdown.
"During lockdown we renovated extra rooms to accommodate for more demand that we expected once it lifted."
In addition to renovating their clinics, the two also brought on extra pairs of hands to accommodate the post-lockdown boom of clients desperate to have their teeth looking fresh for the inevitable surge of celebratory get-togethers - doubling the size of their team in the process.
"Instead of most businesses cutting back on staff and team members, and trying to cut costs in those areas, we've actually employed more people along the way to help with growth," Sim said.
It paid off too - with Chan explaining that Dental Boutique's waitlist is "huge", driven in part by a social media strategy that has seen the company's TikTok page amass 2.5 million likes and more than 80,000 followers.
"The patients are so keen that they're paying a deposit to secure a spot," she said.
Trailblazer Simon Costello seeks "fundamental infrastructure" status in global finance with anti-fraud tech FrankieOne
Simon Costello and his business partner Aaron Chipper originally set out to create a neobank in 2017 when they co-founded FrankieOne, but the problems they encountered became the impetus to develop a unified onboarding and anti-fraud platform instead.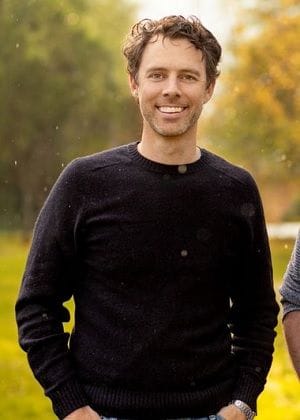 "What we largely do is we help fintechs, banks, cryptos, etcetera with all the onboarding piece, and next we're starting to get deeper into fraud and transaction monitoring products," Costello explains.
"At the moment the big challenges that banks and others have is they have transaction monitoring but it's all legacy systems and it's very clunky. What FrankieOne does is cloud based - we offer a single
API (application programming interface) to access for all these different products."
It's a service the company currently provides to more than 100 global financial institutions, with more likely to join as FrankieOne scales up following its $20 million Series A funding round in October.
"To switch on products as and when they need them is absolutely game changing - you connect connect and you've got access to 46 countries both on fraud and also risk. It's something that normally
would take them two years to switch on a single product," he explains.
"Our product has 350 different third party vendors and data sources in that single connection, so what we're offering is that ease and convenience of plugging in."
Costello has won the title of this year's prestigious Melbourne Young Entrepreneur Awards Trailblazer - a distinction that recognises an entrepreneur that has achieved exponential growth in their business over a short period of time, which the judging panel believes has potential for major success.
FrankieOne's revenue grew 20-fold in the 12 months to November, while around half the business is international versus a single-digit percentage share in May.
"Some of our clients range from buy-now pay-later providers like Afterpay which we service both nationally and internationally. We do a lot of crypto companies of a reasonable size in Asia - one of them is
Zipmex, and we also service three of the four big banks which have international pieces as well," he says.
FrankieOne started opening its US offices this year and plans to open a Singapore office in the first quarter of 2022, followed by a London office shortly after that.
In terms of personnel the company doubled in size in the two months to November, and Costello expects it will double again in January.
Simon Costello came into FrankieOne with significant entrepreneurial experience already. After a career in investment banking, in 2013 he co-founded mobile ordering platform Boppl in the UK which was acquired by Beyond Group, followed by more ventures including data intelligence company Streetbees which has raised US$64 million since 2015 and is present in 78 countries, as well as Jakarta-headquartered financial comparison company Hyphen Group which has raised US$120 million and operates in seven countries.
He remains a passive shareholder in Streetbees and Hyphen, while Boppl has since been liquidated by the parent company. Costello says the common thread throughout all his businesses including FrankieOne is that they have found a pain point and provided something that was unmet in the market.
"FrankieOne is materially different to all the other businesses," he says.
"If you're familiar with Stripe, Twilio, Segment, I suppose the key infrastructure that drives a lot of the internet, we are some really fundamental infrastructure that powers some of the major financial institutions around the world.
"We are very excited about the potential and what we can do with FrankieOne."
Business News Australia would like to thank our corporate partners Monash University and Instyle Solar.
All winners at the 2021 Melbourne Young Entrepreneur Awards:
Young Entrepreneur of the Year: Dr Reuben Sim & Dr May Chan - Dental Boutique
Trailblazer of the Year: Simon Costello - FrankieOne
Arts & Culture: Nicholas Greco, Filippo Palermo, Thomas Caw, Michael Christidis & Christian Serrao - Untitled Group
Digital Disruptor: Fergus Creese - My Careers and Go Girls Foundation
Fashion Design: Bianca Roccisano & Bridgett Roccisano - Bianca and Bridgett
Finance: Rael Ross - Butn
Fitness: Aaron Smith - KX Pilates
Food & Beverage: Alex Bottomley & Marcus Kellett - Ampersand Projects
Health & Medicine: Dr Reuben Sim & Dr May Chan - Dental Boutique
Hospitality & Tourism: Bao Hoang, Ray Esquieres & Tin Ly - Roll'd Vietnamese
Manufacturing, Wholesale & Distribution: Alex Bottomley & Marcus Kellett - Ampersand Projects
Marketing: Robert Tadros - Impressive, King Content and eComlab
PR, Media & Events: Genevieve Day - Day Management and Next of Kin Management
Professional Services: Jackson Meyer - Verus Global and Fickle Technologies
Retail & Services: Hannah Spilva & Verity Tuck - LVLY
Specialist Services: Harry Karefilakis - Kare Group Australia, Ethos Electrical Services and All Steel Designs
Social Responsibility & Sustainability: Julia Kay & Jordan Kay - Great Wrap
Technology: Daniel Pearson - PingCo, TVSA Pilot Training, Soda & Lime Media, Shuttle Digital, 20v, Longford Legal, iCOM, Leading Edge Aviation, FlyTech Solutions, The Incubator Hub, Just the Right Balance, HR Solutions, Dandy Aircraft Hire, TVSA Maintenance, Brooks Landing, Hello Teams, The Family Lawyer and Easy Migration Australia
Startup: Omar De Guise, Burak Kamit, Jamal Elamsy & Dylan Johnstone - Platinum Health Supply Group
All finalists at the 2021 Melbourne Young Entrepreneur Awards (in alphabetical order by company):
Sonia Majkic & Tamara Alaveras - 3 Phase Marketing
Abrar Patel - A.P. Web Solutions
Kabir Sidhu - AirBolt
Nikita Fernandes & Samuel Donegan - Ally Assist
Michael MacRae & Jamie Shostak - Appetiser Apps
Scott Gavens - ATEO Pty Ltd
Charlie Carrington - Atlas Masterclass and Atlas Dining
Damon McMillan & Adam Crow - Blended Digital
Gaurav Kawar - Book An Artist
Emille Mendoza - Boracay Skin
Ebony Centazzo - Cat Napping Suburban Retreat Pty Ltd
Danielle Azzopardi, Natasha Buttigieg & Avin Chadee - Co-lab Pantry
Lisa Teh - CODI Agency and Lisnic
Belinda Agnew - Enamus, Foccus Group and Ployd
Blake Thomson - ENTIRE SOFTWARE PTY LTD
Marilla Akkermans - Equality Media
Kellie Brown & Daniel Groch - Fig & Bloom
Justin Snyder - Forest Super Foods
Nathan Trifonidis - Front Row Entertainment
Ali Terai - Future Golf
Phillip Kuoch - Goldelucks
Minoo Ghamari - Gorgeous Smiles Dentistry
Liz Williams & Kate Lomas - Hemideina Pty Ltd
Kianna Magelaki - KIANNA MAGELAKI PTY LTD
Dmitri Dalla-Riva - Learnmate Tutoring Pty Ltd
David Morgan & Regan Lethbridge - Lemon Tree Music
Leo Alhalabi - LGT Digital, Cosy Cribs
Manon Beauchamp-Tardieu, Darine Djendoubi & Loris Campanile - Little Green Panda
Michael Jenkins - Little Print
Ronen Heine - LUNA Startup Studio Pty Ltd
Jonathan Byrt & Jesse Leeworthy - memobottle
Jordyn Evans - Mingle seasoning
Sally Kellett - Mirosuna
Catie O'Neill & Olivia Burrows - My Glow 2
Ethan Donati - My Million Dollar Funnels Pty Ltd
Sam Behrens - North Light Productions and Renovate or Rebuild Pty Ltd
Thomas Kelly, Waleed Mussa & Yu Liu - Oscer, Fraser's GAMSAT
Luke Willars - peakah.com and storagecompare.com.au
Kezia Hallam & Samantha Lynn - PersonallyPicked
Sadish Visvalingam - Premier Financial Advocates
Jackson Southby - Redline Car Hire Pty Ltd
Josh Howard - Single Use Ain't Sexy
Shannon Martinez - Smith & Daughters and Smith & Deli
Natasha Giannetti - Snacks With Bite
George Glover , Michael Bird & Andrew Archibald - Social Garden Pty Ltd, urban.com.au, snaplistings.com and studentgarden.com
Joshua Klein - Social Status Media Pty Ltd, Promotr and Smart Small Grooming
William Strange - Sports Performance Tracking and AniV8
Ash Davies - Tablo.com, Hugo's Deli and Nonsents Inc
Summer Howarth - The Eventful Learning Co
Dimitra Moukas & Christina Kotinis - The Luxx Co, The Little Luxx Co and Luxx Co The Label
David Andrew - The No Nasties Project, Naked Life and Naked Life Spirits
Lana Hooper - The Smoothie Bombs
Eugene Cheng - The Sneaker Laundry
Simon te Hennepe - TRAVLR Pty Ltd
Help us deliver quality journalism to you.
As a free and independent news site providing daily updates
during a period of unprecedented challenges for businesses everywhere
we call on your support