IT'S NOT long now before Amazon makes its Australian debut, and there is no doubt its arrival will have big consequences for online businesses that aren't prepared to compete.
A survey has shown that once the American-based retail giant is open for business in Australia, nearly 1 in 3 shoppers will be purchasing product from Amazon instead of their existing network of online merchants.
While at a first glance things might look bleak for small-medium businesses (SMBs), the arrival of Amazon actually presents a unique opportunity for SMBs to become more competitive than ever before.
If you run an online shop, now is the time to be tightening the screws in the back end of your sales platform and investing time into managing relationships with your customers.
Tracey Voyce, director of leading website and internet marketing tools supplier Bloomtools, says the one thing small businesses do best is create a great personal experience for the customer.
This is something Amazon can't do, as its business is primarily run by algorithms and software.
Voyce says personalisation is the most important thing a SMB should focus on, as customers are more willing to part with their money over something that is tailored specifically to their needs.
Deloitte's customer review from 2015 confirmed that the same customers will pay more for a personalised service, and around half of them don't mind waiting longer for it.
Even though price and speed are two major factors when it comes to online shopping, areas where Amazon often takes the cake, there isn't much that can beat the satisfaction that comes with a one-off gift or a thankyou note.
This, as well as other personalised shopping experiences like direct live chats, informative emails, gift vouchers, loyalty programs and any other services that retail giants like Amazon might struggle to provide.
With this in mind, here is a list of ideas your business can implement in order to build a better and more competitive online shop before Amazon makes landfall in Australia.
FOUR THINGS YOUR BUSINESS CAN IMPLEMENT NOW TO COMPETE WITH AMAZON
1. SHOW YOUR CUSTOMERS THEY ARE DEALING WITH REAL PEOPLE
If you have a physical store, include a picture of it somewhere on your site.
Broadcast the fact that you are an Australian business, and make your contact numbers readily available at every stage of the purchasing process.
You should also register your business on Google My Business so that it is more likely to appear on page one of search results.
Have photos of your team in a meet the team page. Make your 'about us' section personal - talk about why you got into the business, your passions, experience, your people and stock to build trust with your audience.
2. MAKE IT EASY FOR YOUR CUSTOMERS TO BUY FROM YOUR STORE
As mobile devices account for more than 50% of total internet traffic, it is essential that your site is mobile friendly.
Ensure your payment system is completely secure and your checkout process is streamlined.
You should also consider the benefits of offering multiple shipping options including local delivery and free delivery for orders.
Have your phone number showing clearly on your website so that people can easily ring with any questions.
To step it up even further, add a phone number to your product item view, like the example below, so that customers can get free advice directly if they are unsure about anything to do with the product.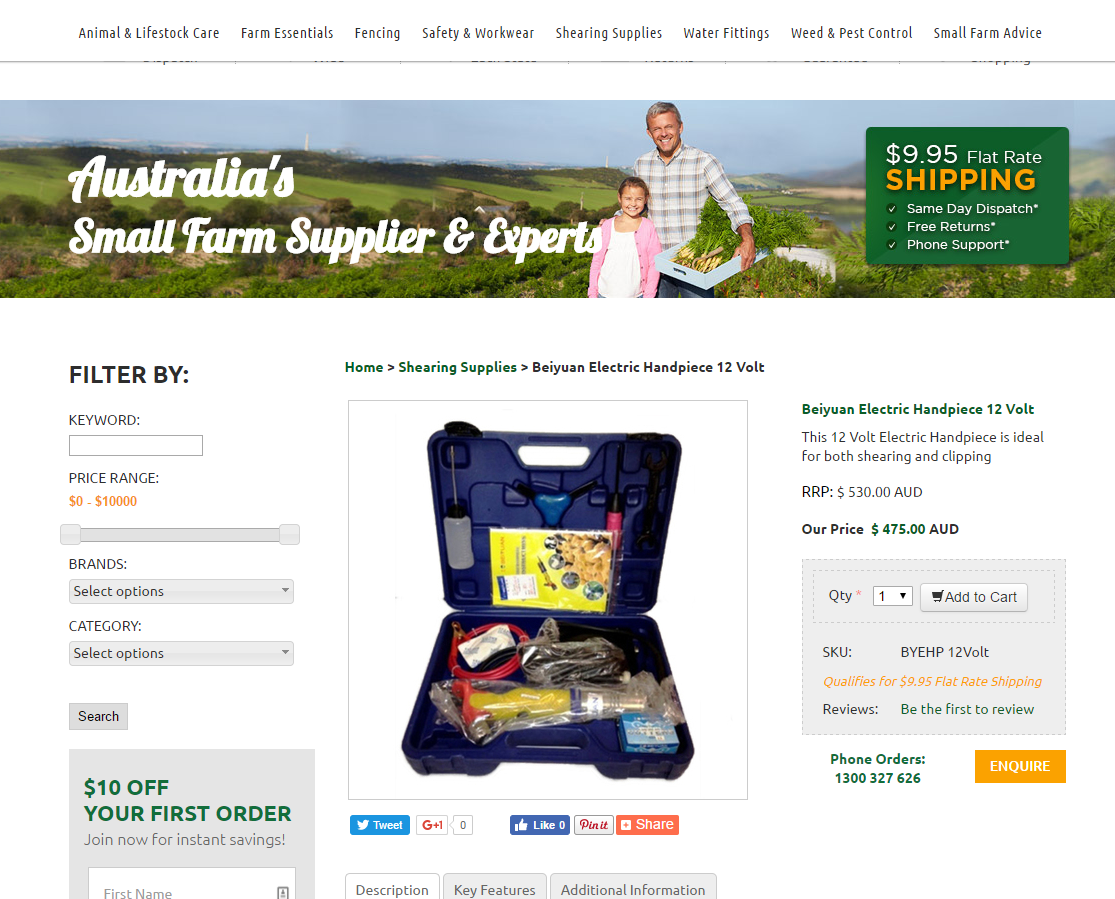 3. UPDATE EVERYTHING, AND GO ABOVE YOUR CUSTOMER'S EXPECTATIONS
If you have limited stock of your products, use a stock level e-commerce platform that will enable you to only sell products which are available. Nothing repels clients more than waiting a long time for their deliveries.
This also allows you to give clients a realistic expectation of your delivery time, one that you can always try to exceed.
If you can, throw in a gift or something extra which will make people remember your site Amazon certainly can't do that for every customer!
4. FOLLOW UP WITH CUSTOMERS AFTER THEY PURCHASE YOUR GOODS
A customer's first purchase at your store shouldn't be their only purchase, and by following up after delivery with a call or survey can help keep your business fresh in their minds.
It can also provide crucial feedback for areas which may need improvement.
You can also consider incentivising a second purchase with a return customer coupon.
Article written in partnership with Bloomtools
Get our daily business news
Sign up to our free email news updates.